Summer is just around the corner, and what better way to cool off during hot summer days than with your very own slip n slide in your backyard? While having a pool is great, it's also very expensive. A backyard water slide gives you the endless entertainment without the giant investment. So what kind of slip and slide is best for you and your family this summer? Check out our ultimate backyard water slide buying guide to find out!
Slip and slide style water slides are probably the first thing that comes to mind when you picture a backyard water slide. They feature a long plastic slide, and, unlike other summer games, can entertain for hours. Slip and slide style waterslides are very easy to set up, and are great for families with younger children. They usually feature an input for a garden hose to keep the slide wet, or you can use soapy water to keep the slide going. These are the best slip and slide style backyard waters slides you can get today.
Best Slip 'N Slide Style Backyard Water Slide List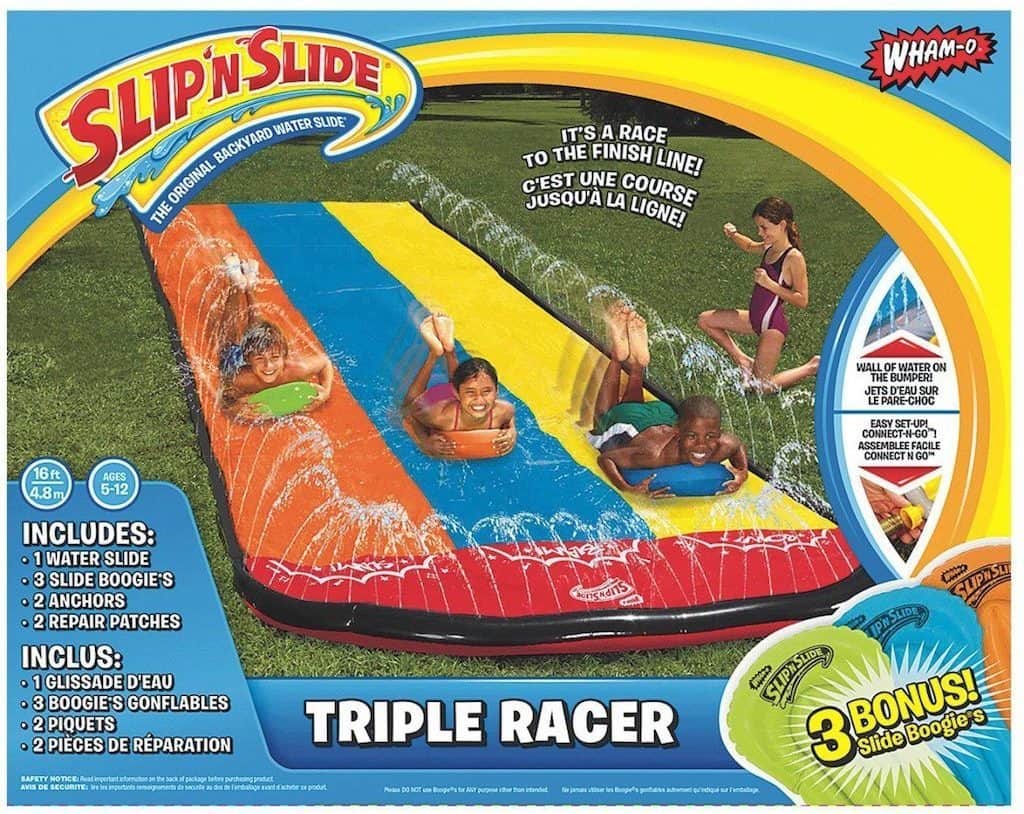 This triple racer backyard water slide by Slip 'N Slide is a fantastic choice for families with small kids. It's 16 feet long, and has 3 racing lanes. This is handy because we all know kids hate taking turns! This set also includes 3 bonus "slide boogies" for kids to hang on to while they slide.
This set is best for kids ages 5-12, and comes with an anchoring system to keep it in place. This Slip 'N Slide is made from durable vinyl, and comes with 2 repair patches to keep it going summer after summer. It is a great choice for kids birthday parties, or simply to keep your little ones busy for hours on a hot day.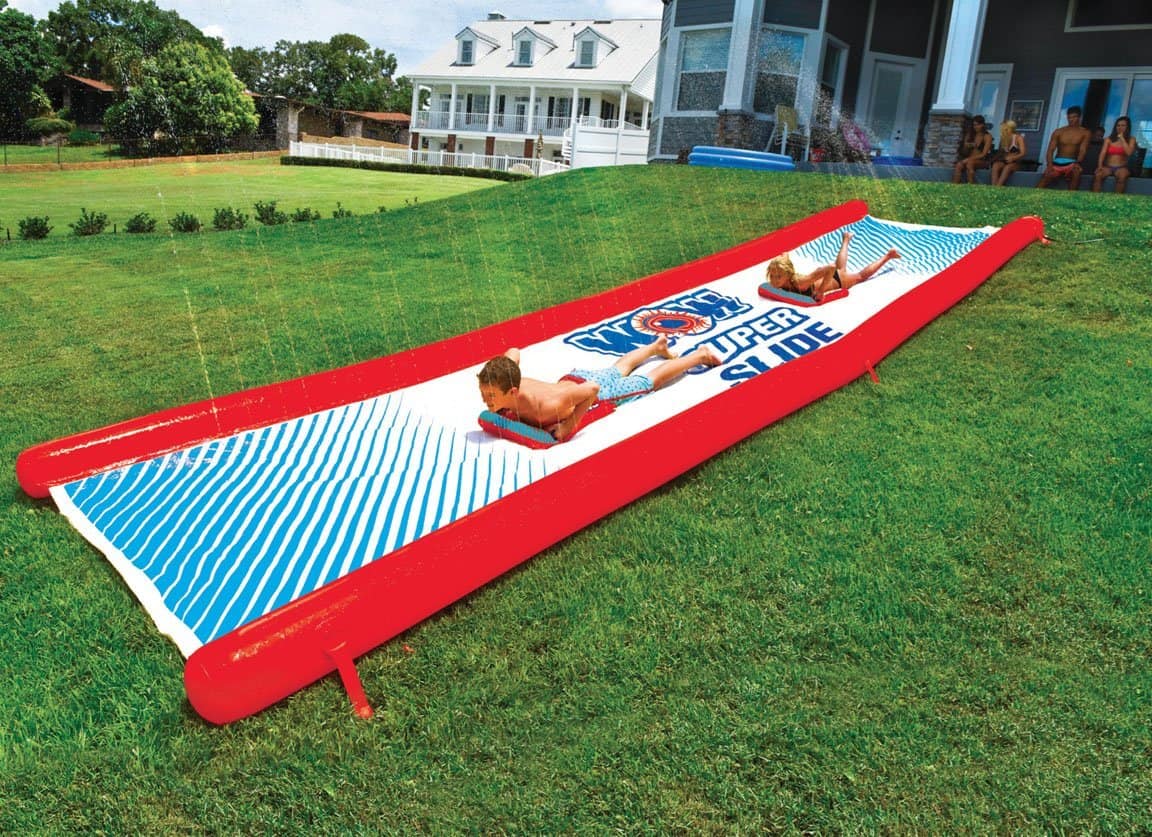 For older kids, the bigger the slide, the better. This Wow super slide, uses a sprinkler system that runs the length of the slide and easily connects to your standard water hose. It's made from an extra-thick PVC that is meant to be twice as strong as other slides for added durability.
Another cool feature of the Wow Super Slide are the 8 inch high wall pontoons that keep wild riders on course while they slide along. This set comes with a double-action hand pump, that makes set up super quick.
Overall this is probably the best slip and slide for you if you have kids ages 8 and up.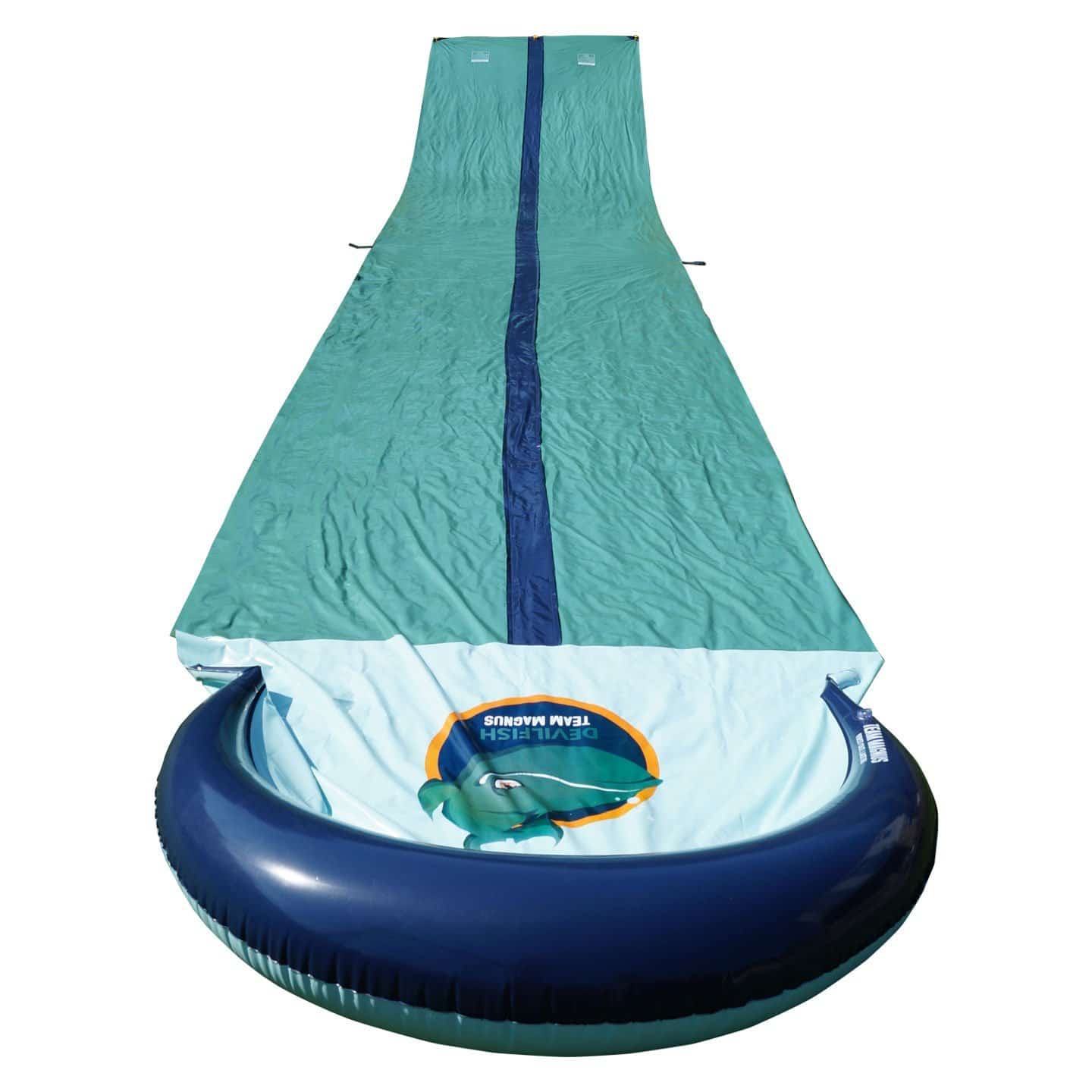 This giant slip and slide is longer and wider than most others, making a great choice for full size adults. It measures a full 31 feet long and over 5 feet wide, and has double lanes for dual racing. The central channel sprays water throughout the slide, and at the end, there is an air-filled crash pad to stop the momentum of two people (although if you get too caught up in the race and, ahem… you're an adult, it's pretty easy to go over, so keep a couple extra feet free in front of the slide – ask me how I know).
Set up is super easy, and is made of a very durable PVC material. The slide comes with a sturdy pegging system, and a puncture repair kit to keep it going in case you hit a snag.
Because of its size, this is definitely the best slip n slide for teenagers and adults.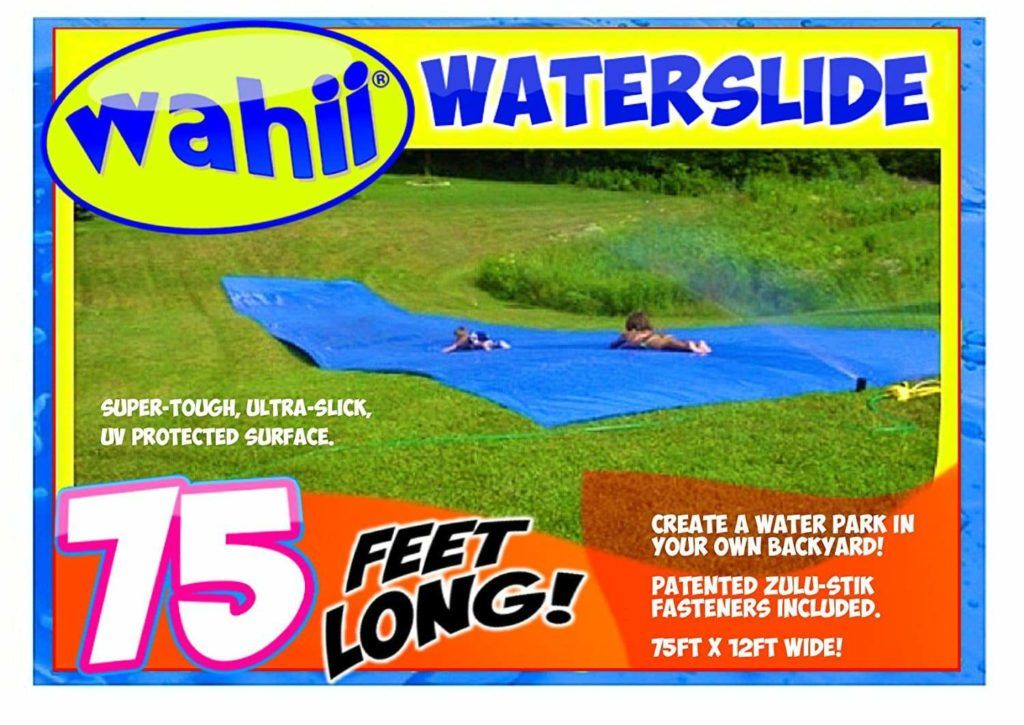 Most people would agree that the longer the slip and slide is, the more fun it is. So if you have a monster backyard, you can truly have a blast. This backyard water slide by Wahii is 75ft long, and 12 foot wide. It's perfect for adults and kids of all ages, and can hold up to 265 lbs per square foot.
This long slip and slide is made of a specially formulated thick plastic making it a super durable.
The sheer length of this monster slip and slide warrants that you can really only make it its entire length if you have a sloped backyard, or if you devise a pulling system. For example, I've seen pictures of someone who'd put life jackets tied to a rope on their kids and was pulling them from the other end of the slide. Probably not the safest thing to do but, boy, does that look like fun!
Inflatable slip and slides give extra height to riders, like a traditional slide. Some feature a slight ramp, and some inflate to be a full size water slide. These water slides are great for kids, while some are great for adults too. If your backyard is dead flat, these may help you have fun without having to take huge running starts.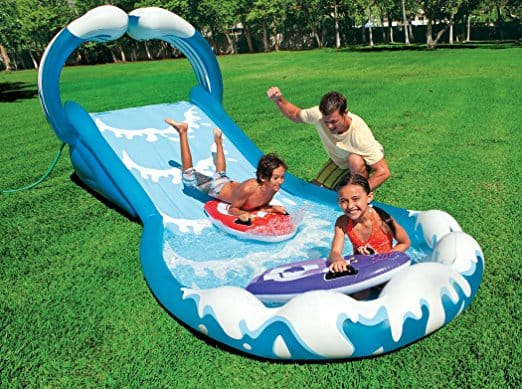 This small inflatable water slide by Intex is perfect for little ones to have a blast in the backyard. Set up is super easy, and it uses a standard garden hose to power the sprayers along the slide.
The bottom of the slide has a handy landing mat to keep young riders safe, and you can use it with body boards for extra fun. This blow up water slide is made from a durable plastic and comes with a repair patch to keep it going even longer.
This slide is not very long, so it's probably best suited for younger children.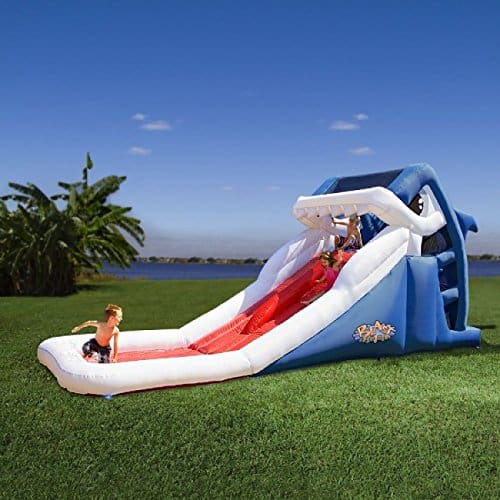 This blow up water slide by Blast Zone has an awesome great white shark design that my kids love. It comes with a blower, so it can be set up in less than 2 minutes. When this backyard water slide is deflated, it's the size of a sleeping bag, making it easy to store.
Two kids can be on the inflatable slide at one time, so they can have fun together. It's recommended for kids up to 12 years old, but older kids can still ride one at a time.
Because of its size, this is definitely the slide of choice for older kids, and I just love how fast it is to set up.
When you've got a big group of children and a few adults, it's nice to have a backyard water slide that can cool off everyone at the same time. These blow up water parks usually feature a small pool area, and a few other activities to entertain kids when they're not sliding.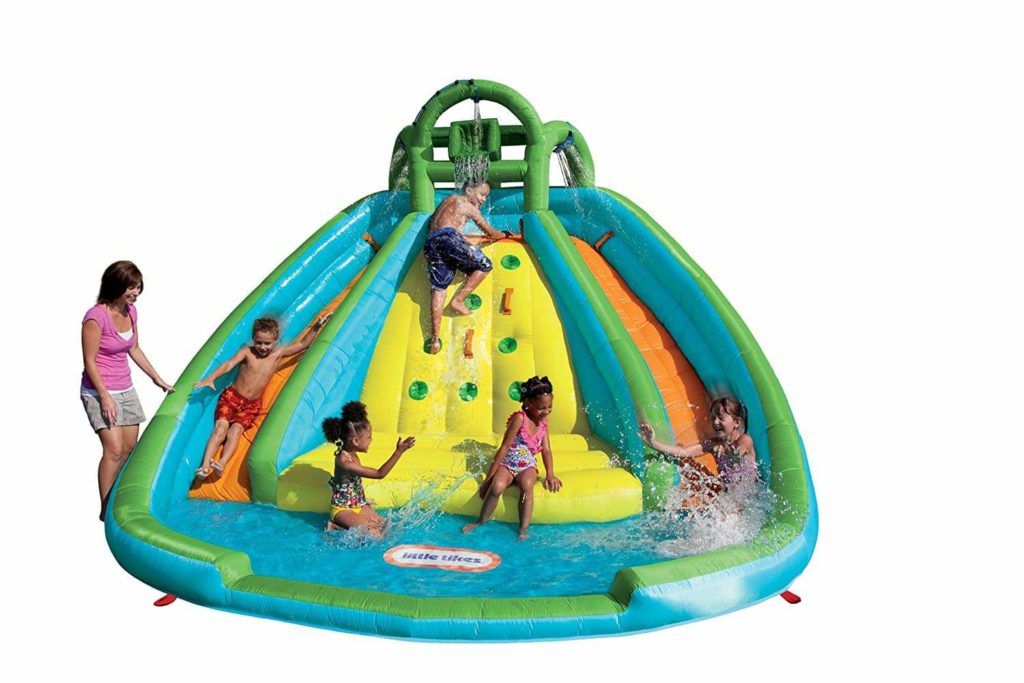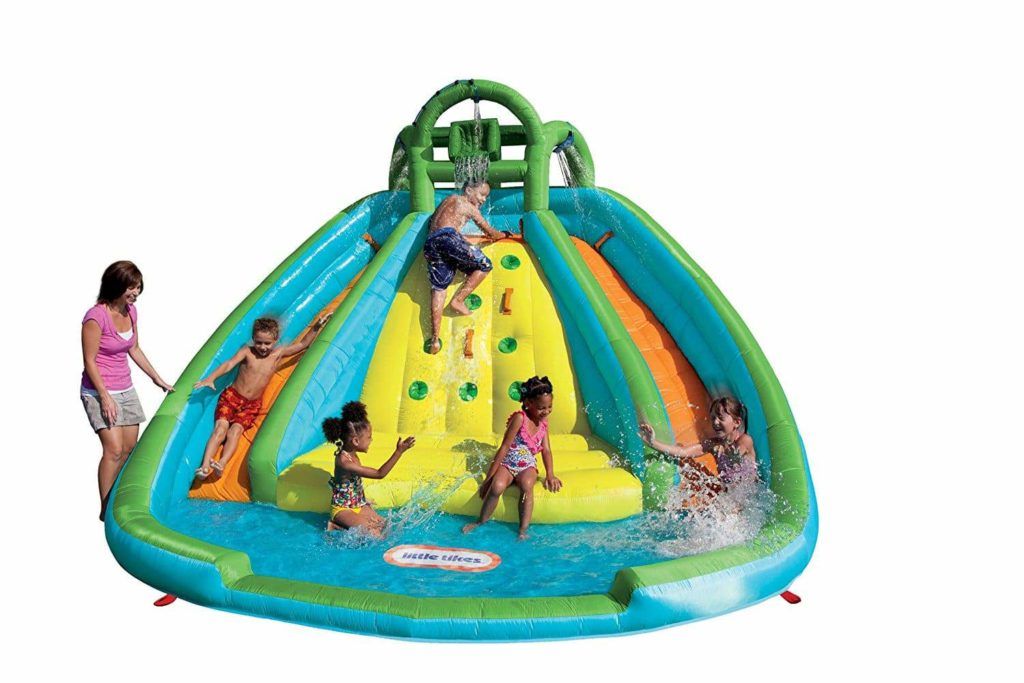 This inflatable water bouncer from Little Tikes is a great pick for younger children. It includes an easy climbing wall, two slides, and a small splash pool. It's designed to be completely open, which my wife loves, since it allows her to keep an eye on all the little ones without having to be "on patrol" at all times.
It's got a fun dump bucket that splashes kids as they climb, and can hold 4 kids at a time. This water park comes with stakes, a heavy-duty blower, a repair kit, and a storage bag.
This is the best inflatable water park for younger kids.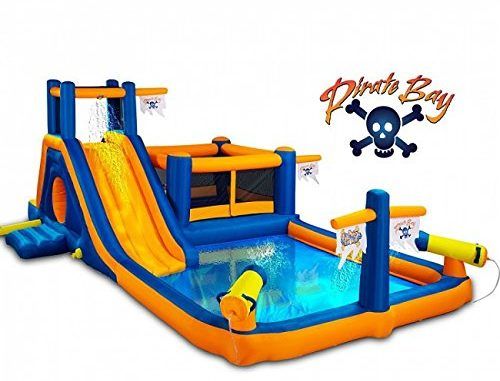 The Blast Zone Pirate Bay inflatable water park is full of fun activities to keep kids entertained for hours on end. The water slide features an overhead sprinkler, that leads you into a large splash pool. It's got two water cannons for fun pirate adventures, and a fun climbing wall.
The coolest thing about this water park is that it has a separate bouncy area where kids can jump. My kids love to play pirates, have one of their friends jump from the trampoline and try to dodge the "fire" from the water cannons.
As usual, this water park includes a blower, carrying straps, anchor stakes, and a sprayer system.
This is my kids' favorite water slide, and the one we use every summer.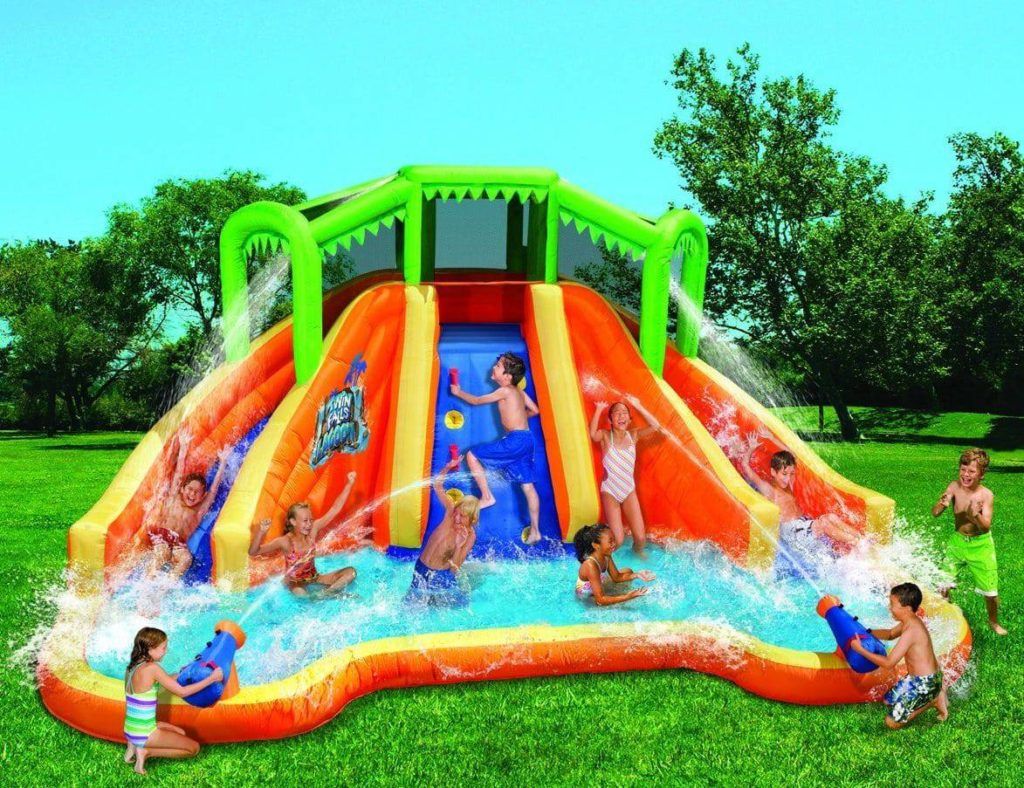 The Banzai Twin Falls water park is a great pick and one of the best deals I've seen. The splash pool is really large, which is nice since my wife and I can soak while the kids are playing, and we don't run the risk of getting trampled by them (as much)! This inflatable water slide has a climbing wall and cannon sprayers too.
The twin slides are a godsend to avoid arguments (who likes to take turns, anyway?). This system includes a blower, stakes, carrying bag and repair patches.
When hosting parties (my daughter was born in July, so it's come in handy a few times already), this is the water park that I go for. While it may not be as fun as the Pirate Bay park, it allows for a lot of kids to have fun at the same time. Just be warned — the neighbor's kids are going to spend their summers at your house.
Which Backyard Water Slide Is Best For My Family?
So which one of these backyard water slides is the best for your family! That all depends on a few factors.
The number one factor is how much space you have, of course. It's important to consider that you'll want at least three feet around your slip n slide in all directions. This is essential to make sure your kids are safe.
Another factor is how many times a year you will be playing with it. If you just need a water slide for a one-time event like a barbecue, a big slip and slide style water slide is a budget-friendly option. And it will allow everybody to play together unlike other toys. Slides with included blowers are significantly easier to set up, meaning they'll also get used a lot more (at least that's the case in my house).
If you have a lot of children, I would just look into an inflatable water park that will keep them all playing together. If you don't, you will have one of your kids get bored, they'll want to go inside, meaning you're going to have someone else look after the kids outside, and that's just not very practical most times.
And if you really have tons of space or older children, it's a great idea to couple the slip and slide with a massive rectangle trampoline (my kids still love theirs after five years).
I can safely say, getting a slip and slide was the best way I've found to keep my kids off of Fortnites, Minecrafts and iPads at least for the summer months. Can't recommend them enough.
Thanks for reading, and have fun!