Glass top stoves are fast becoming the most popular type of stove for modern kitchens. They offer many advantages over conventional fire or electric stoves: they're easy to clean, they heat up fast and, when they're off, they provide a little extra counter space.
If you want to get the best results from your stove, you have to choose the best cookware for glass top stoves.
Why Do I Need Specialized Cookware for a Glass Top Stove?
Because it is Delicate
Glass top stoves are made out of a mix of glass and ceramic, glass-ceramic. While they're very durable, their surface could crack or chip if you're not careful.
For Induction to Work Properly
Glass top stoves heat up your cookware by electromagnetic induction. Current passing in a coil under the burners creates a magnetic field that forces the electrons in the cookware to flow, heating up the metal.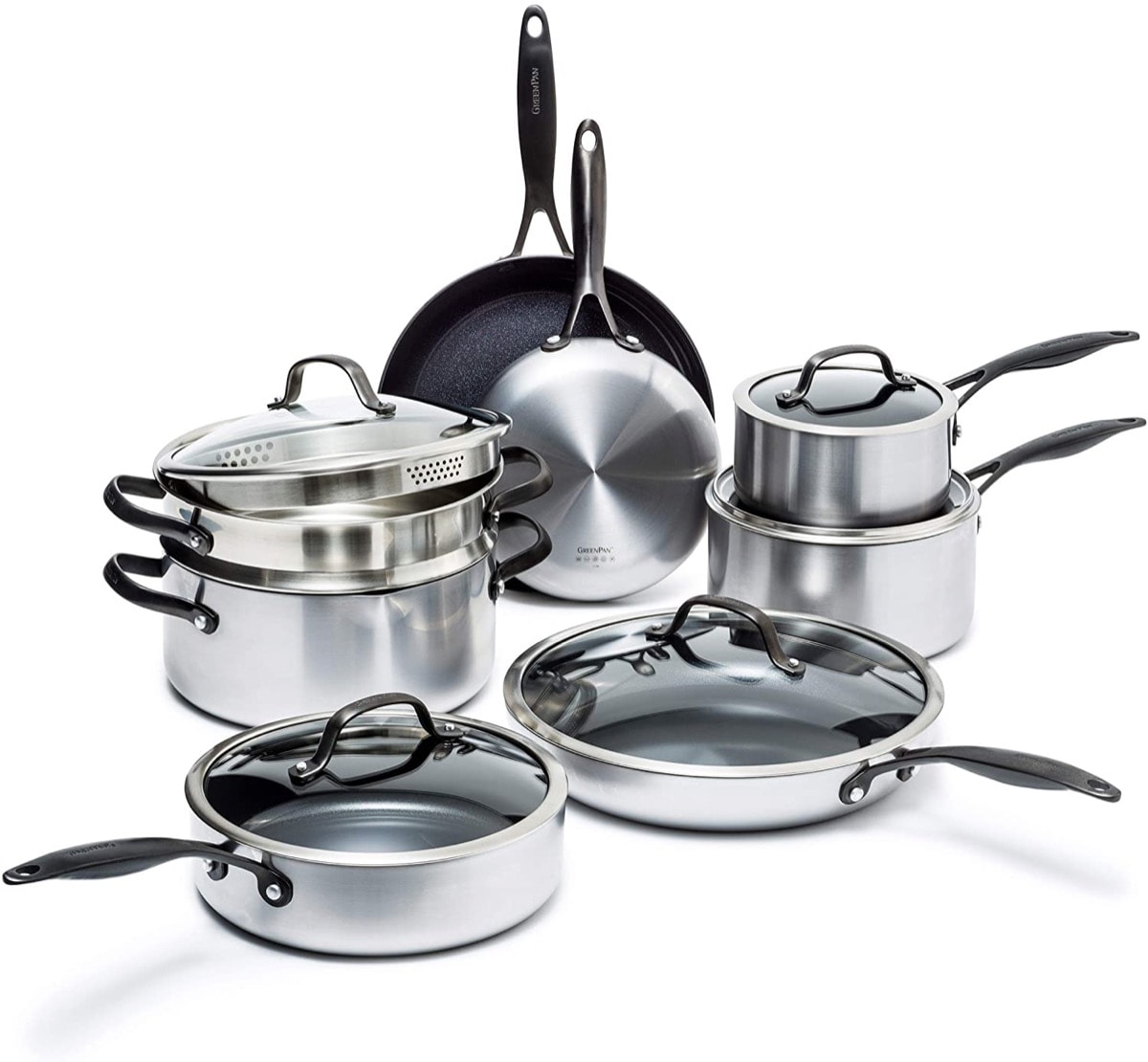 GreenPan Venice Pro Noir Great cookware, amazingly non-stick out of the box
This cookware is high-quality stainless steel. Absolutely flat, hence perfect for glass top stoves, dishwasher and oven safe, it features GreenPan's amazing coating. Out of the box, eggs will just slide off it. And, if you avoid overheating these pans, they will keep doing so for many years.
Check Price
How To Tell High-Quality Cookware For Glass Top Stove
Not every material works with glass top stoves. For electromagnetic induction to do its thing, you have to use a material that contains iron (which is subject to magnetism). You can check a pan with a fridge magnet, if it sticks to it, it will work with a ceramic stove.
Good materials
The highest quality cookware to use with glass top stoves will generally be steel. There are a few variants, from regular 18/10 stainless steel, all the way to carbon steel, which is what professional chefs use.
Bad materials
Aluminum and copper cookware doesn't work on glass top stoves, because these metals are not ferromagnetic. Ceramic of course won't work either.
Some pans have an iron-based metal like steel encasing an aluminum disc. This is a way to cut costs, but it does have the benefit of making the pans a little lighter.
Shape and texture
Glass top stoves can scratch if you're not careful. That's why, even though cast-iron pans would work with them, you really should stay away from them. The rough texture can scratch or even crack your glass top stove!
Ideally, you want cookware that is perfectly flat at the bottom, so that its entire surface can come in contact with the induction plate, heating it evenly.
Weight
A consideration with glass top stoves is that you actually want to find a good balance in the weight of your cookware. You want it light enough that you can handle the pots and pans with ease, so you don't drop them on your stove and shatter it.
But you also want to make sure that the pans you choose have a thick metal bottom, so that induction can heat them quickly and, especially, so that the heat will be distributed evenly across the cooking surface.
Humming Noise
If you own a glass top stove, you know that it makes pots and pans hum. Certain brands and types generate higher pitch noises, some of which can be really annoying. It's important to grab a set that doesn't hum very much, or you'll send people running with hands on their ears every time you make an omelette!
Handle
While not strictly necessary, if you want to do some serious cooking, you should try to have at least one pan that has a metal handle, no silicon or plastic sleeve, so that you can stick it in the oven for finishing or reheating food.
This is why you'll never see a professional chef use a pan with a silicone handle!
List of the Top 5 Cookware for Glass Top Stoves of 2023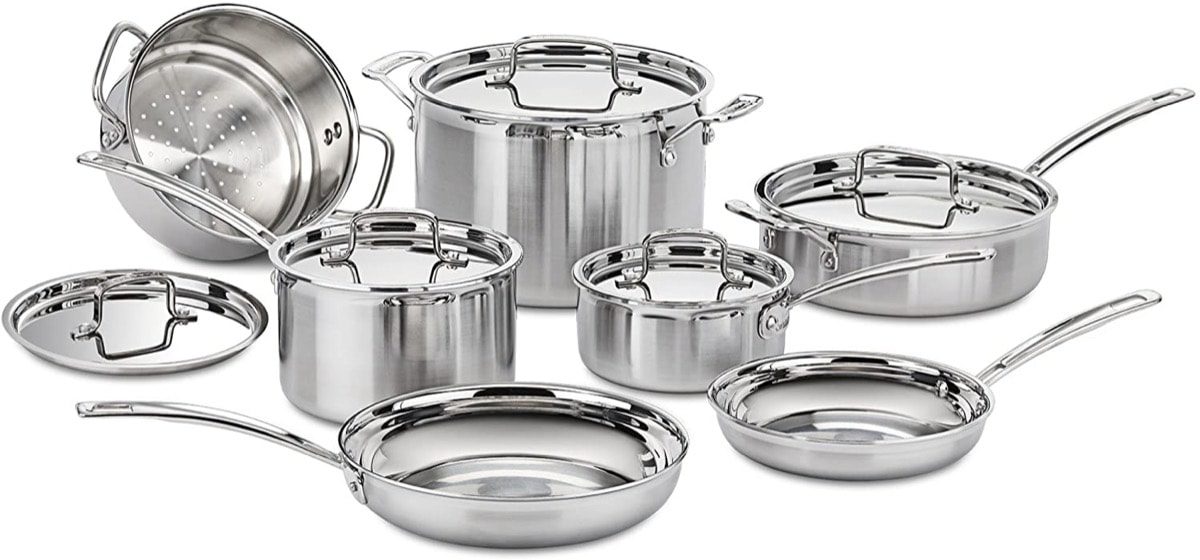 The Cuisinart MCP-12N is a really nice set. It looks fantastic and provides a good range of sizes.
These pans are made out of stainless steel. The base features an aluminum core for better heat retention. The tapered rim works well to pour liquids without making a mess, and the metal lids fit very snugly in the pans, which is great.
While I love the aesthetic of this set, there are a few things to keep in mind: like all stainless steel pans, these pans will need to be seasoned before being non-stick. If you skip this step, you'll end up with a mess of stuck food.
I didn't like that the pans are relatively small, and that the bigger pan, which I found myself using more often, has really tall sides, as it's more of a sauce pan.
You should always cook at medium-high at most, and let these pans cool gently to avoid warping. While my set was perfectly flat, I've seen enough reports of warping to be a little wary. I suspect the aluminum core may have something to do with it.
If you use a glass top range, flatness is key, so this is a big consideration.
Pros
Good value for money
Tight-fitting lids
Metal handles
Cons
Pretty loud hum when cooking
Prone to warping
Check Price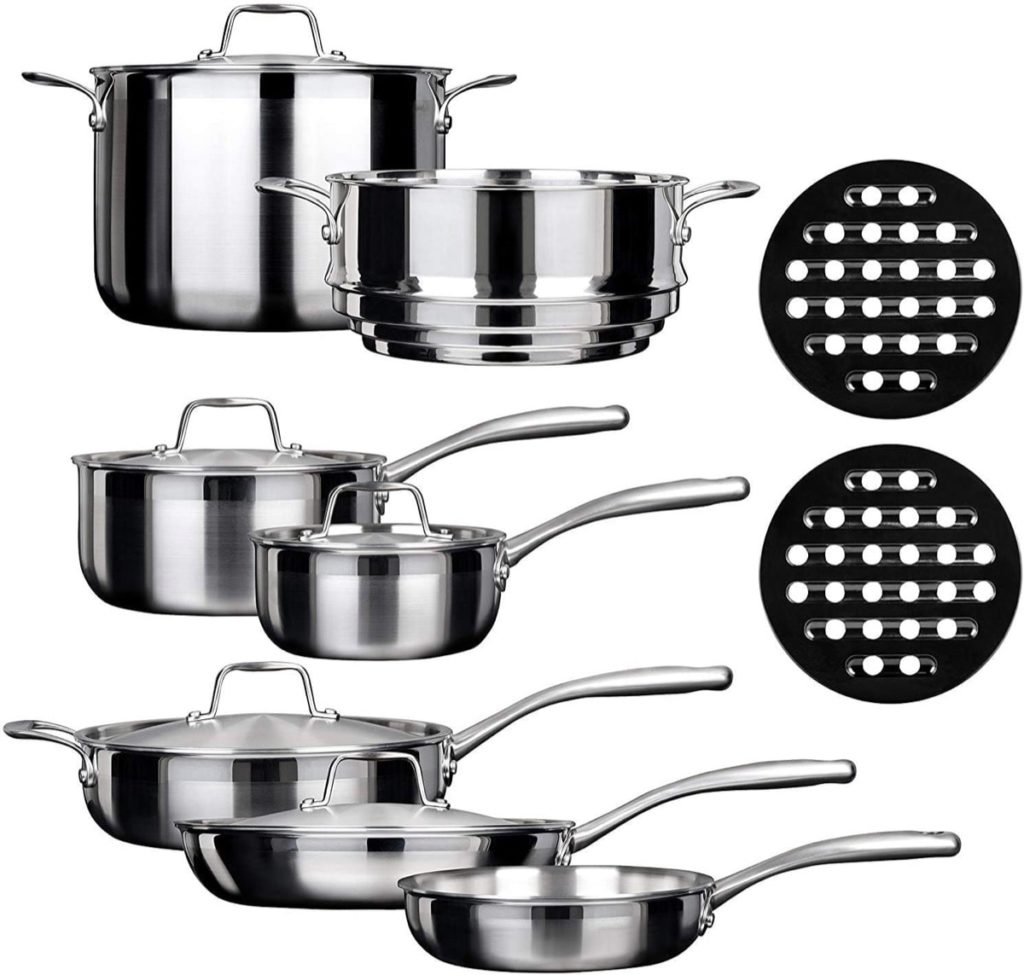 Another stainless steel set, the Duxtop is the same price as the Cusinart but features 14 pieces instead of 12. It also has more versatile pot and pan sizes, in my opinion.
The base is nice and thick and they work well with a glass top stove. It does seem that the bigger pots sometimes will trigger the auto-off switch on my stove. I'm not exactly sure why.
Aesthetically, these are a great looking set. Very sleek and understated, there's no visible branding, which makes the set feel very "professional".
The body and the handles are all metal so you can stick them in the oven up to 550°F, which is great for finishing.
One notable mention is the strainer pot which I find super useful. I love pasta, and being able to boil and drain the pasta directly into my sauce pan without having to go to the sink (or having to remove whatever's in there), is a real time saver.
Like all stainless steel pans, I recommend seasoning them with some flaxseed oil before using them, and they'll be nonstick. This does change the color of the pans, and it may look a little unsightly.
If you want something that's going to remain more polished-looking, I'd go with another set.
Pros
Inexpensive
Lots of pan and pot sizes
Great design
Cons
Quite hard to clean
Handles are pretty small
Check Price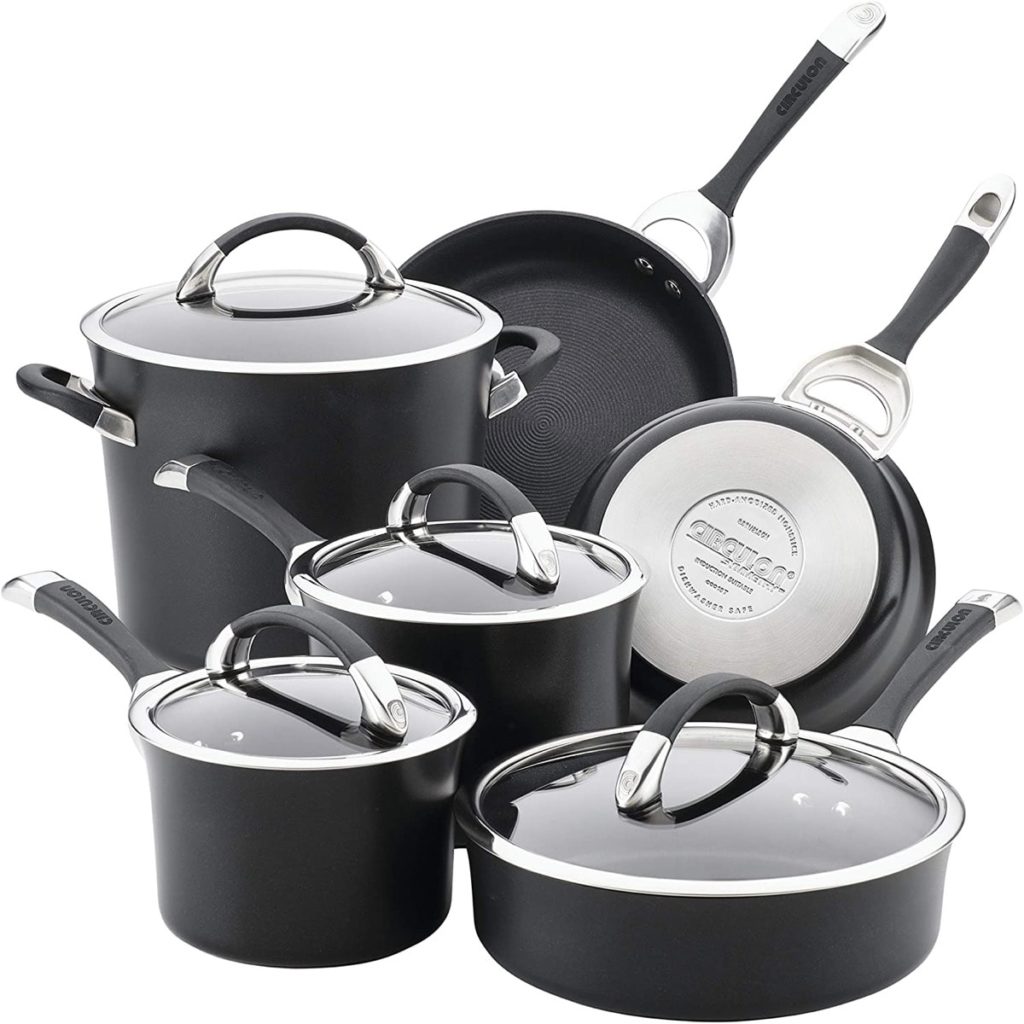 The Circulon Symmetry is a great cookware choice for glass top stoves.
While the set is only 10 pieces, and thus a little barebones, it offers good enough variety. If you're anything like me, the 10″ frying pan will use way more use than anything else.
What makes the Circulon Symmetry set unique is that it has a non-stick coating, as well as a grooved surface. This is to help avoid food sticking and utensil damage. If you're heavy-handed with your cooking utensils, this may be the set for you.
The only downside of the grooves is that it makes it a little harder to clean the inside. But that is more than offset by the fact that even the outside of the pans is clad in non-stick coating. I love this! Sauce drippings come off very easily.
This set has a very thick stainless steel bottom which is super flat, great for induction cooking. As a matter of fact, these pans heat up very quickly and retain a lot of heat.
One downside is that the handles are covered with silicone. Circulon says you can still stick the pans in the oven up to 400ºF, but being very health-conscious, I found myself not wanting to do that at all.
The Circulon set is lighter than the other I've tried, but I think that comes at the expense of its sturdiness. I already have a little dent on the big pot.
Pros
Grooves help with non-stick
Super easy to wash inside and out
Cons
These pots are fragile!
Silicone on the handles
Check Price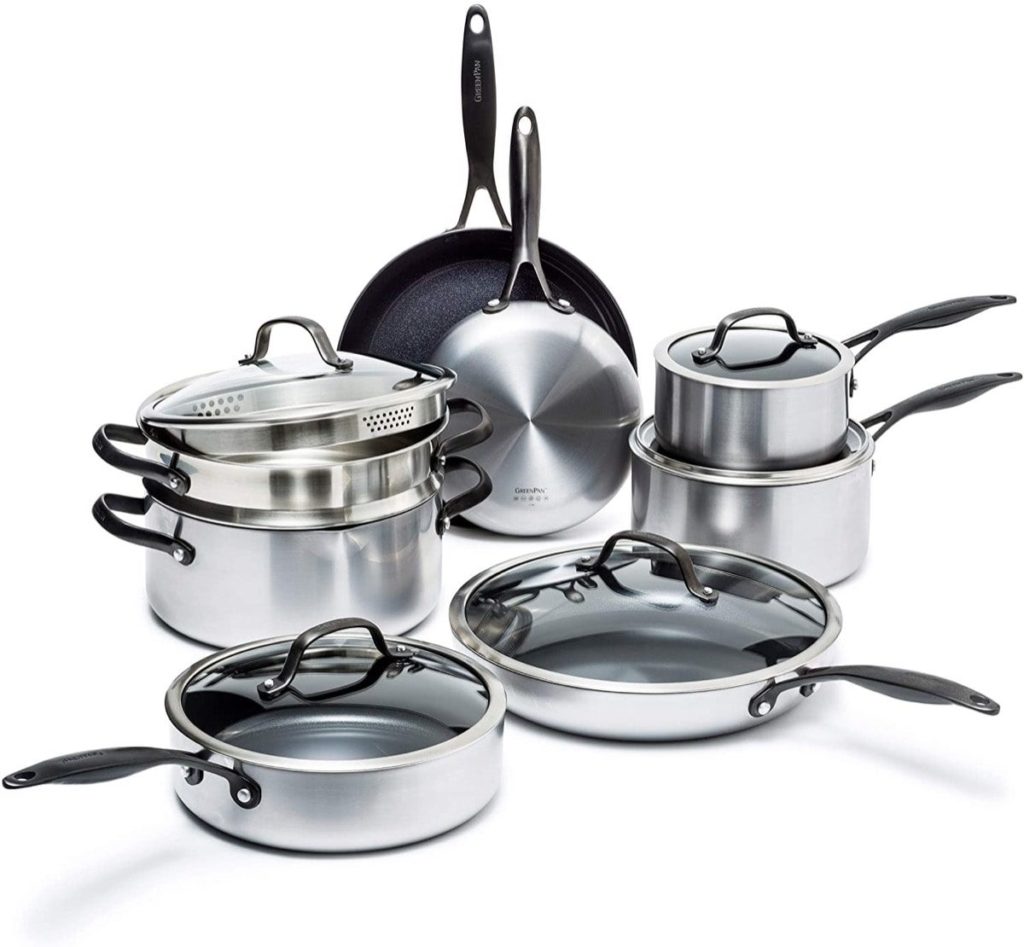 For over three years I've had a cheap GreenPan ceramic-coated frying pan as my daily workhorse, so I've always liked the brand.
This set is certainly a step-up from the others: it features pretty much exactly all the pieces that I'd buy individually.
These GreenPan set looks very sleek, with an all-stainless steel construction, but it does have the benefit of a really awesome coating on top (meaning you won't have to season these).
The handles are all-metal, meaning you can stick these in the oven (without the lids) up to 600°F. The handles are also the best of any pan I've tested—they're ergonomic and they provide great grip for these pretty hefty pans. Yet, they're short enough for you to stick a pan of leftovers in the fridge without having to remove everything else.
The glass lids are sleek and allow to monitor food while cooking, which is also a really nice feature. The pots feature straining lids, as well.
What I love about GreenPan is that their coating is seriously amazing. It's very non-stick and durable. If you're careful not to overheat the pan, it will last you years.
Also, from a health point of view, the coating they use is free of PFAS, PFOA, lead and cadmium. They even have tests showing that it won't ever release the dreaded teflon toxic fumes, which is added peace of mind for me.
Pros
Great selection of sizes
Non-stick coating is excellent
Comfortable all-metal handles
Cons
I guess this set could be a little cheaper
Check Price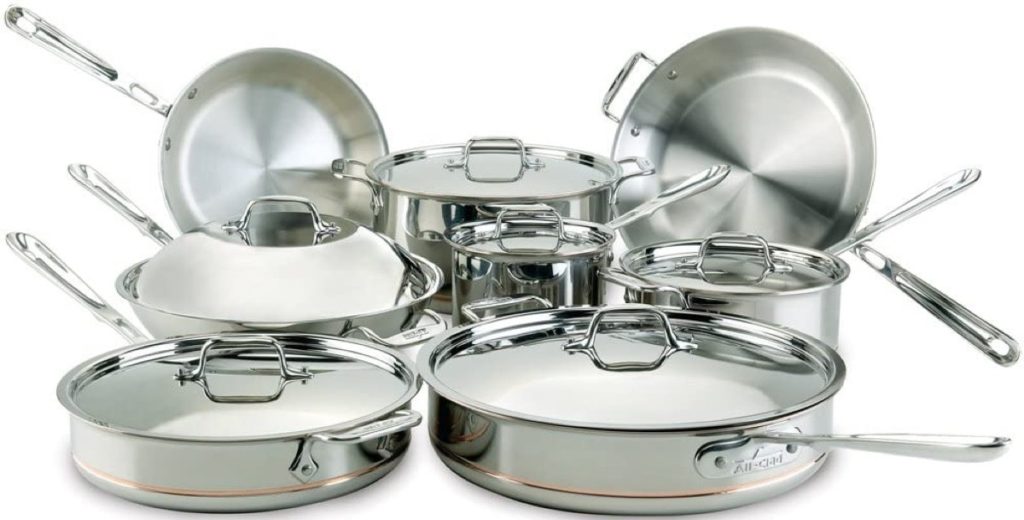 If you just want the best cookware for glass top stoves period, and you don't care how much it costs, the All-Clad is for you.
This 14-piece stainless steel set is manufactured in the USA, and it's super high quality. Everything feels heavy, solid, flat and smooth.
The thick 18/10 steel is heavy, so you have to be careful handling these pots and pans on top of your stove, but once there, they'll heat up faster than anything else, and they're the only set never trigger my glass top stove's auto-off.
I loved cooking with these pans. I loved that I could just turn off my stove and they'd retain so much heat that I could keep finish deglazing or tossing pasta straight into the sauce and letting it thicken up.
This is an extremely expensive cookware but, if taken care of properly, you'll probably be able to pass this off to your kids.
Pros
Amazing overall quality
Heats up SO FAST
Lifetime warranty
Cons
99% of people can't afford these
Check Price
Conclusions
If you're serious about cooking at home but don't want to spend hours and hours seasoning your pots and pans, my top choice would be the GreenPan!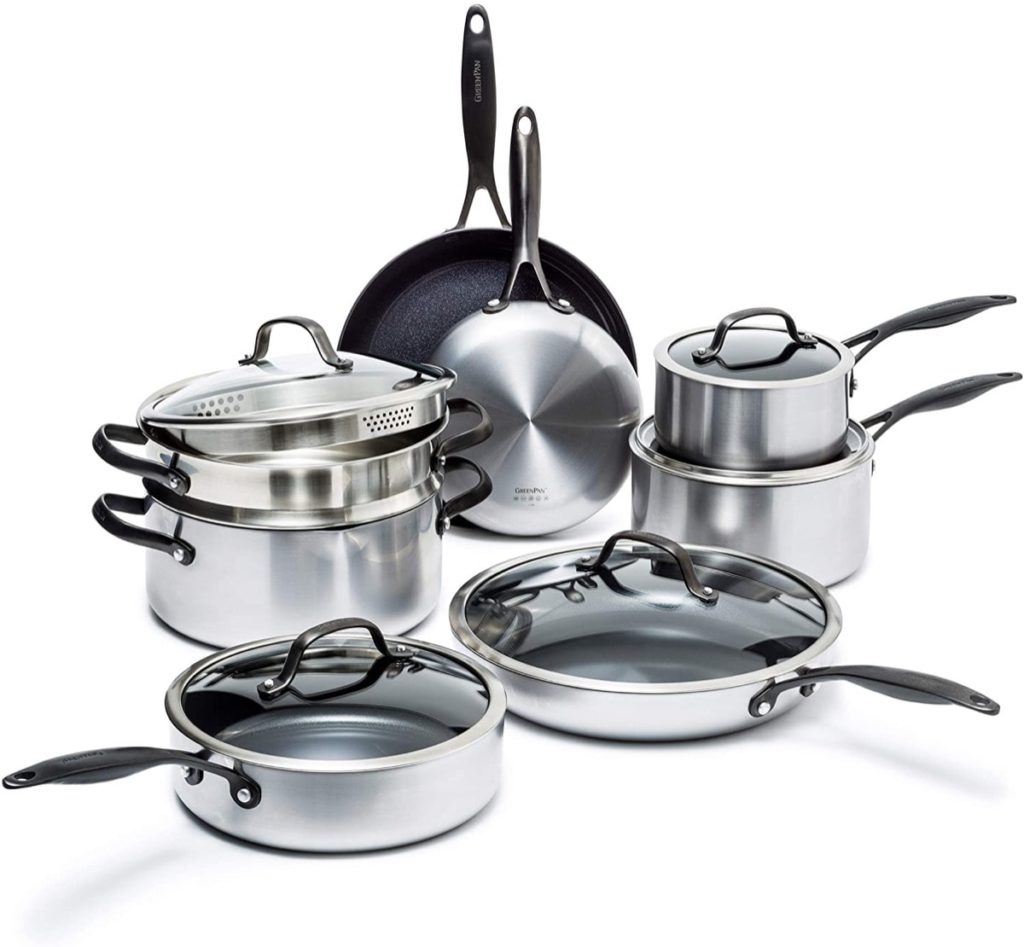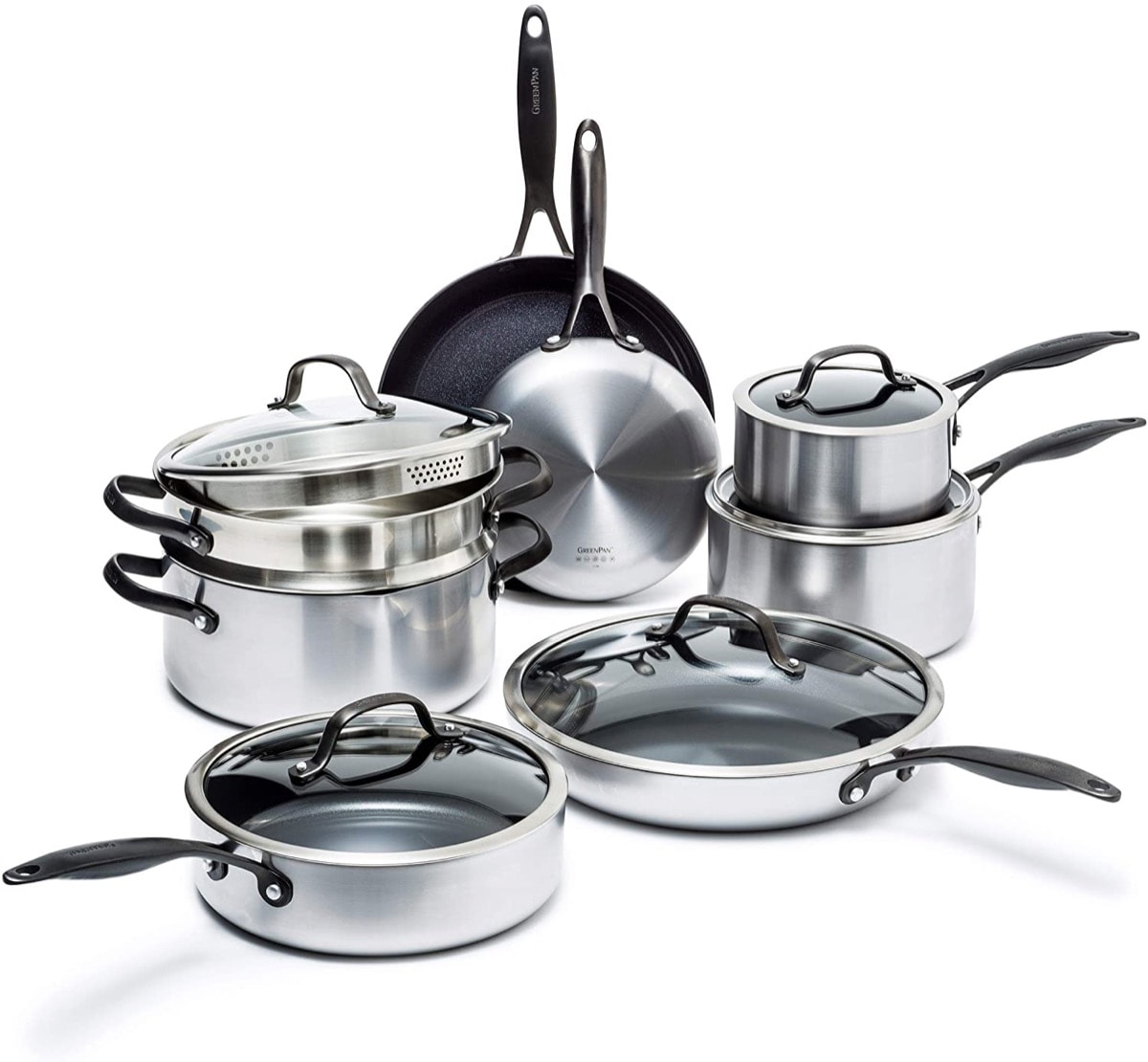 This cookware is high-quality stainless steel. Absolutely flat, hence perfect for glass top stoves, dishwasher and oven safe, it features GreenPan's amazing coating. Out of the box, eggs will just slide off it. And, if you avoid overheating these pans, they will keep doing so for many years.
If you just want the best of the best, then I'd go with the All-Clad. But, beware, you'll have to season these pots and pans for them to be non-stick.
If you're really on a budget, you could get an induction interface disk. It's essentially a thick disc of stainless steel that heats up on a glass top stove. You can just place a cheap aluminum pan on top of the disc to heat your food. This is obviously very clumsy, but you'll be able to use those dirt cheap aluminum cookware sets.
With ceramic induction stoves becoming so prevalent, a good workhorse of a cookware set is essential. Hope my post helped you pick yours!
Summary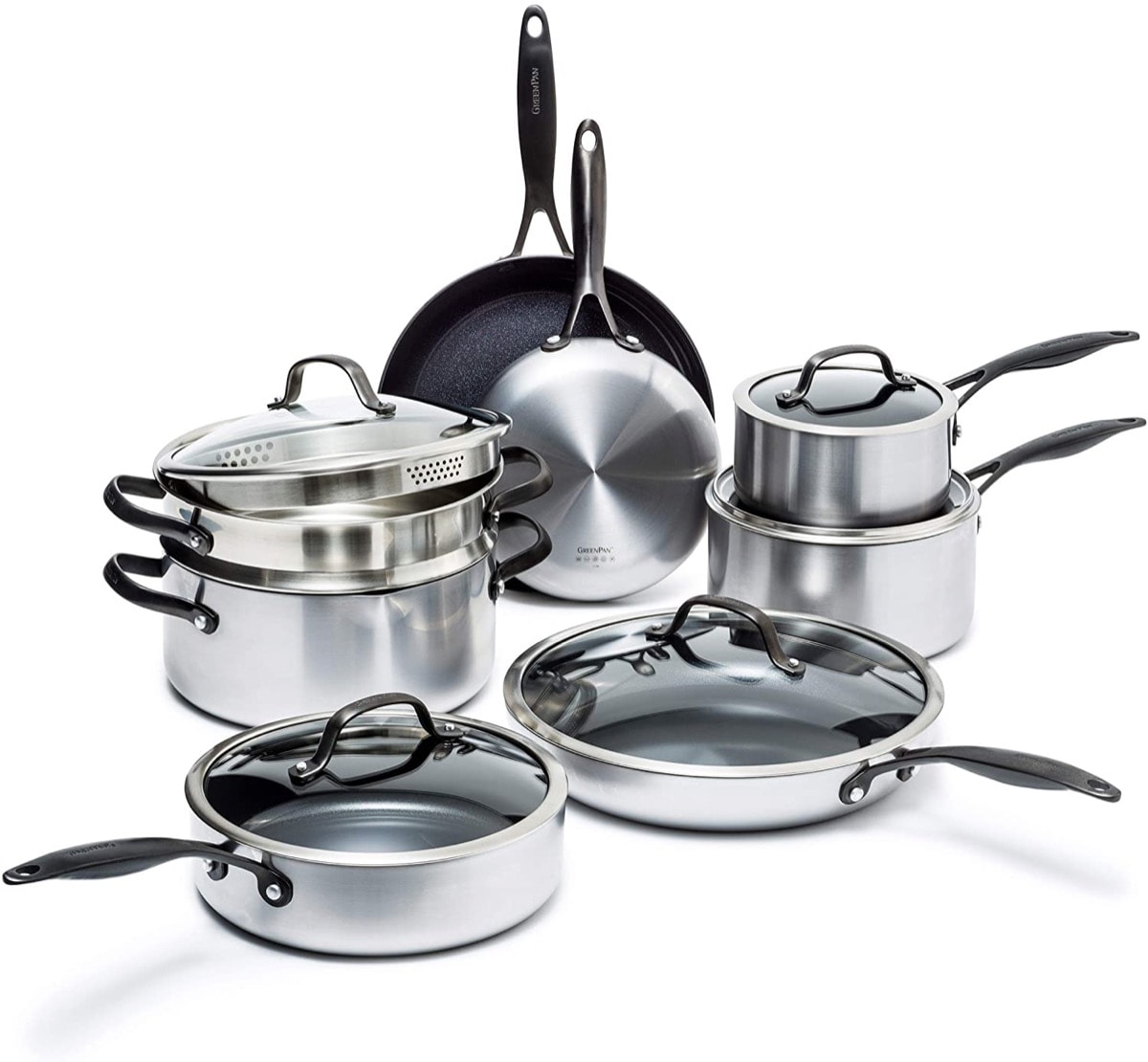 Author Rating





Brand Name
Product Name
Venice Pro Noir 13pc Cookware Set