The little mermaid came out when I was a kid, and ever since I've been obsessed! The pretty colors of beautiful shapes make mermaid room decor one of the most requested style for little girls, and even 90's kids today!
In honor of these beautiful mythical creatures, were covering the best mermaid room decor you can use to decorate your home. Whether you want a nautical mermaid theme bathroom, or simply some beautiful mermaid wall decor- we have you covered!
Check out the best mermaid room decor you can get for a gorgeous style in your home!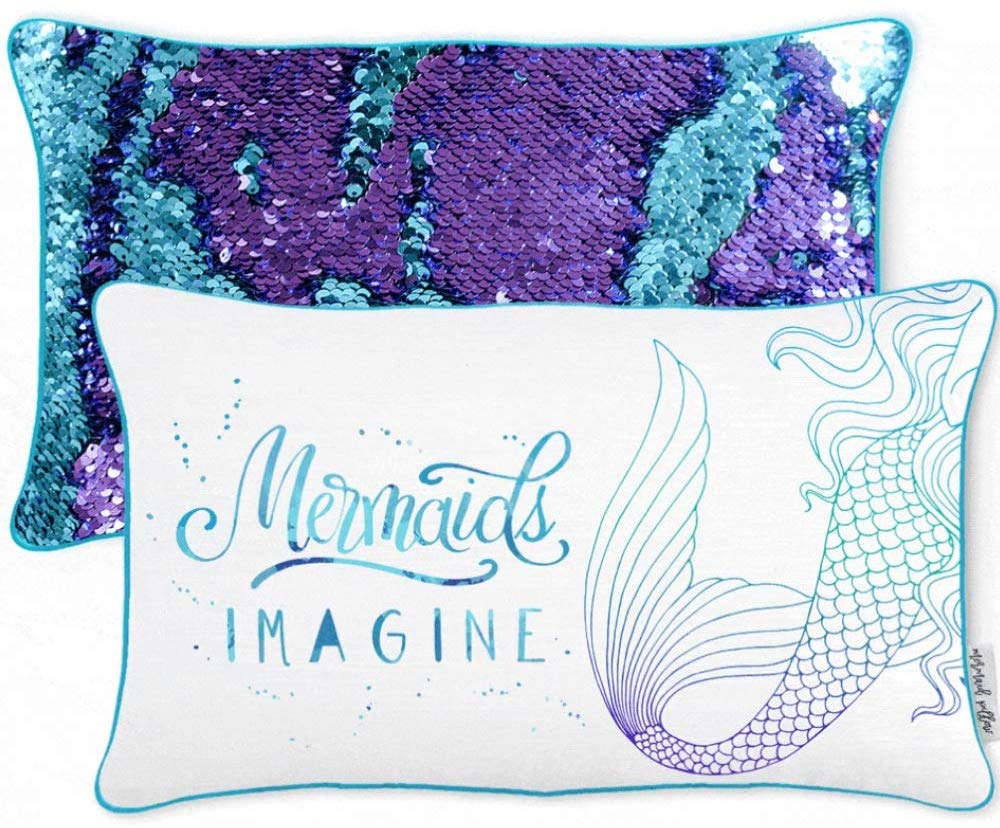 Check Price
Mermaid Bedroom Decor Ideas
Mermaid bedroom decor is perfect for a little girls room, or a guest bedroom. It's fun and vibrant without being too flashy. Here are some great ideas for creating a mermaid theme in the bedroom!
---
Mermaid Bedroom Accessories
To show off your love of all things mermaids, try a few bedroom accessories that will brighten up the space. Here are three ideas for mermaid room decor that will look amazing in your bedroom!
This adorable sign is the perfect piece of mermaid room decor for any "little mermaid". It has a glamourous colorful design, and makes a great gift!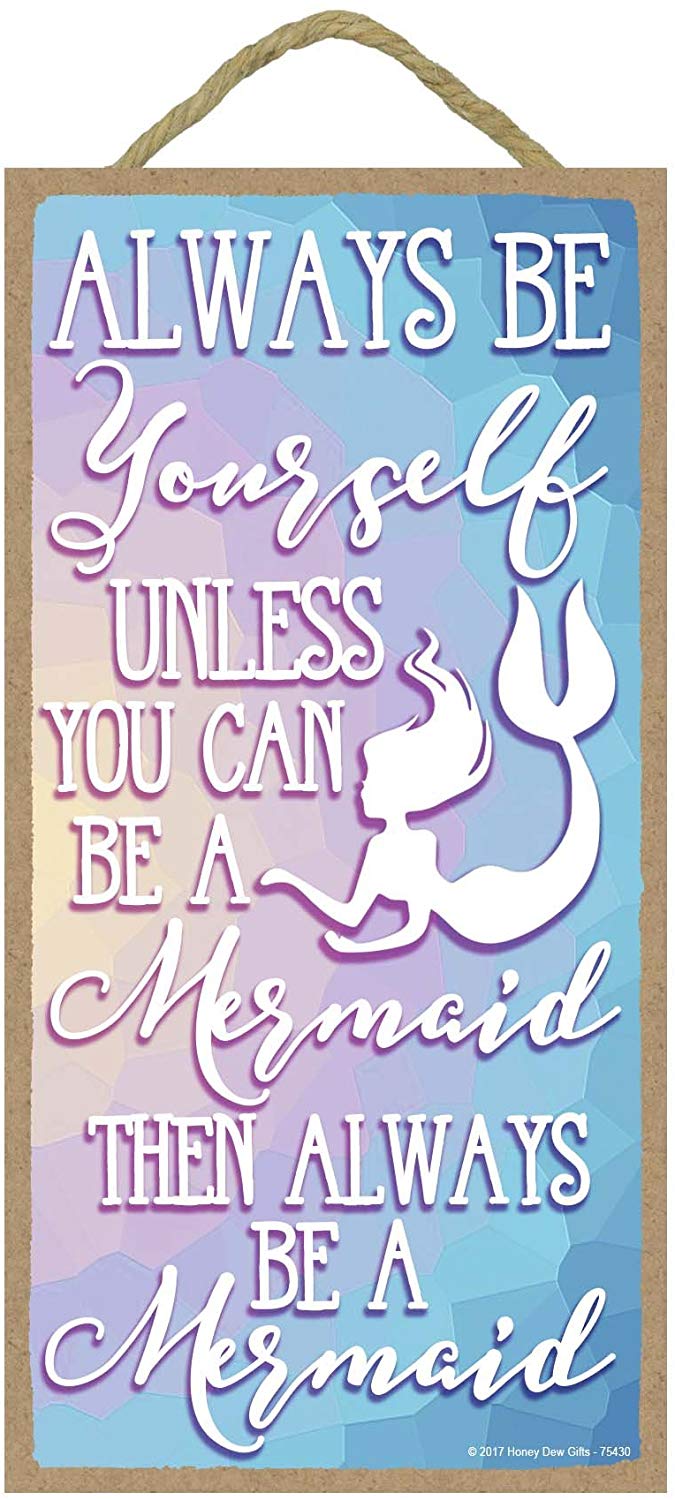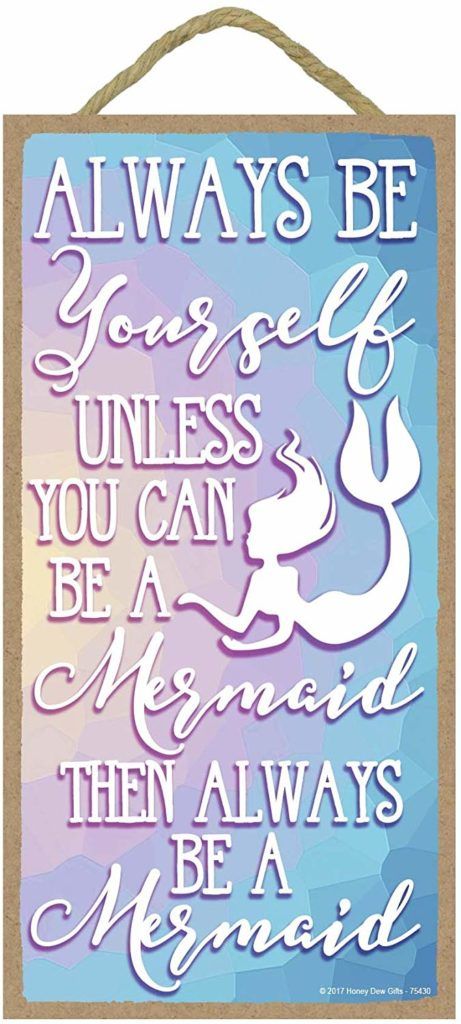 Check Price
Mini LED lights are all the rage lately! This mini mermaid sign is a trendy piece that will look fabulous on your nightstand.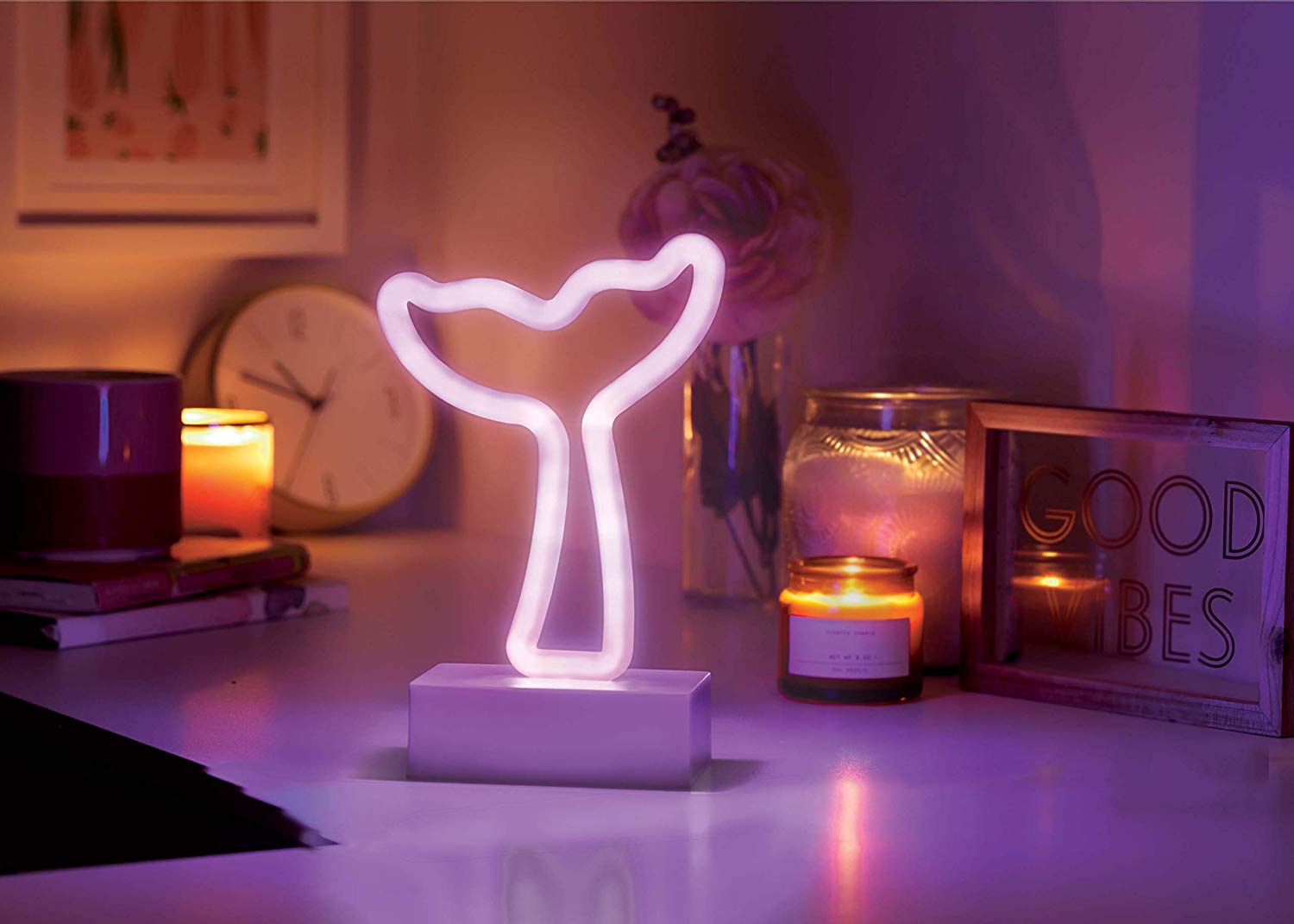 Check Price
This unique mermaid wall decal is actually a mirror! Not only is it beautiful, but with the stars, it reflects lots of light to make the room feel bigger!
Check Price
---
Mermaid Rugs Ideas
A mermaid rug gives the room an instant cheery look. Here are beautiful mermaid bedroom rugs for an adorable bedroom.
This glittery mermaid rug has a beautiful holographic color palette, and a durable no slip backing that's perfect for a kids room.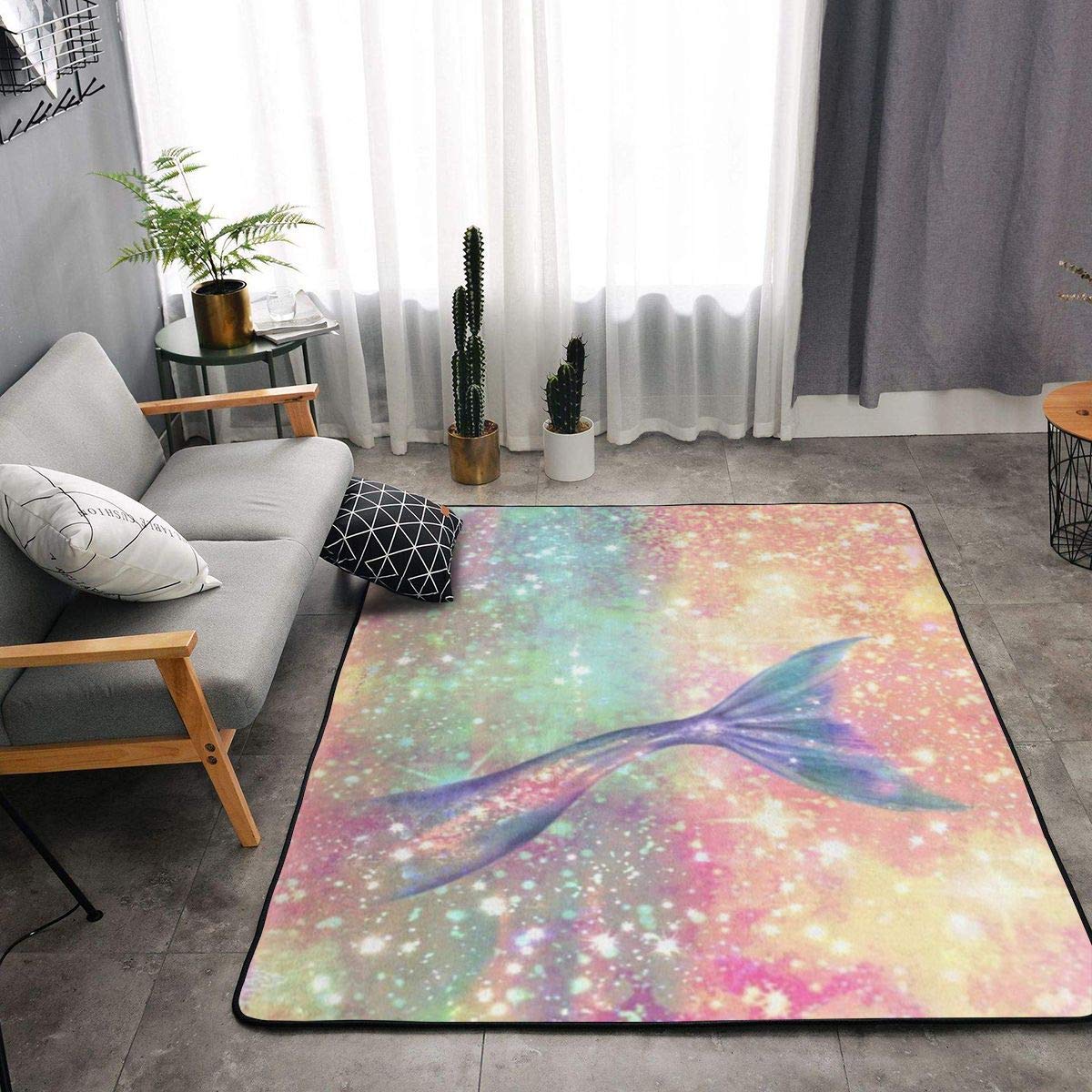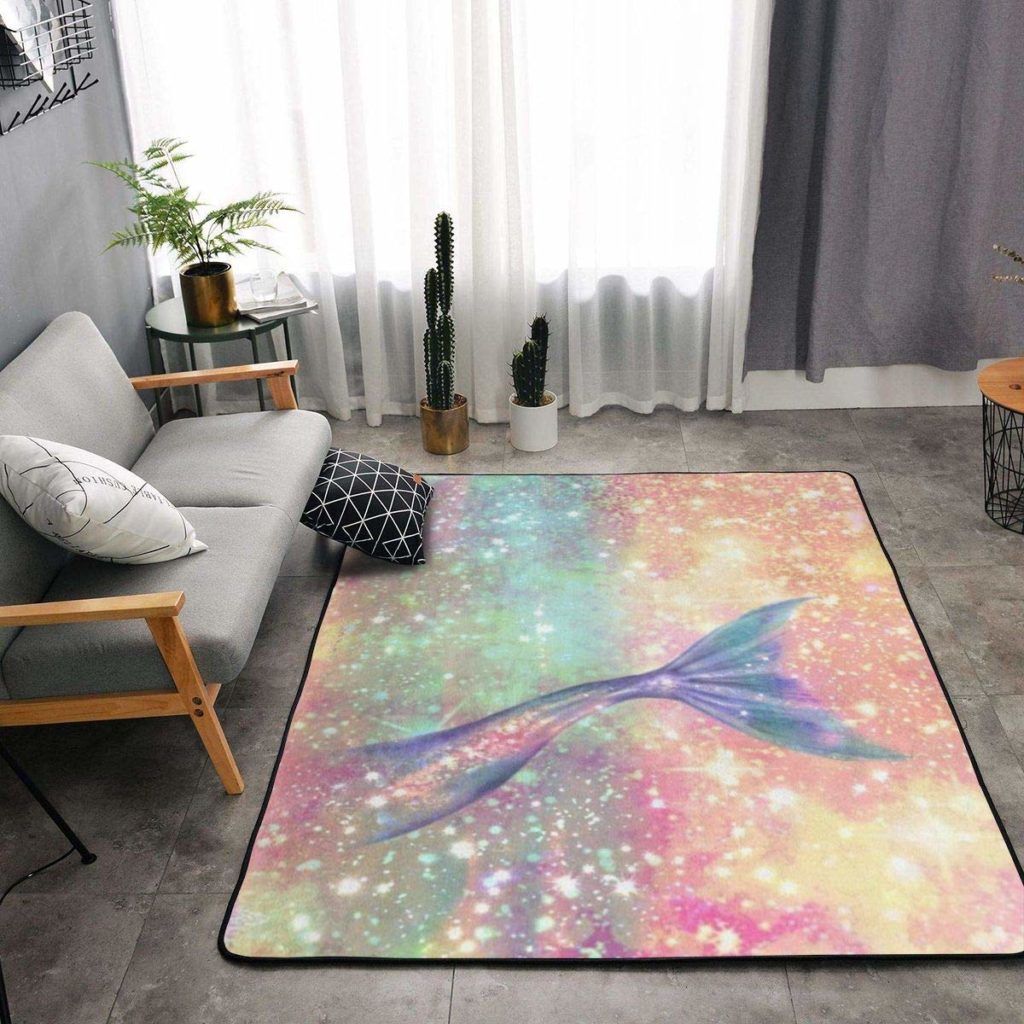 Check Price
This mermaid scale rug has gorgeous purple, pink and blue tones, and a non skid backing.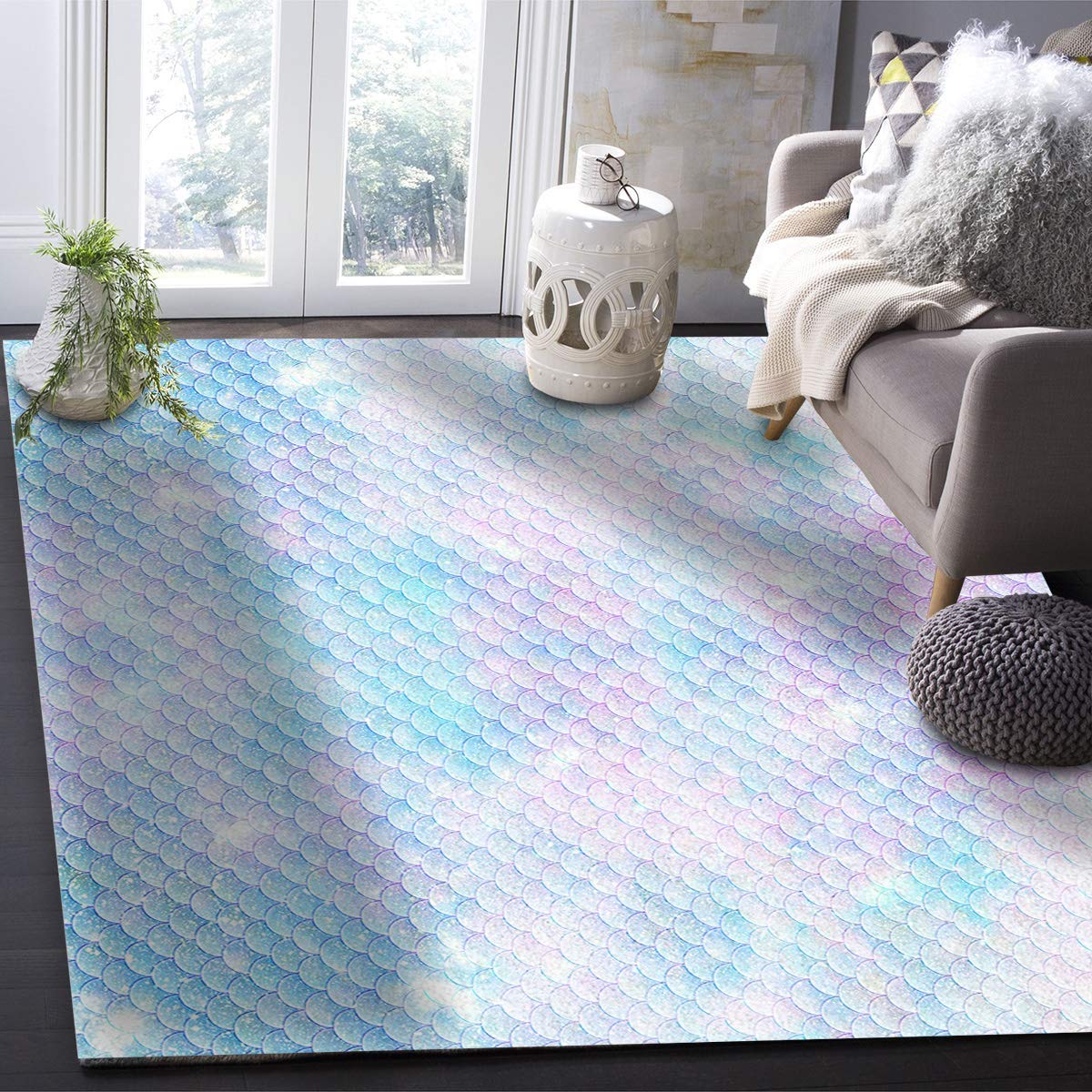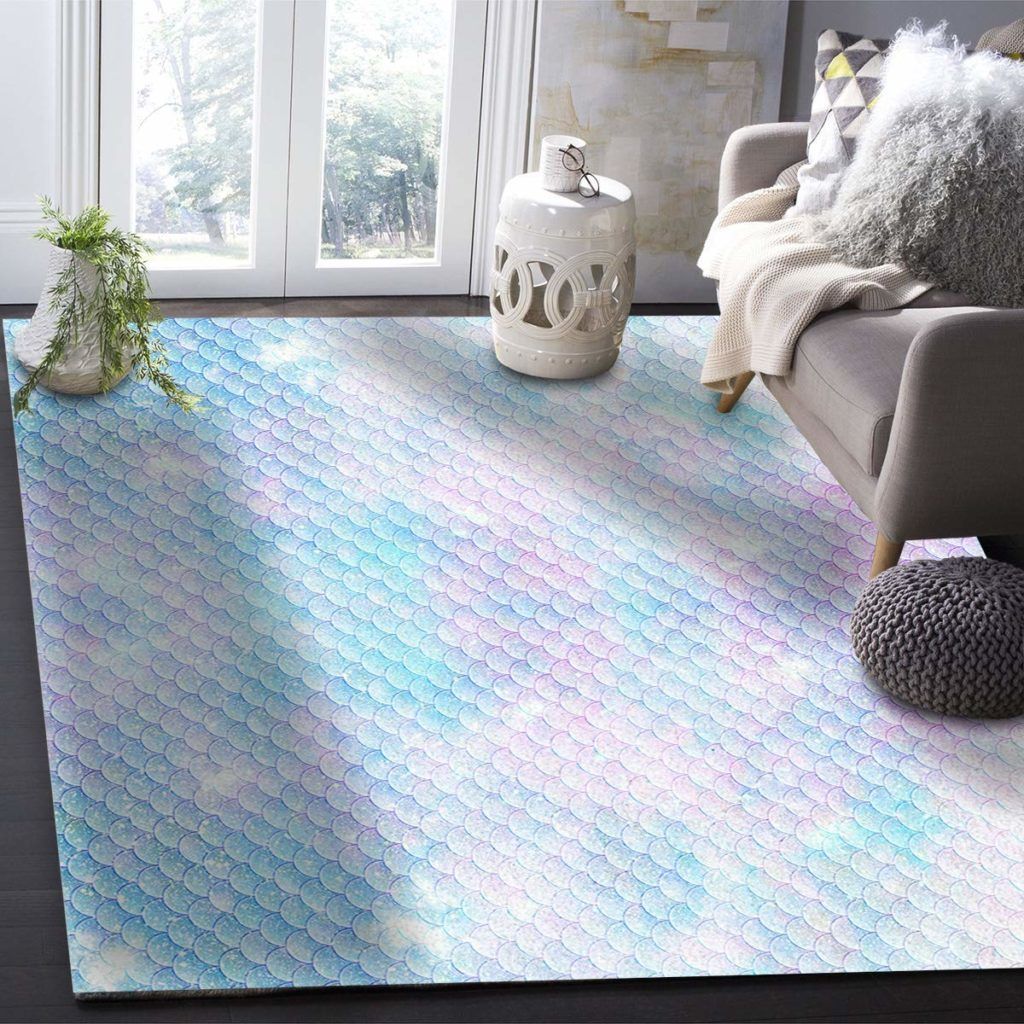 Check Price
This beautiful rug has a mermaid with a watercolor silhouette, and unique iridescent shades of teal. It's got a sophisticated look that is perfect for mermaid bedrooms.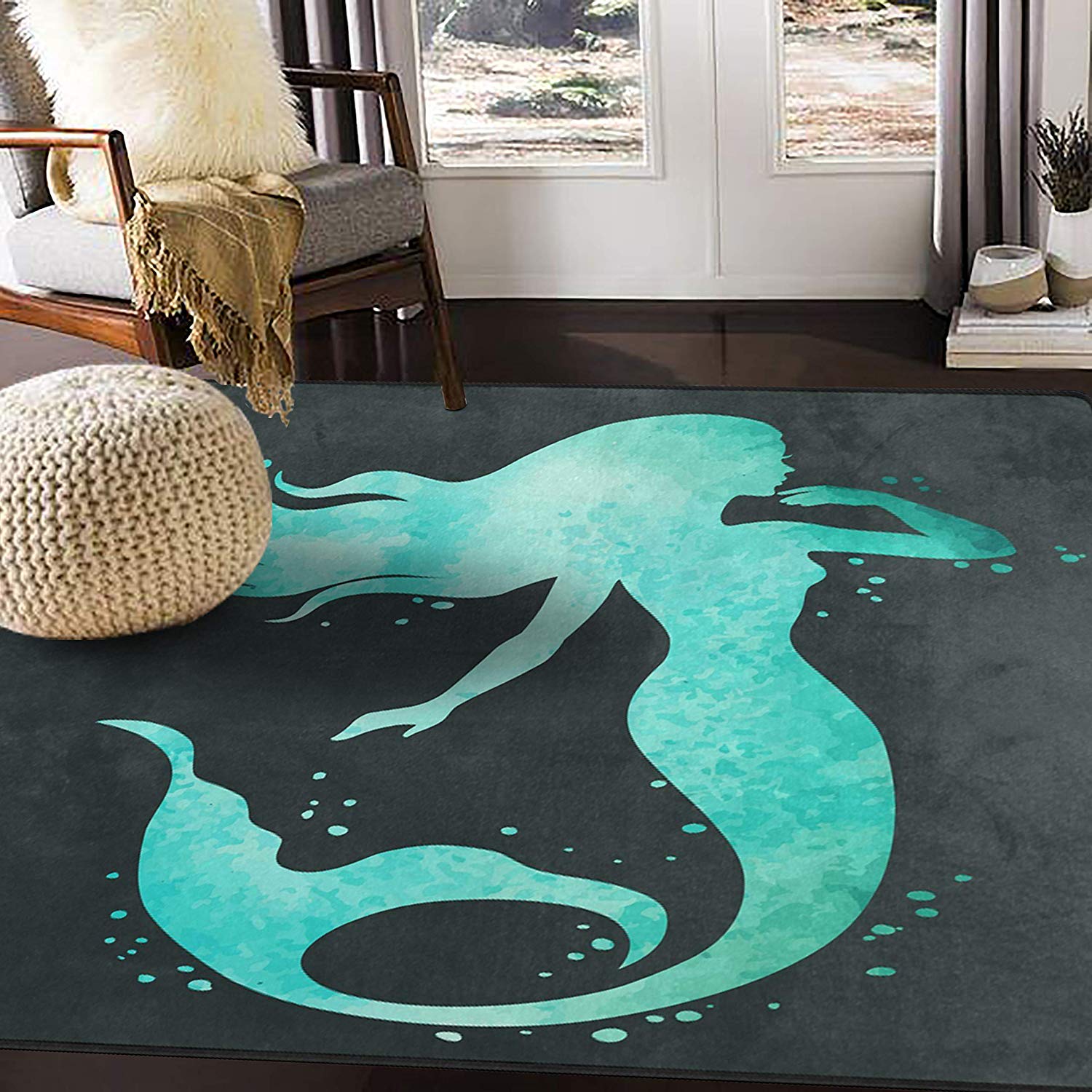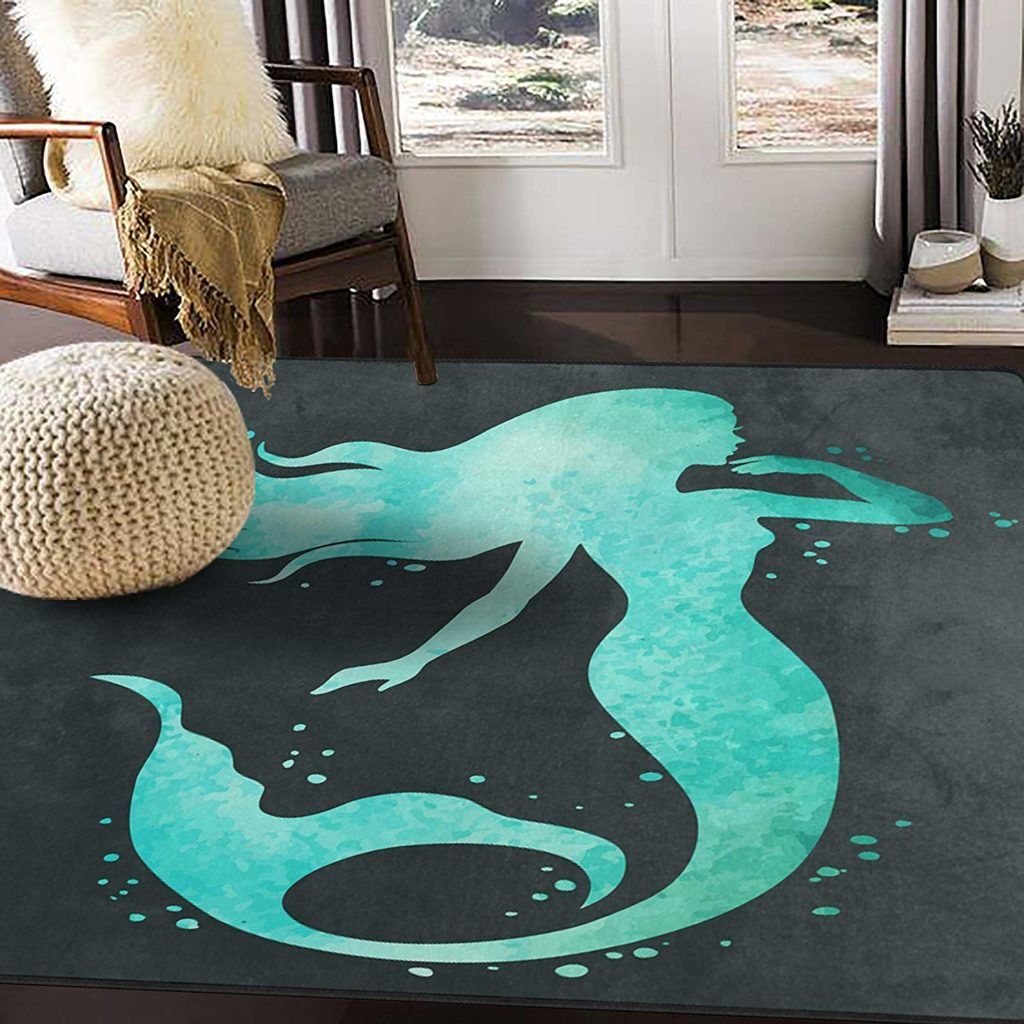 Check Price
---
Mermaid Bedding Ideas
One of the best ways to make a mermaid theme bedroom, is with mermaid bedding. Here are three adorable bedding sets that will bring the ocean into the room!
If you are a fan of Disney's The Little Mermaid, this bedding set is perfect for you. It has a beautiful ombre color, and comes in twin and full sizes.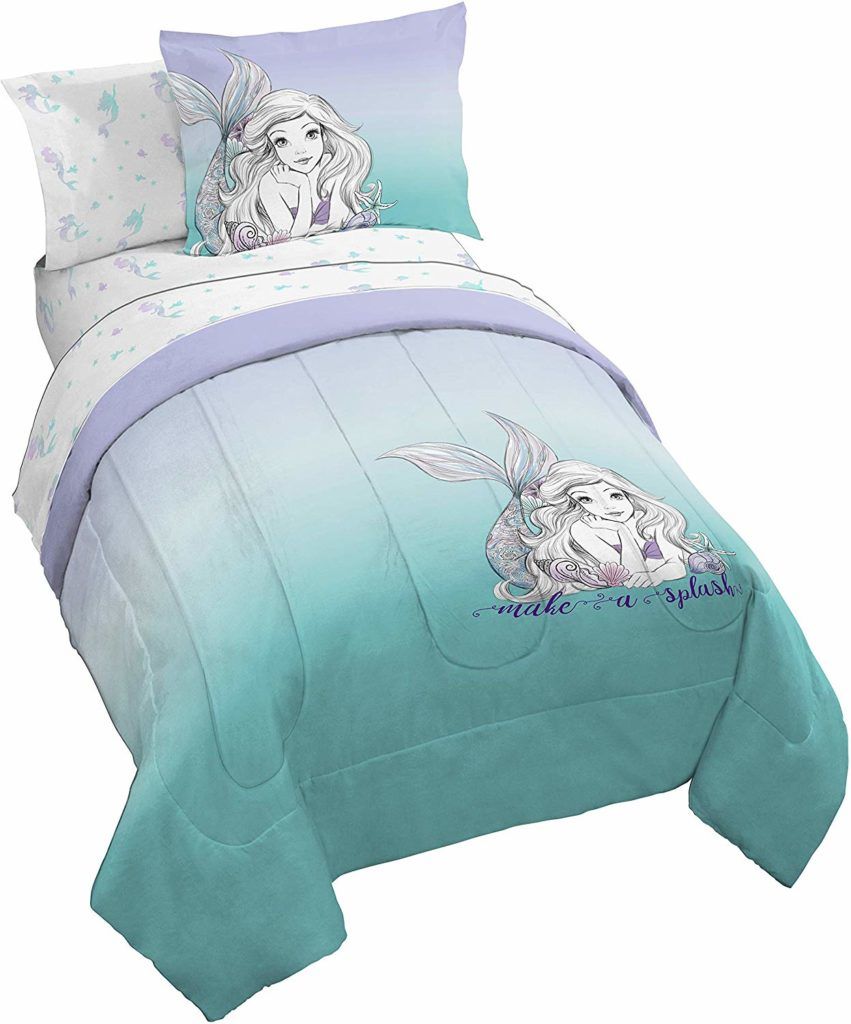 Check Price
This is one of the cutest bedding sets I have ever seen! What little girl doesn't want to make herself a mermaid every night at bedtime? This two piece set lets you snuggle up for the night, wearing your own mermaid tiara!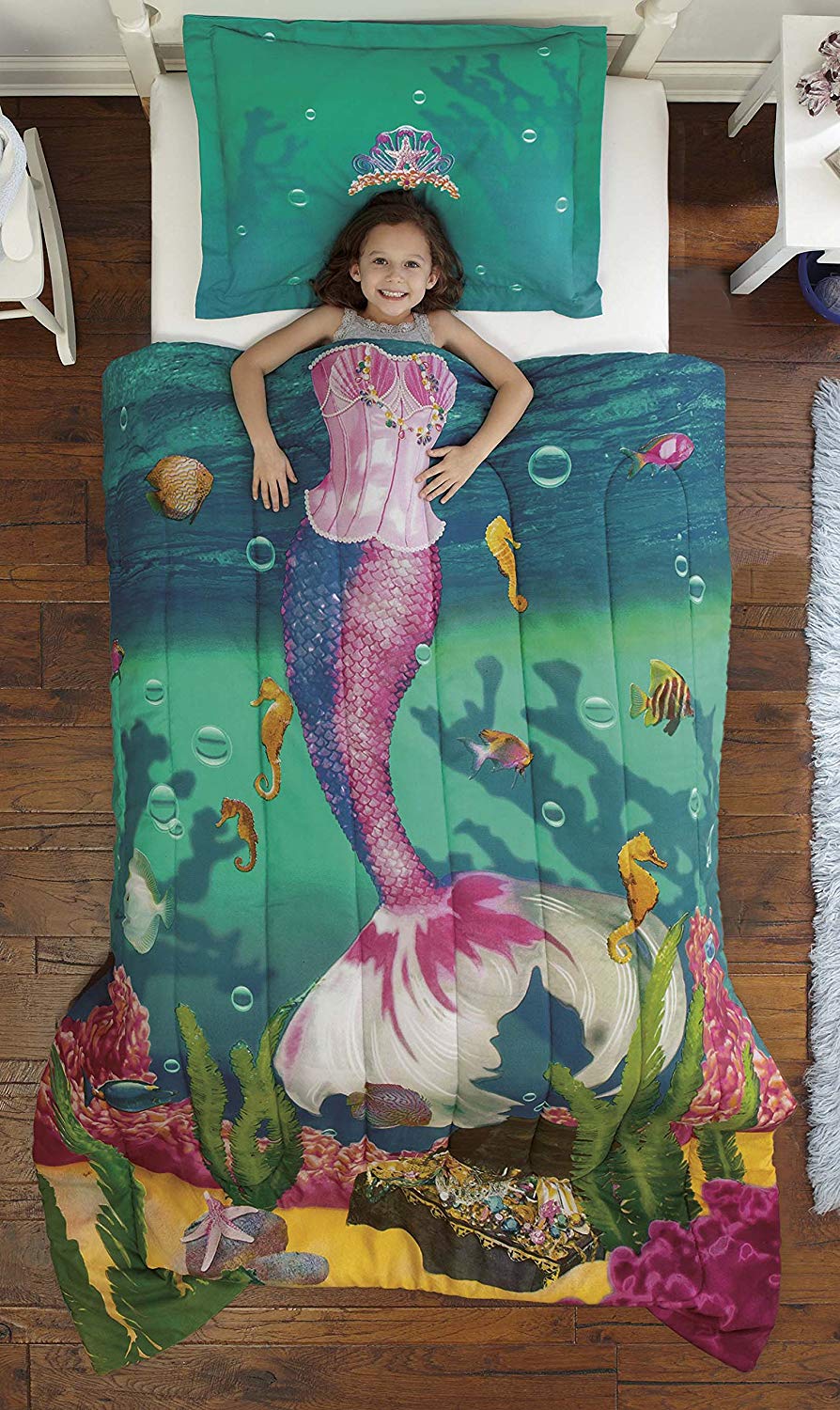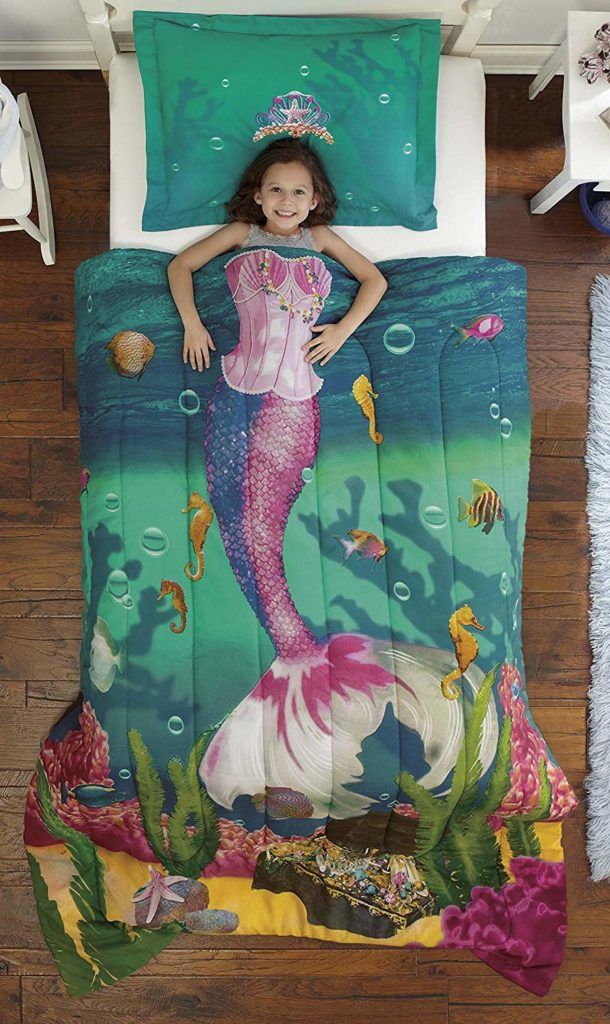 Check Price
This mermaid scale bedding set is a little more grown up than the other two sets, and is perfect for teens who love mermaids! This set has a pretty pink and blue pattern that is a beautiful as it is restful.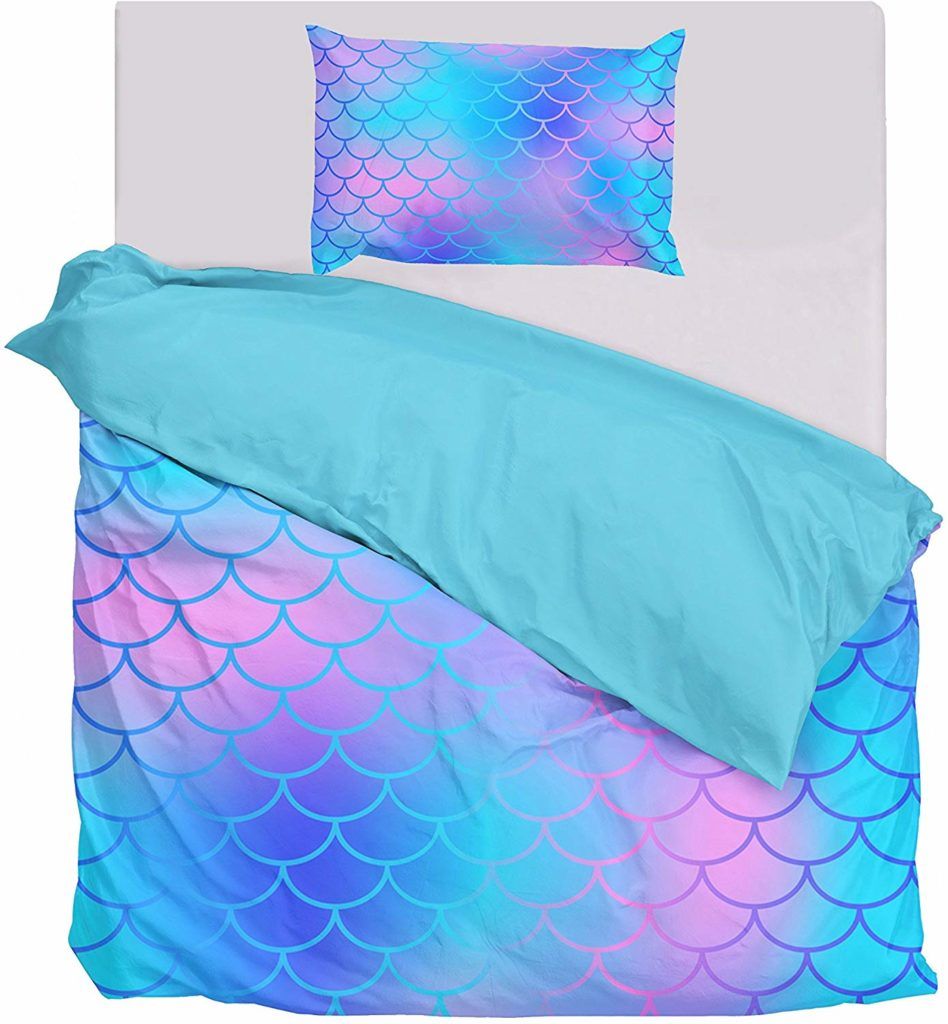 Check Price
---
Mermaid Wall Decor Ideas
If you liked some of the mermaid room decor ideas above, you'll love these adorable wall decor options. There are tons of choices for mermaid wall art, that will add that under the sea vibe you love!
This adorable wall art is a raised plaque that will add some gorgeous texture to a mermaid themed room.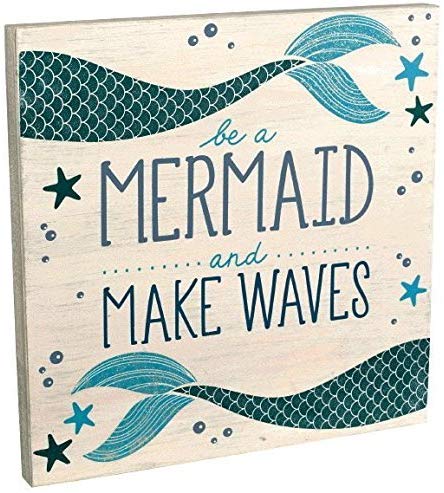 Check Price
This giant mermaid wall decal has individual pieces and extra decals so you can totally make it your own!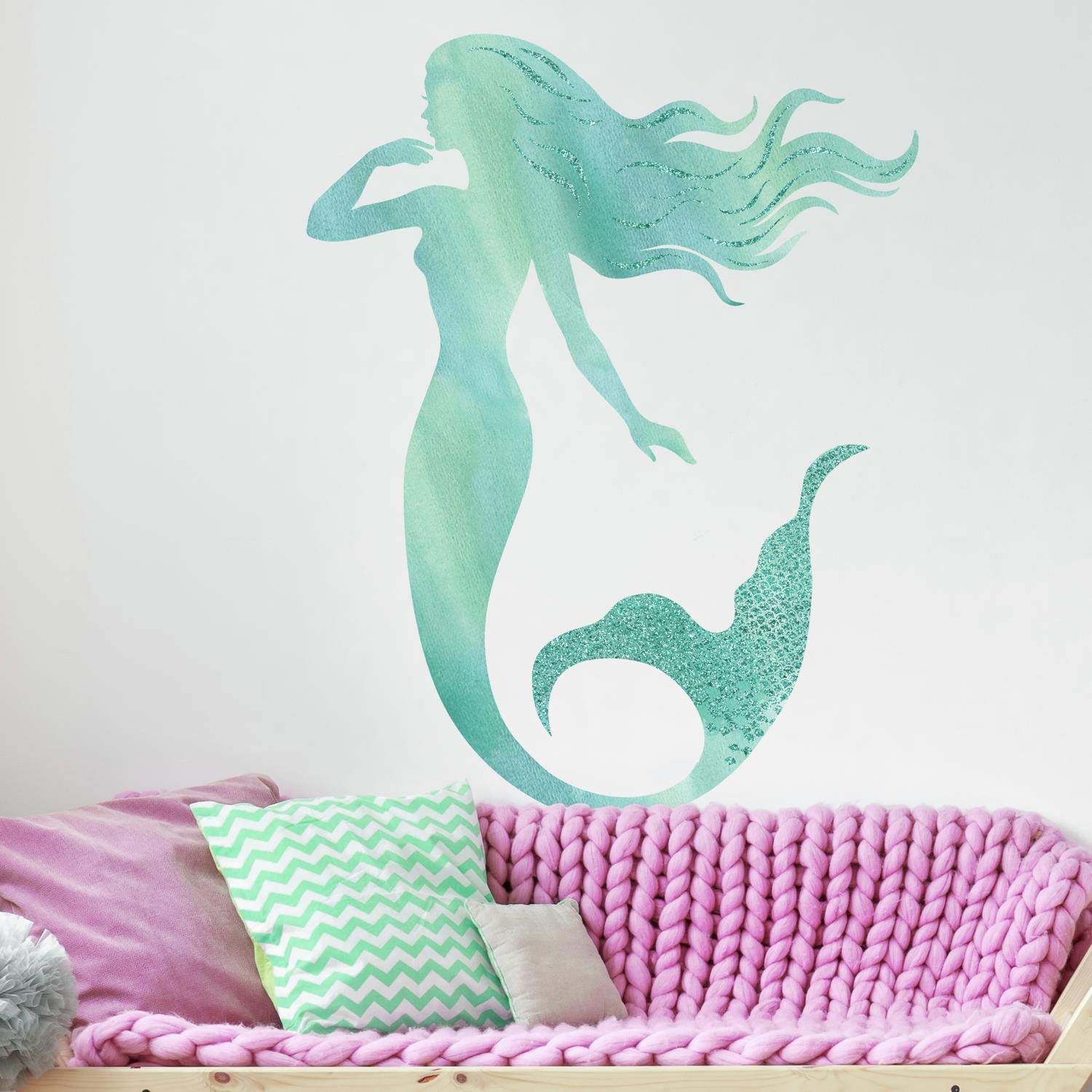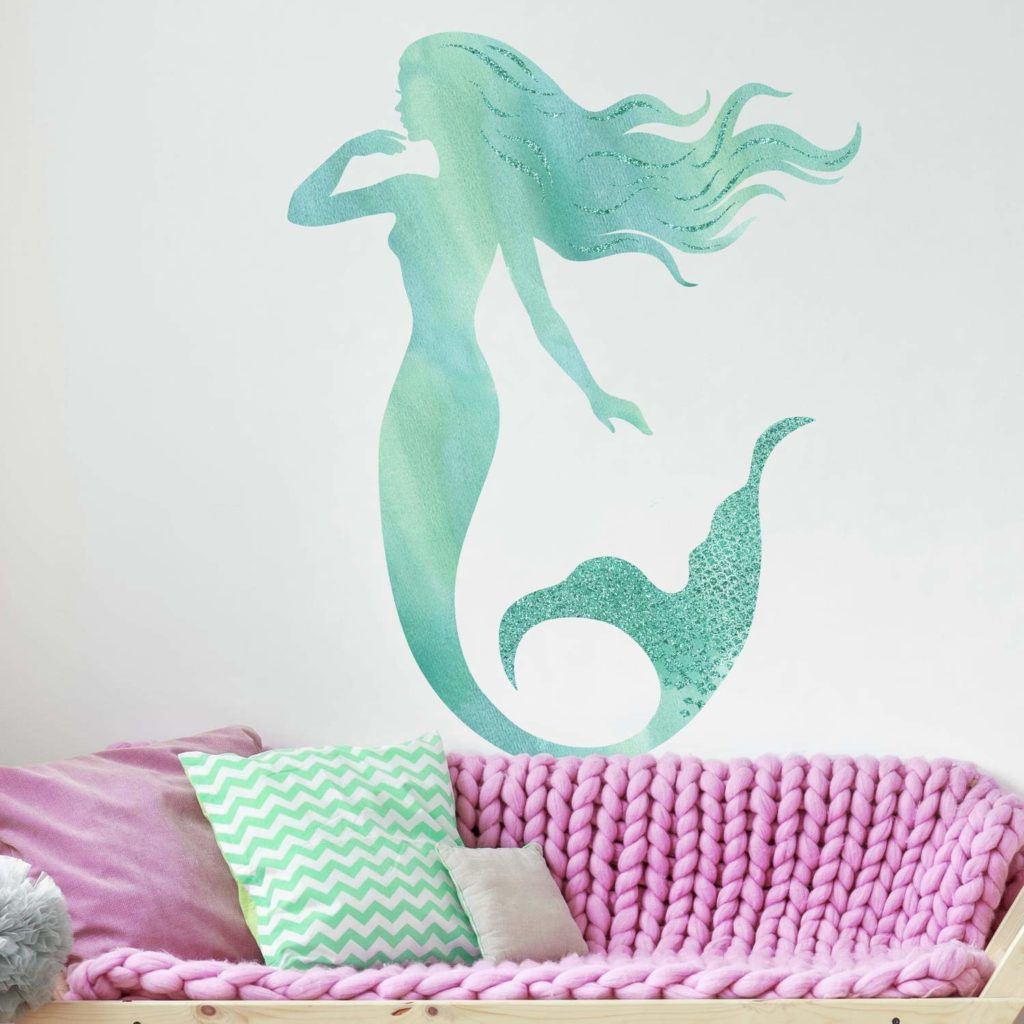 Check Price
This mermaid wall decor hanger is as beautiful as it is unique. Use it for keys, light clothing, and even jewelry!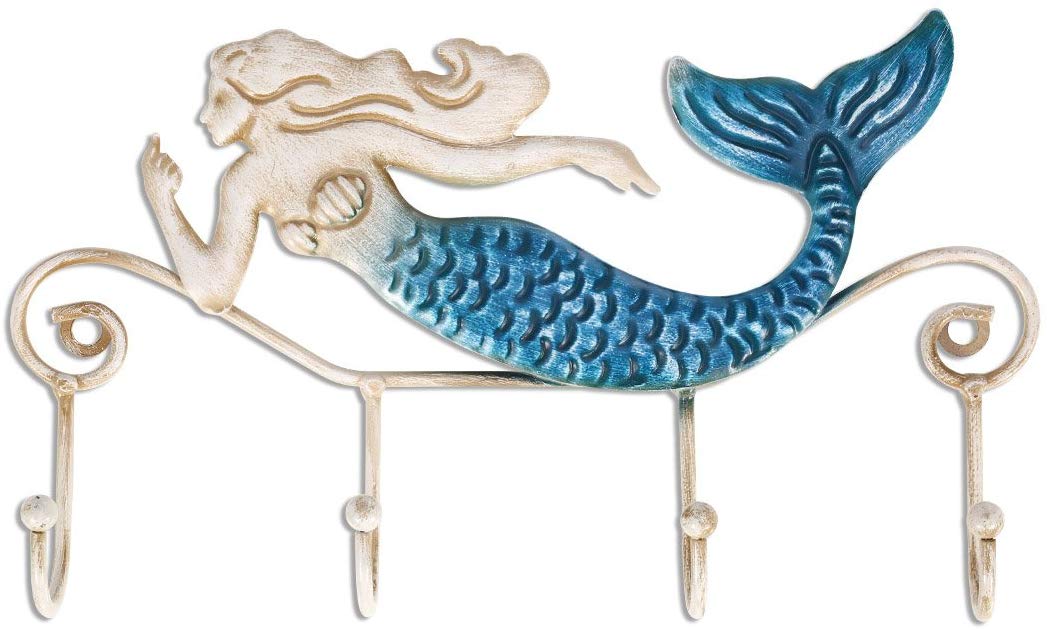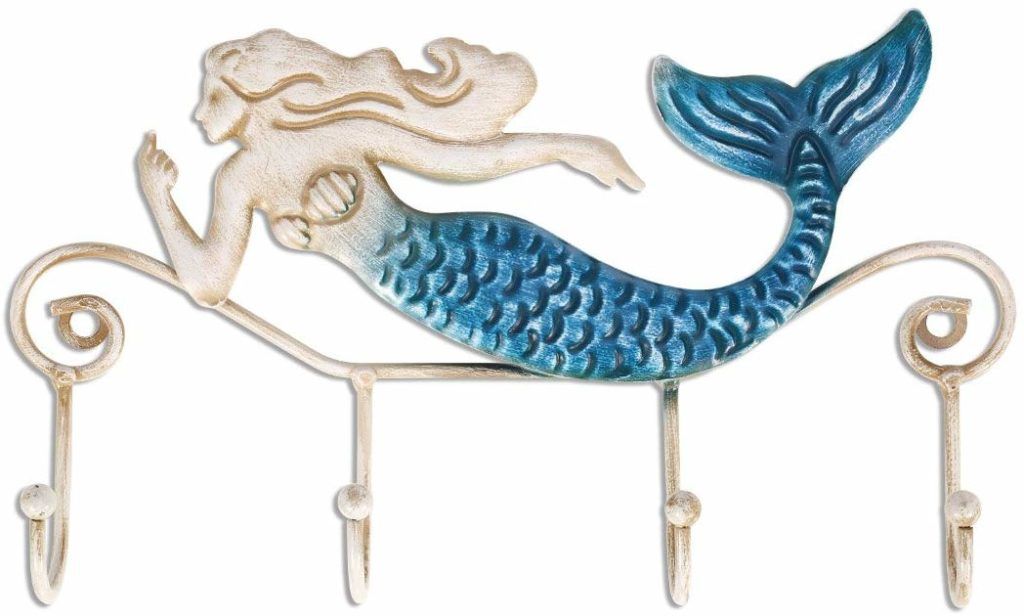 Check Price
---
Mermaid Bathroom Decor Ideas
Nautical bathrooms are super popular, and using mermaid room decor will help give the space a chic colorful vibe. Here are some great ways to use mermaid decor in your own bathroom!
This mermaid shower curtain is so unique, because the scales look so lifelike! It has a gorgeous 3D texture that will really bring your mermaid theme to life.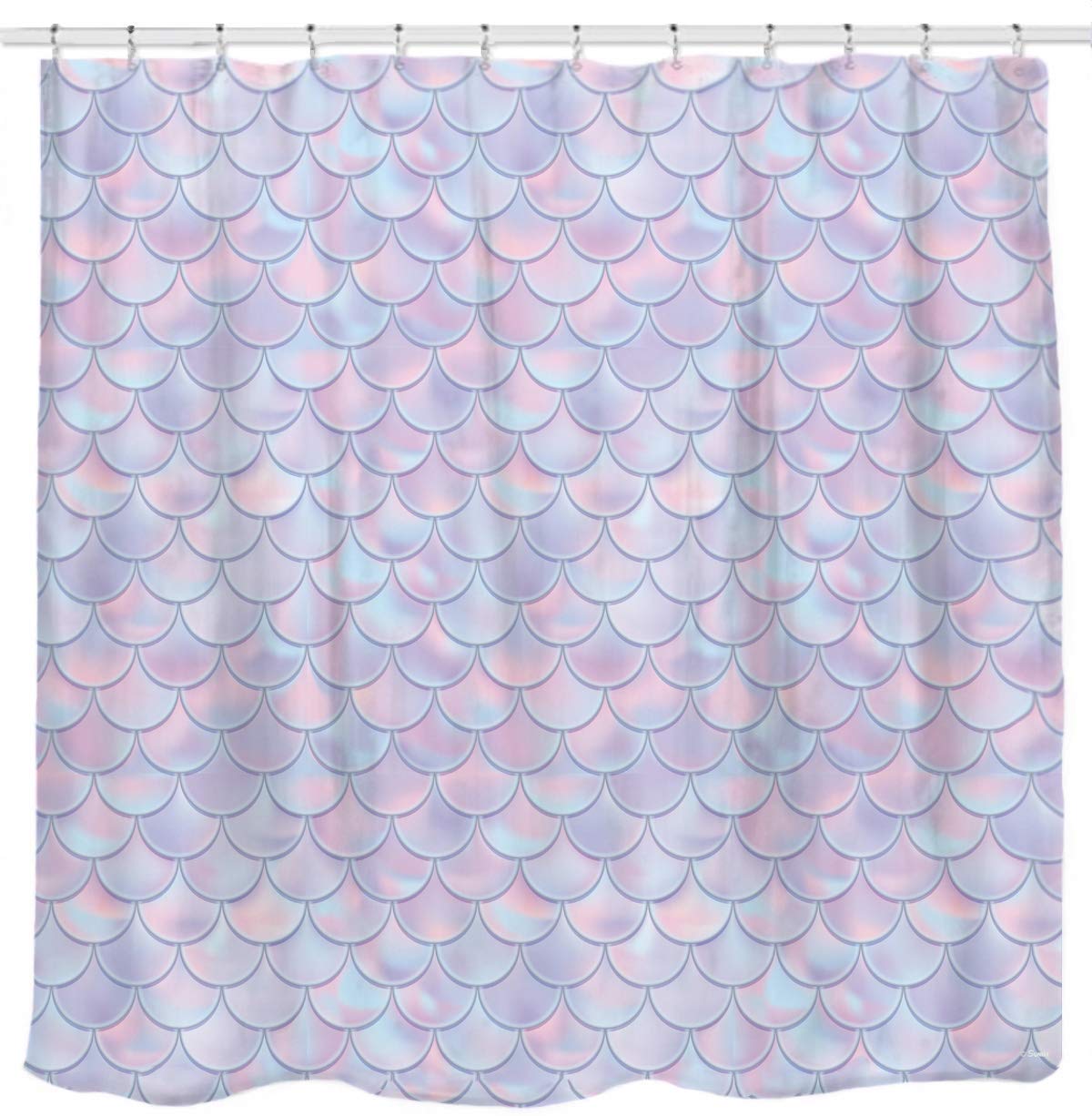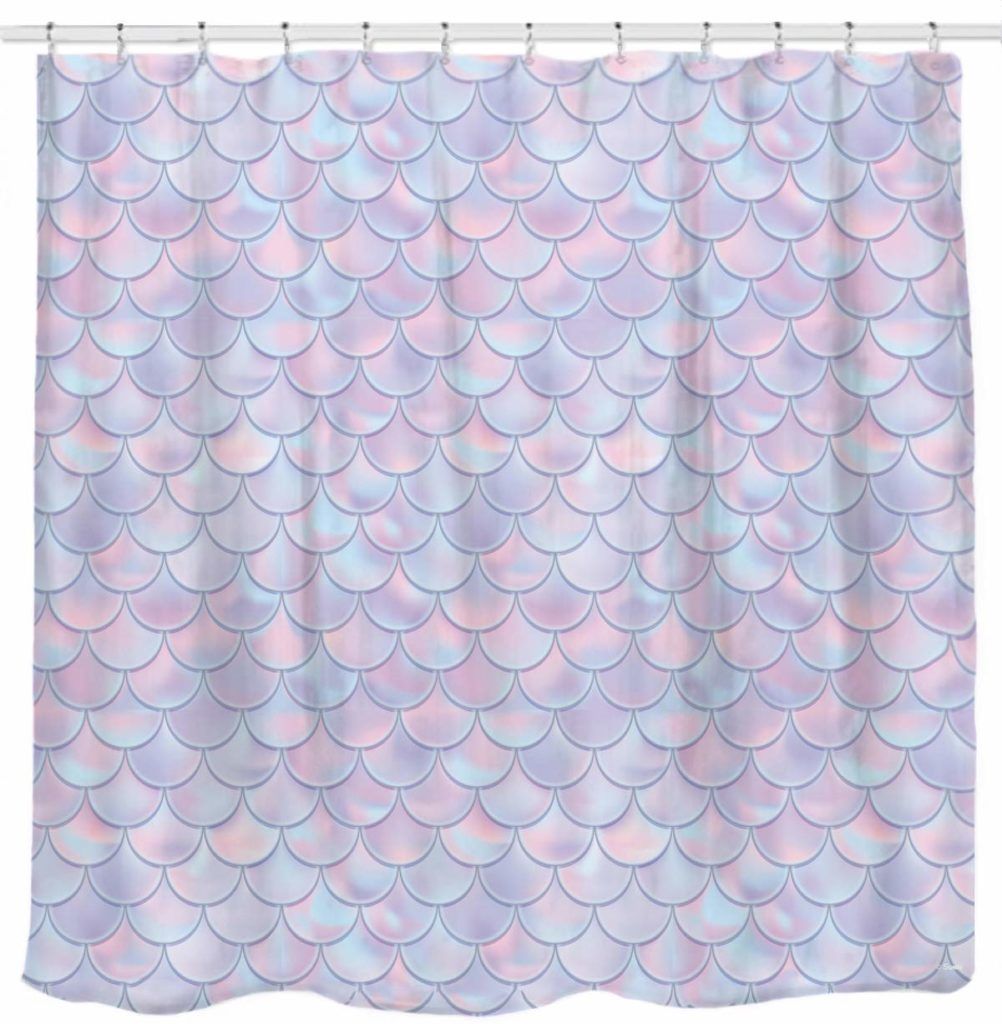 Check Price
This three piece collection of mermaid wall art has a calm color palette that will complete any bathroom. Hang them all together, or separately for a unique look.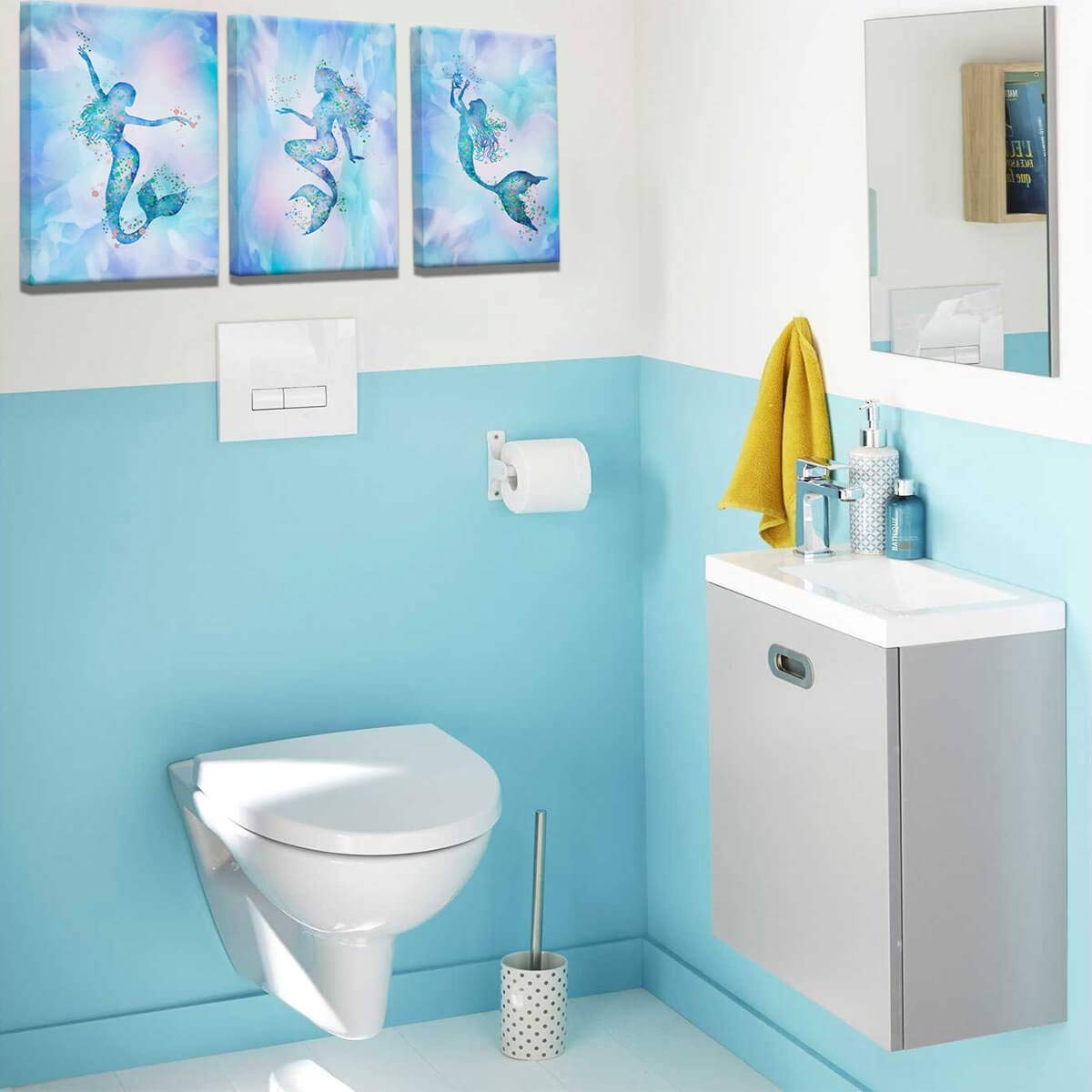 Check Price
And the final thing that will make your bathroom unmistakably mermaid? A bathroom accessory set with a mermaid vibe! This collection is far from tacky, and you'll smile every time you put down your toothbrush!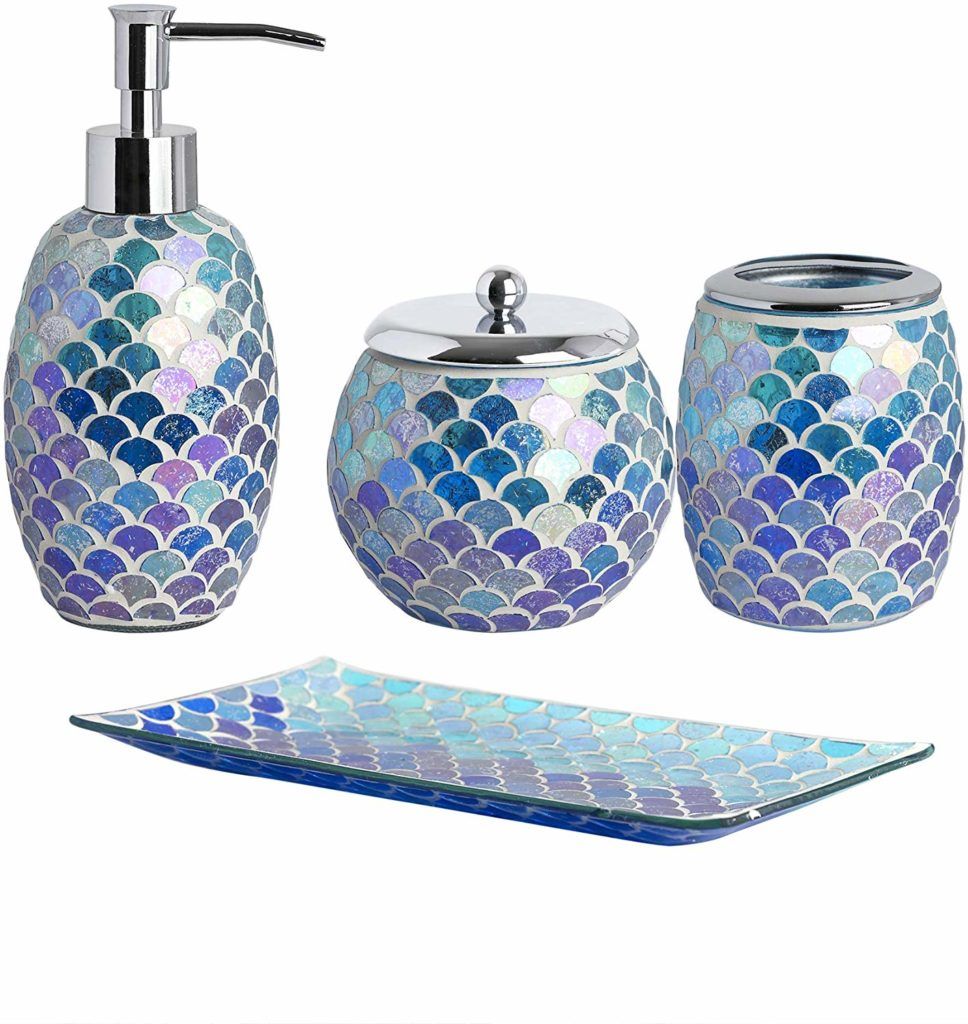 Check Price
---
Thanks for reading this round up of the best mermaid room decor ideas! If you love mermaids as much as I do, you'll have a blast decorating your space with mermaid flair!
And if you are looking for other interesting room decor ideas, check out the best moon night lights that will look great in a mermaid themed room!