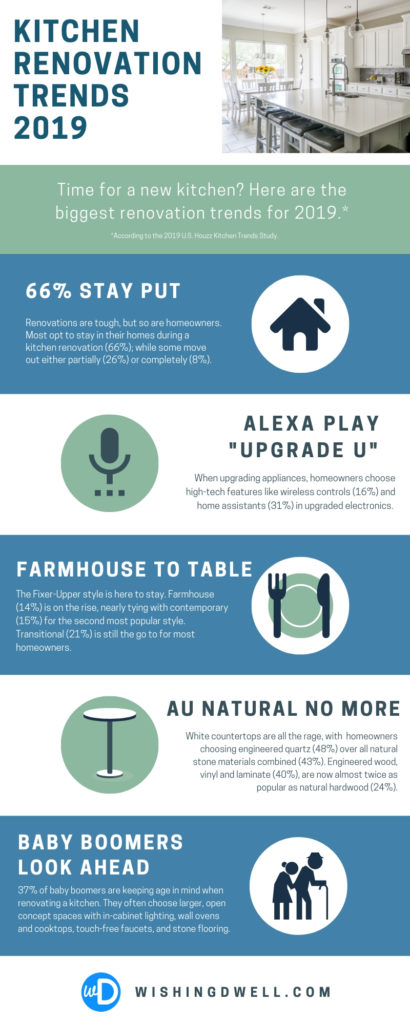 Thinking of renovating your kitchen this year? If so, be sure to check out this 2019 kitchen renovation trends infographic. We cover some of the most surprising data, collected by the U.S Houzz Kitchen Trends Study. See what other homeowners are doing to revamp their spaces this year!
One thing that blew us away? Most homeowners stay in their homes during a kitchen renovation! Hats off to those who can live without their sinks and stoves for an extended period of time. Hey, at least there's postmates these days! The study found that homeowners who stay, are also less likely to be stressed out during the renovation. We wonder if it's because they don't have to deal with the extra stress of a move, or because they can keep their eyes on the reno process.
Another surprising find? Since the majority of homeowners today are from the baby boomer generation, they're looking down the road. They consider aging to be a big factor when choosing a new kitchen design. Many are opting to knock down walls, for an open airy feel. They're also investing in "ease of use" with cabinet lighting, and touch free faucets. Another big trend is glass top stoves, which heat up food quickly and are easier to clean.
One thing that didn't come as a big surprise? That farmhouse is here to stay! Joanna Gaines really helped put this classic style on the map, and we hope it only picks up steam. A farmhouse kitchen is one of the most elegant yet relaxed styles, and it looks phenomenal in the "heart of the home".
Did any of these findings come as a surprise to you?