The outdoor season is upon us, and there's no better way to enjoy the beautiful weather than lounging outside! But if you've got an uncovered deck, you can only really use it on nice weather days. For the times when it's too sunny or raining, a retractable awning can transform your patio into a comfortable covered space the whole family can enjoy.
In this guide we cover the best retractable awnings for 2023, and give you some helpful tips for choosing the right one for your home! Let's get started!
How To Choose The Right Retractable Awning
There are three main factors to consider when choosing an awning. The size, the materials, and how it opening mechanism.
Choosing The Size:
When choosing the right size, take a measurement of the rough are of your patio that you'd like to have covered. If you've got a large patio and only want to cover the seating areas, than measure those dimensions instead.
Don't worry about getting it perfect! It's fairly easy to then find an awning size that roughly fits those dimensions you're looking for.
Choosing the Material:
Retractable awnings come in a few different materials, but the heavier duty the better. Canvas awnings are less expensive, but they also don't protect as well from the elements, and they wear out faster.
That's why in this guide, we show you awnings with weather resistant acrylic or vinyl materials. These fabrics do the best job at protecting you from the elements so you can enjoy the outdoors.
Choosing The Opening Mechanism:
There are two types of retractable awning mechanism: manual or automatic. A manual awning uses a hand crank to open and close.
A automatic awning uses a motor to open and close, and therefore these models are more expensive. If ease of use is really important to you, go with an automatic model so that anyone in your family can open and close the awning with quickly.
And now onto our top picks for best retractable awning! All of these awnings can be DIY self installed, and will protect you from the elements so you can spend more time outdoors!
Best Automatic Retractable Awnings:
If you haven't seen their mesmerizing infomercials over the years- you're missing out. The Sunsetter brand of retractable awnings are the cadillac of their category, for a few reasons.
The Sunsetter is an automatic awning, made from water resistant acrylic. It opens and closes easily thanks to a handy remote, and even has a wind sensor to automatically close your awning if you're away and the weather is getting too rough!
The most popular size is the 20ft model (shown here), but the sunsetter comes in a variety of sizes and color options to fit your needs. You can easily set it up yourself, and the sunsetter comes with an instruction guide for easy installation.
Best of all, the sunsetter is backed by a 5 year warranty. It also has the Good Housekeeping Seal and the Skin Cancer Foundation's Seal of Recommendation for effective UV protection. Since the Sunsetter is one of the more expensive picks, it's best for people who need a large awning, and plan to use it often.
Sunsetter Key Features:
5 year warranty
automatic open and close system
wind sensor
water resistant and UV protection
best for large patios and frequent use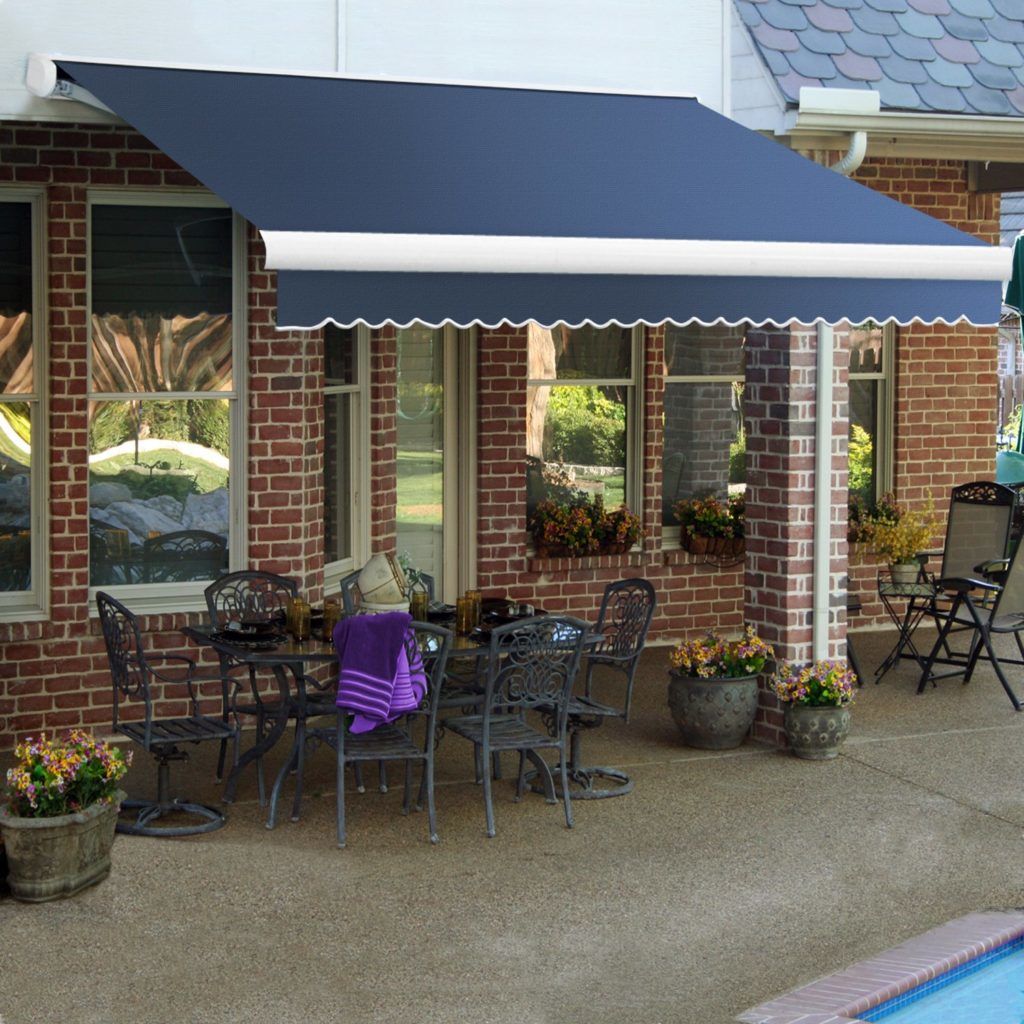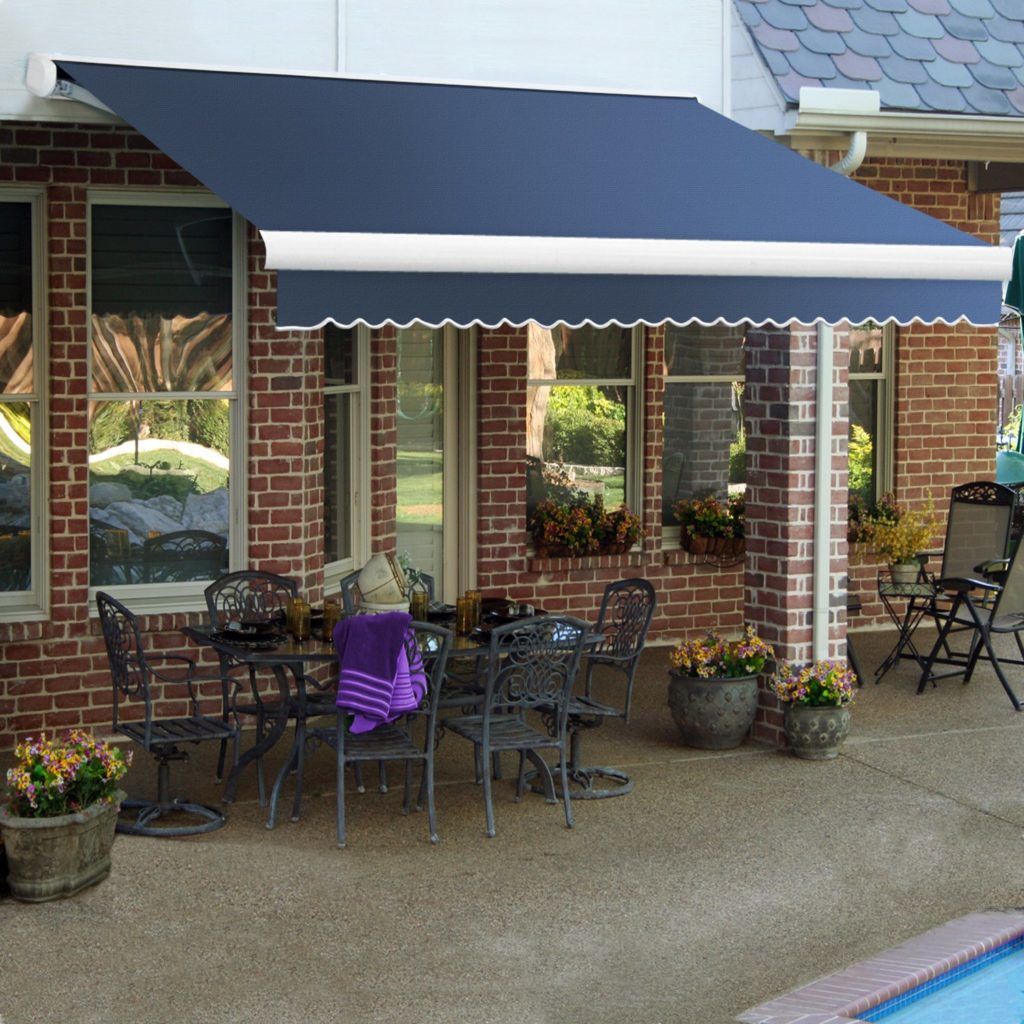 The KEY WEST awning by AWNTECH is another high quality retractable awning, with an automatic opening system. The canopy is made from Beauty-Mark Acrylic Fabric and treated with UV and water resistant coatings to keep you cool and dry on your patio.
It's got a sleek designer finish, and comes in a wide variety of classic colors to compliment your home. It is designed to be wall mounted, so if you'll need to mount your awning to the roof, consider some of their similar models that have that capability.
Like the Sunsetter awning, the AWNTECH models are backed by a 5 year warranty, so you can make sure your awning is the perfect fit. Something to decide before you purchase this awning is which side of the home you'd like the electric motor to be on. These awnings are available in both left and right side motors so that you can choose which one works best for your house.
AWNTECH Key Features:
5 year warranty
automatic open and close system
UV and water resistant
left side motor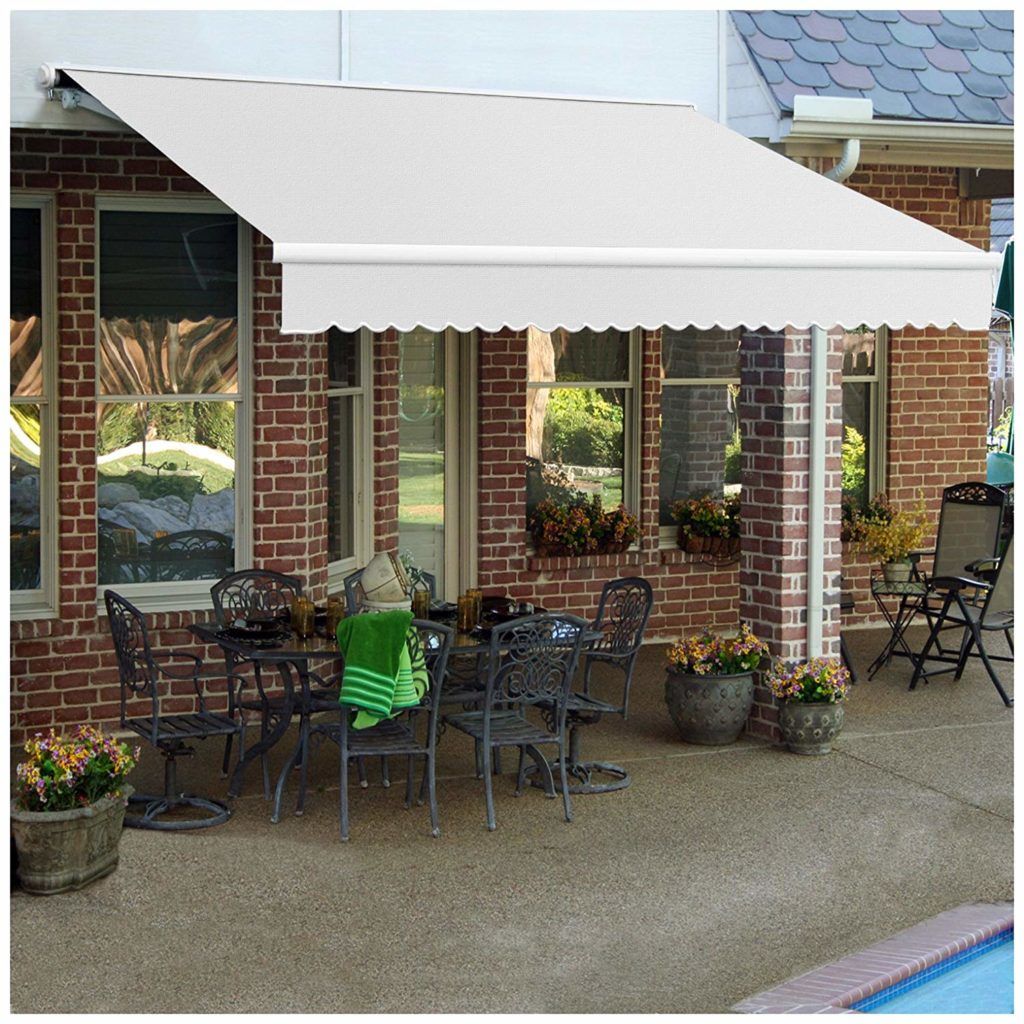 The Beauty Mark awning is very similar to the AWNTECH model, with fade and mildew resistant fabric. It's available in this lovely white color, as well as a few other different color options to choose from.
This model is very stylish, and measures 96 inches by 84 inches in length. The motor is on the left side of the awning, ut if you'd prefer it to be on the right side, you can purchase the other version. Also like the AWNTECH model, this one is also backed by an impressive 5 year warranty.
Beauty Mark Key Features:
5 year warranty
automatic open and close system
UV and water resistant
left side motor
Best Manual Retractable Awnings: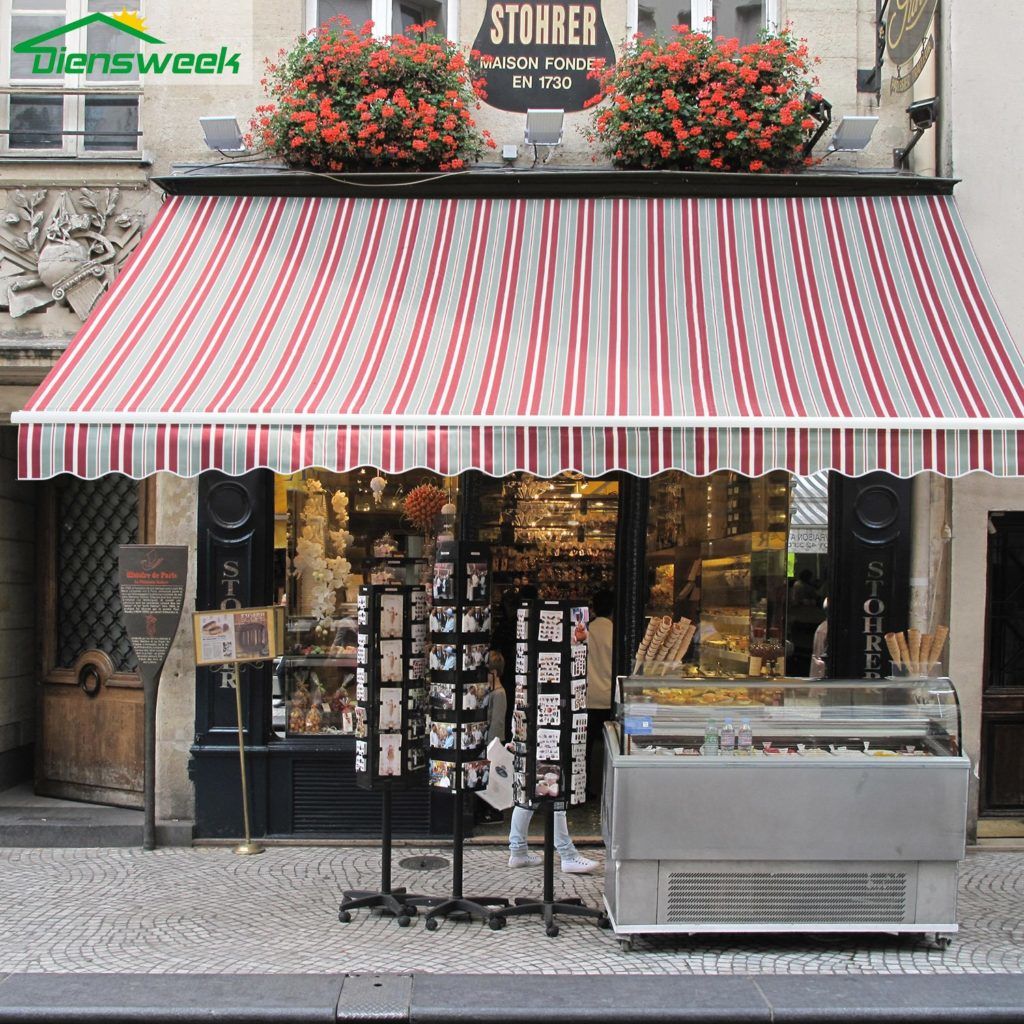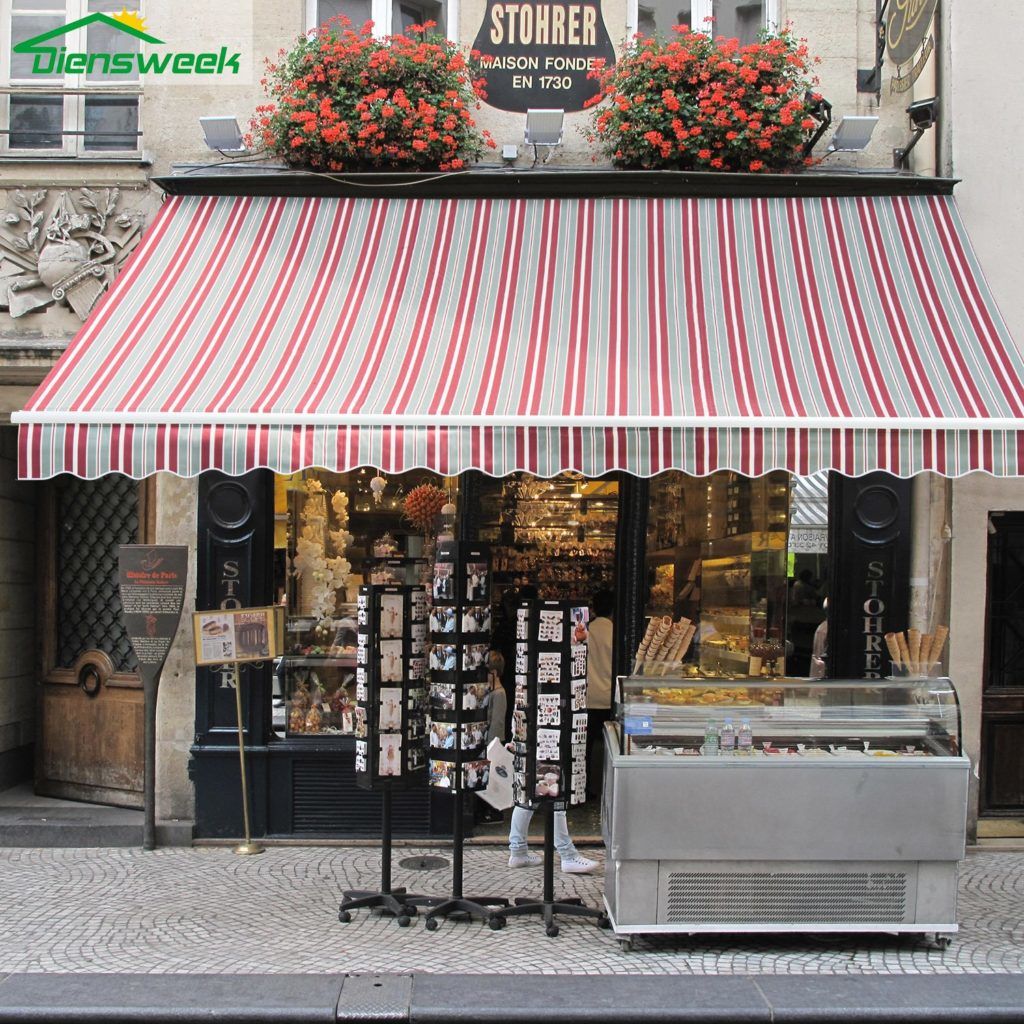 The Diensweek retractable awning is a great choice, because it offers commercial quality, at an affordable price.
One of the best things about the Deinsweek model, is that they're made from an Acrylic +PU coating fabric. This makes the material waterproof and resistant to sun fading. It's also got a 80UV+ solar protection rating and has been tested for a wind resistance Beauport scale 4.
Unlike the Sunsetter, the Diensweek model is fully manual. It comes with a hand crank opening system, and everything you need to install it outdoors. It comes in a few different sizes (the 8 by 12 ft is shown here) and color options to fit your home's style, and is back by a 5 year warranty.
Diensweek Key Features:
5 year warranty
Manual Opening systems
Weather and UV resistant fabric
Best for weather resistant need, or commercial use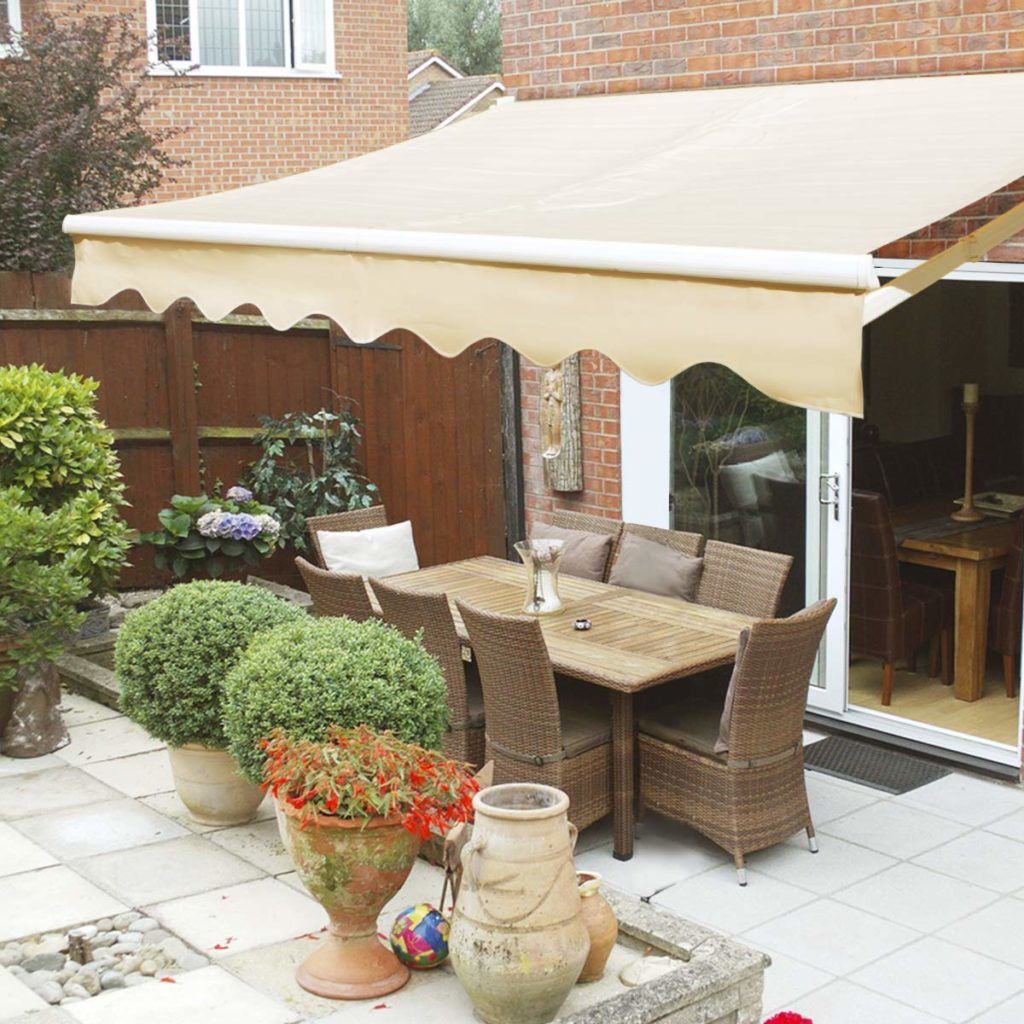 The XtremepowerUS is another affordable option for a manual retractable awning. It's made from a UV- and water-resistant polyester, keeping you safe from strong sun and light rain.
This awning has a long hand crank, to help you open and close your cover smoothly and quietly. This model shown is 12 ft by 10ft, but is also available in other sizes and colors. It comes with everything you need to install the awning on any a concrete wall, or solid surface.
The XtremepowerUS is back by a 90 day warranty, so you have time to make sure it's right for your home. Another thing to note is that it's not manufactured in North America, so some customers have trouble understanding the english written in the user manual. This awning is great for those who are handy and are looking for a great deal, but keep in mind the installation instructions may cause you to spend more time on that process.
90 day warranty
Manual opening system
UV and water resistant fabric
Best for those looking to save money
The Outsunny manual awning is another great pick for an affordable patio cover. It's made from a thick polyester and covered in PU waterproof coating for long lasting durability.
The outsunny comes with everything you need to install it to a concrete or hard surface. If you've got a wooden home however, you'll need a different type of screws to use with this awning.
It has a manual hand crank to open and close your awning, and comes in a few different color options and sizes to choose from. It is backed with a 90 day warranty so you can make sure the Outsunny is exactly what you need to enjoy your patio space.
Outsunny Key Features:
90 day warranty
Manual opening mechanism
UV resistant and waterproof fabric
Best for those with smaller patio
Which One Is The Best Retractable Awning?
The best overall is the Sunsetter. Why? It's weather resistant and has an automatic wind sensor. Because it can close itself when the weather is too windy, it will keep your awning in great shape for years to come!
We hope you enjoyed this review of the best retractable awnings, and if you are looking for more fun ways to enjoy the outdoors this summer, check out our review of the best backyard water slides.