The OLED Revolution is Afoot – What you need to know
If you've been shopping for a high-end TV in the past 5 years, I'm sure you've heard of OLED technology.
OLED is the holy grail of displays, offering highly improved contrast ratios where black is true black and response times are measured in fractions of a millisecond.
Unfortunately, they're still largely unused. Let's take a look at this promising technology.
What is OLED Technology?
With traditional LED panels, you have a backlighting plate with regular white LEDs, that are covered with a layer of pixel "shutters". The backlighting is fixed, and then the LCD shutters let through Red, Green or Blue light to create the visible color gamut.
OLED is Different
OLED stands for Organic Light Emitting Diode. It uses organic luminescent compounds (hence, the "O" in OLED) that emit light when charged with a current. The cool thing is that they can emit colored light as well, meaning that instead of having a LED backplane and an LCD on top like a sandwich, you can have a much thinner display.
Because of this, OLED displays can be so thin they can be bent, and they can even be transparent.
A Better Image Quality
Undeniably, the most attractive feature of the OLED technology, though, is the image quality it provides: in traditional IPS displays, black areas in your image are still lit by the LED backplane, and the LCD shutters are simply closed. This means that there is still some light coming through, washing out your blacks and thus reducing your contrast ratio.
With OLED, because you don't have a LED backplane and it's the display itself providing luminescence, portions of your image that are black, mean that the pixels in that area are simply turned off, giving you complete darkness, for an infinite contrast ratio.
You only need look at an OLED panel for a moment to realize that this technology is a game changer.
Especially when you consider that OLED offers refresh rates that are much, MUCH faster than IPS. OLED panels can have refresh rates of as little as 0.05ms, whereas a normal IPS panel can be anywhere between 5 and 10ms. That's huge for gamers and for technologies like VR, where a fast refresh rate is vital.
The Problems with OLED
For right now, OLED is super expensive. It's still relatively hard to make and there are a few shortcomings. The most prominent is the fact that different organic compounds are used to produce the different colors. And up until recently, the compound used to create the color Blue would deteriorate at a faster pace than its peers, meaning that after many hours of use, the color balance of the panel would shift slightly and become warmer and warmer, requiring pretty frequent color adjustments.
Thankfully, that problem seems to have been solved, and new panels are guaranteed for 50,000 hours of use without any color shift (which beats the current LED/LCD panels in longevity too).
Also, because of the current technologies used to make OLED work, despite being more efficient than LED/LCD, they actually consume more power. This has an impact on the battery life of the laptop or device. But all that will change as the technology matures, and OLED is set to be way more efficient in the near future.
OLED's Future
While OLEDs are still expensive, new techniques are being developed to "print out" sheets of the organic compounds, which should facilitate production, and ultimately bring the costs down. OLED is promising to be not only the best display technology we've ever seen, but it's also set to be the least expensive one. Imagine ubiquitous, beautiful transparent, bendable, infinitely contrasty displays in even the smallest, most inexpensive devices.
So How Can I Get OLED Today?
Your options are pretty limited today. But they're already worth your money in our opinion.
Computer Monitors
Dell has announced a 30 inch computer monitor that uses OLED, but it's unfortunately still not available. And it's pretty pricey at around $5k. Compare this with the same monitor in the regular IPS configuration, which sits at just above $1k.
As far as computer monitors go, you'll have to wait for OLED.
TVs
Your best bet to experience OLED today is to get an OLED TV. The Korean company LG makes the best OLED TVs available today, with the OLED65B6P being the absolute top of the line, for a very reasonable price.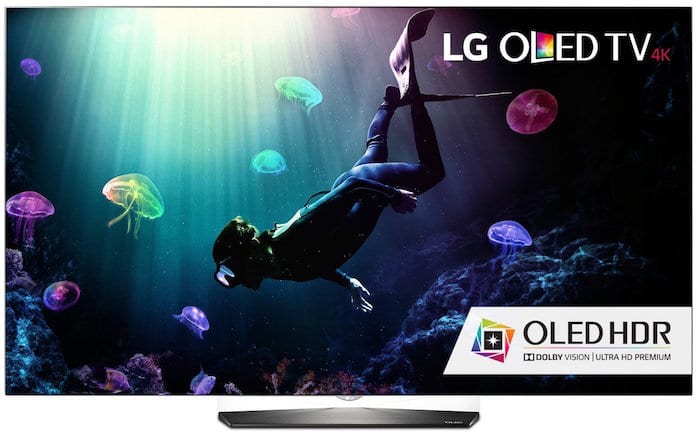 It's a 65 inch TV, with a 4K resolution, OLED and an impossibly thin bezel, which makes this TV really, really sexy. We predict this is gonna be a best seller amongst early adopters. There is also a 55 inch version, which is pretty much the same, for people with smaller living rooms.
Laptops
When it comes to laptops, you have a couple more choices, but definitely not a lot. We were certainly a little disappointed that Apple's new Macbook Pros didn't come with OLED screens, which would've certainly helped speed up the transition.
Here are the best OLED Laptops available right now:
This is a pretty cool laptop. It's a 2-in-1 with an incredible 14″ OLED touchscreen display, a stylus and a 360 hinge, so you can flip the screen flat on the keyboard, to just use it like a tablet.
It's pretty forward-looking in terms of features, but not really in terms of design. The distinctive ThinkPad look is feeling tired and a little cumbersome, with the little red nub still taking up space on the keyboard, despite the touchpad being really good.
The price point is pretty good, but it definitely feels like this is tomorrow's display in yesterday's computer, as the people at TheVerge eloquently put it in their review.
The New Alienware 13 is the first gaming OLED laptop. It's around $300 more expensive than the Yoga X1, and, while it loses the touchscreen and the 360 hinge, it gains a GTX 1060. Not a GTX 1060M (mobile version), but a full-blown desktop GTX 1060. As far as we know, if you're in the market for a high-end laptop, this is your best choice.
It's not perfect, the Alienware design is a little clunky and tired—"vaguely circa 2000s", as my colleague puts it. It also runs hot, which makes it a desktop kind of laptop and not a lap top kind of laptop. But are you really complaining when you have a laptop that can run an Oculus Rift VR game without a hitch?
Portable Devices
When it comes to OLED smartphones, you have more options. But, for us in the US of A, it's still a little early.
Right now your best options to get a hold of an OLED smartphone are the following:
The international version of the Huawei Nexus 6P is a competent Android device that delivers a good all around experience for not a lot of money. Its WQHD AMOLED screen is one of the best we've seen.
In a move that was certainly expected, Google recently released their very own smartphone and, apparently, it's really good. One of the main features is the beautiful AMOLED display, which complements its incredible camera very nicely, to deliver really stunning images on a portable device.
OLED vs IPS
Check out the difference in this picture from Notebookchek's comparison of an IPS laptop display next to an OLED laptop display. Read their excellent article for more technical details.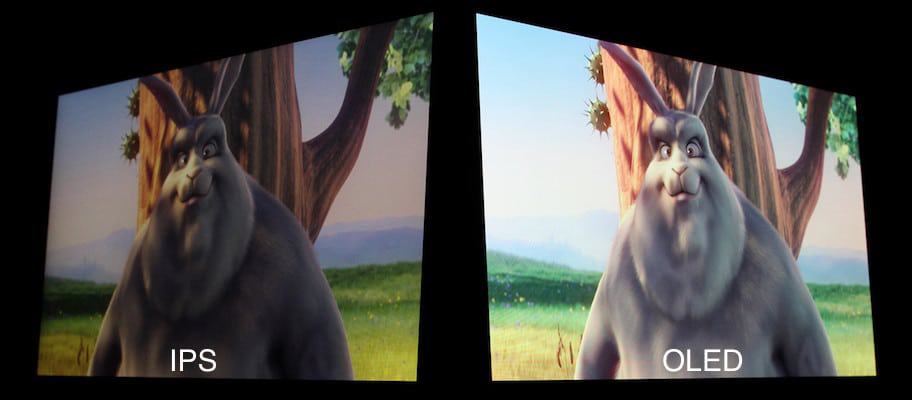 OLED vs AMOLED
AMOLED stands for "Active Matrix Organic Light Emitting Diode Display" whew, that's a mouthful. So what does it mean?
The difference between OLED and AMOLED is that, while on regular OLED displays the direction of light is bottom-up—meaning that light passes through the transistor backplane—in active matrix OLEDs you have a top-down direction of light. This is to keep the maximum brightness when using a non-transparent transistor backplane, which is less expensive.
While AMOLED was originally used only for portable devices, some versions of the technology are making their way in larger and larger display applications.
Conclusion
OLED is one of the most promising technologies we have at the moment, and we can't wait for it to get cheaper and more widely available. A full color gamut and infinite contrast are not going to be the domain of displays catered to photo and video professionals anymore. And you gamers won't have to choose between pretty colors and fast refresh rates any longer.
OLED is the future. Bring it on!