A pop up bed tent is the easiest way to get instant seclusion and privacy, for a better nights sleep. These bed canopies fit over your existing mattress, and reduce light and disturbances for a peaceful private oasis in your own home. They're ideal for shared sleeping situations, and people who have trouble sleeping. So what exactly is a Pop Up Tent?
What Is A Pop Up Bed Tent?
A pop up bed tent, like the Privacy Pop Bed Tent is a mesh enclosure that turns your existing bed into a private suite. It is made from a lightweight mesh material, and has zipper window openings similar to a camping tent.
You simply unfold the bed tent, slide it over your existing mattress, and viola- an instant private retreat! Many people can benefit from using a pop up tent, because they help you get a more relaxing night of sleep. So who should use a bed tent?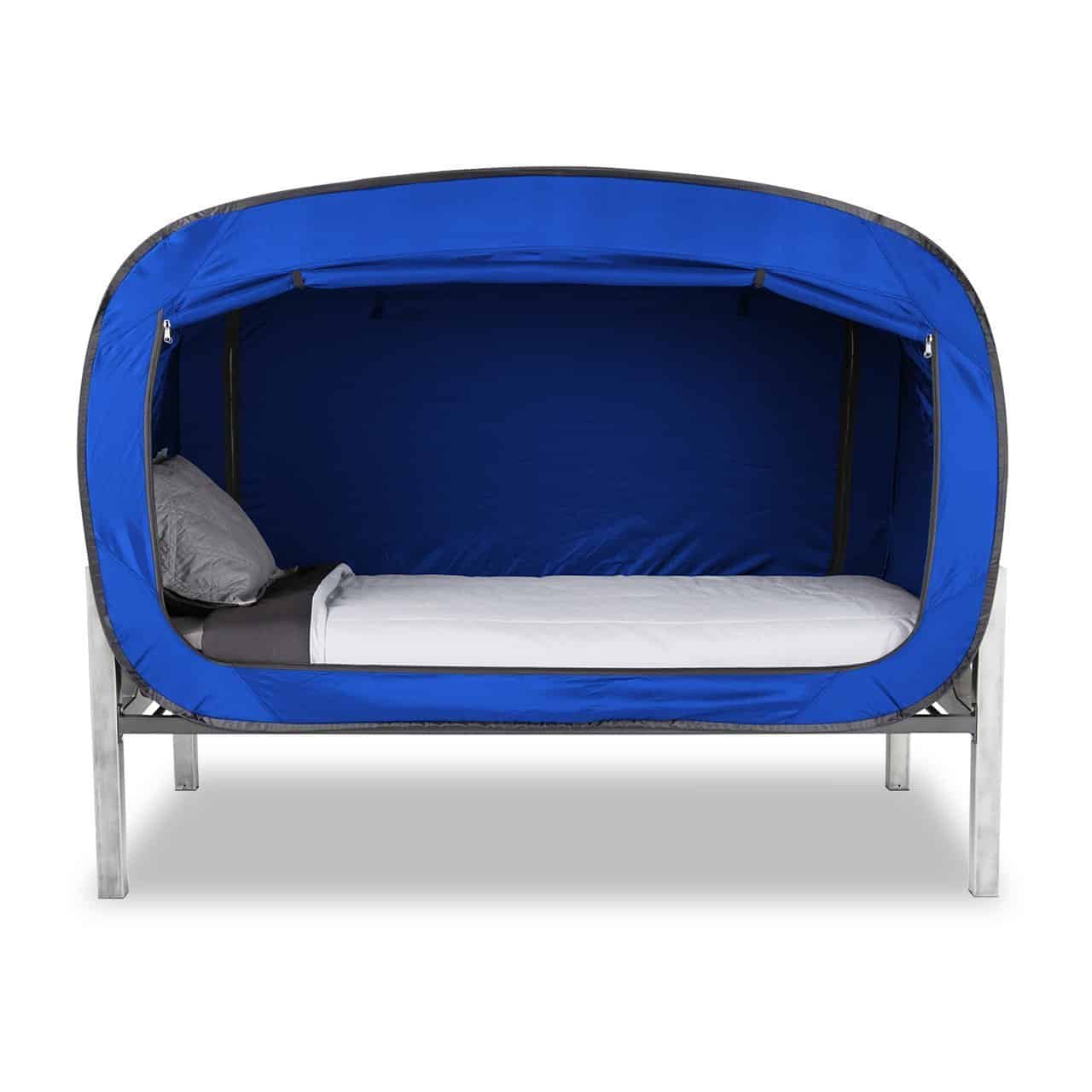 Who Needs A Pop Up Bed Tent?
Pop up bed tents are ideal for a number of sleeping situations including:
Dorm Rooms
Adults And Children With ADHD And Autism
Camping
Hostels/Barricks
Bright Or Drafty Rooms
Sleep Disorders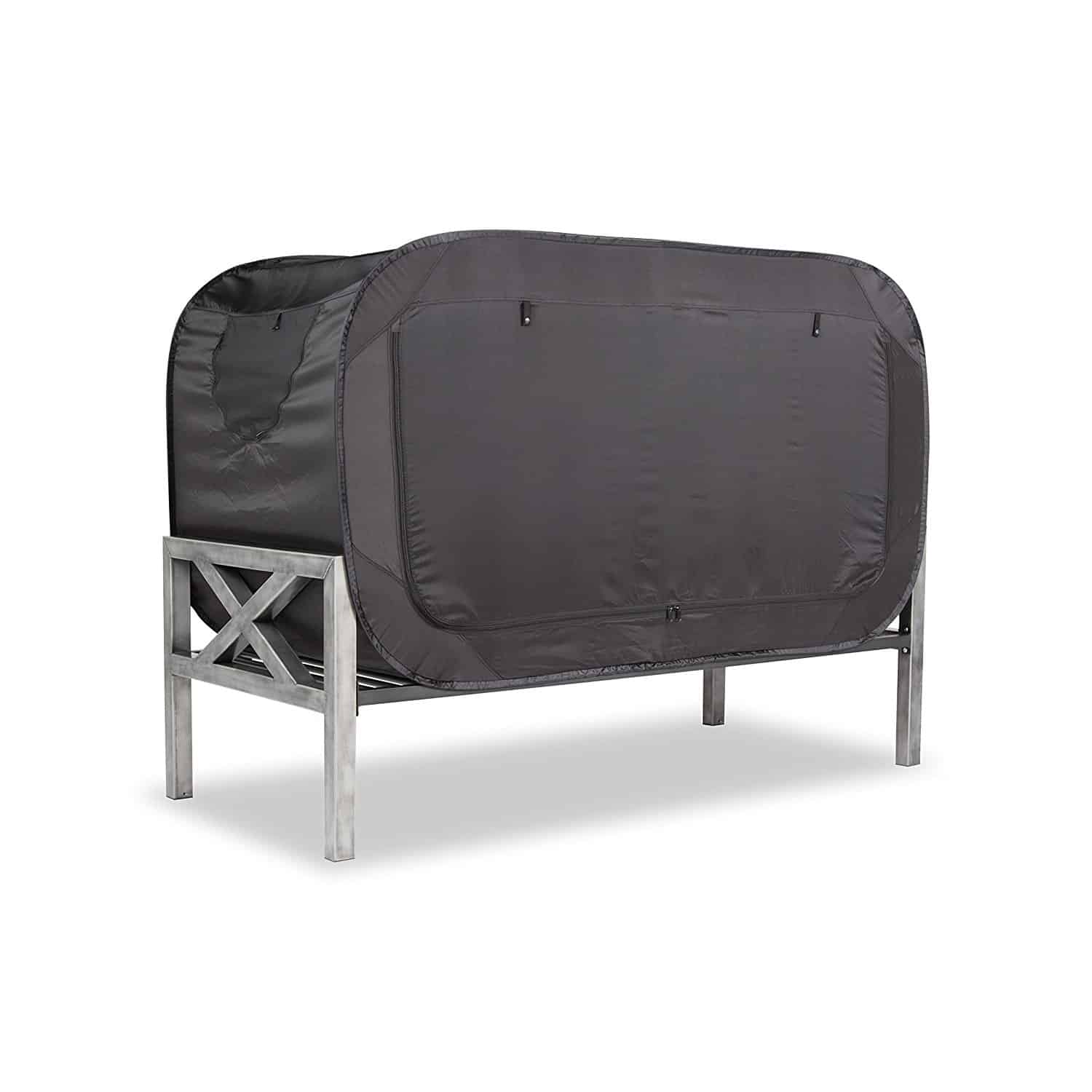 The Privacy Pop Up Bed Tent is the most popular choice for a bed tent because it's well made and comes in a variety of colors and size options. Here is everything you need to know before you buy your own privacy tent.
Features:
The pop up tent is designed to set up and break down quickly and easily. It has ventilated mesh walls, and an easy fold open and close door system for maximum privacy. The double sized zippers make it really easy to get in and out, and it you can easily customize the amount of light you let in with the zipping windows.
Sizes:
One of the coolest things about the Privacy Pop Bed Tent is that it comes in a large variety of sizes to match your needs. The sizes range from a twin bed all the way up to queen size.
These bed tents will fit your mattress true to size, so if you want a looser fit, consider going up one bed size. While they can be set up and taken down easily, repeatedly setting up and breaking down will cause wear and tear much faster, so be gentle with it during assembly.
Colors:
Another cool things about the privacy pop up bed tents is that the come in a variety of fun color options including camouflage. An important thing to consider when choosing a color, is the amount of light it will allow in.
Choosing a black or blue pop up bed tent color will block out more light than the lighter beige or gray options. Keep in mind they will not block out 100 percent of light, but enough to make a big difference!
Warranty:
The Privacy Pop Up Bed Tent has a 60 day return policy, and great customer service to help you with any questions about your pop up bed! Rest easy knowing that you can test out this tent and make sure it's the right choice for you!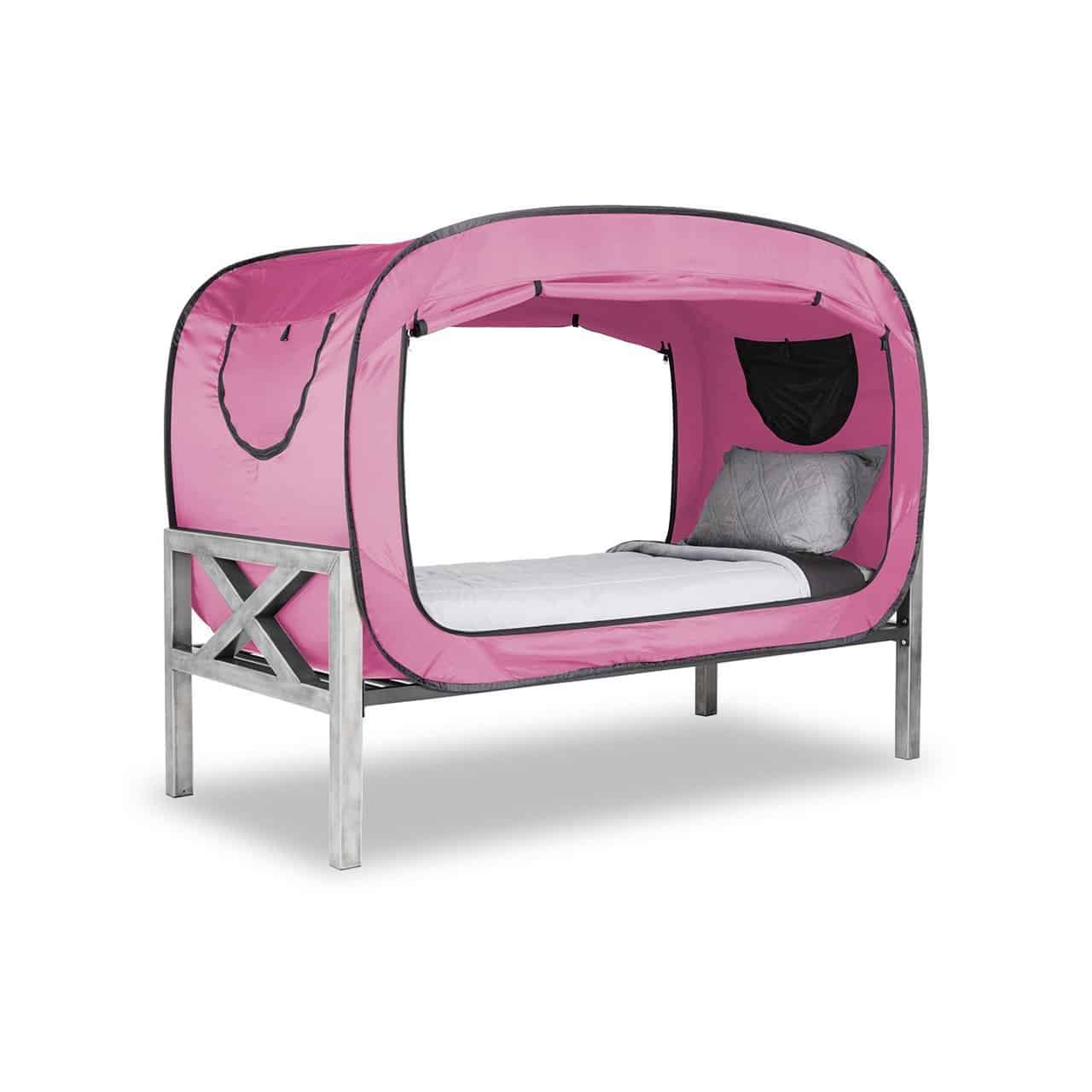 Final Thoughts
Overall bed tents are a simple way to get a better nights sleep. While they're great for shared sleeping arrangements, and active kids, they're also great for adults who just need to get better sleep.
If you're looking for more ways to get a better night sleep, check out our weighted blanket buying guide and see how great they are for calming at bedtime!
So what are your waiting for? Your new private oasis awaits!