Home decor lovers rejoice, because farmhouse style decor is not going anywhere! One of the best ways to incorporate the fresh farmhouse style in your home, is with a sliding barn door. All you need is a doorway, a door, and a set of the best barn door hardware!
Here are a few things to consider when choosing your barn door hardware set:
The size of the door frame: Will you need a single door, or a double door to cover the space?
Clearance above the frame: Some hardware sticks out above the door frame, is there room?
Weight of the door: For a light wood door, you can use lighter hardware. For heavy doors, or glass doors, make sure you get heavy duty hardware to support the door properly.
Here are some of the best barn door hardware kits to get the classic yet cozy look, in no time!
Our Picks For Best Barn Door Hardware Sets: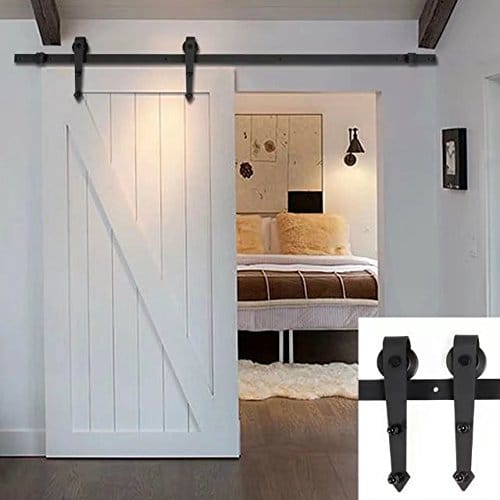 This set of barn door hardware by CalmTime give off that chic farmhouse look, for a very reasonable price. We love the look of the arrow style hardware tip, because it will give any door that vintage feel immediately. It's also a great choice because the hardware is coated in a high quality carbon steel powder, which helps withstand extreme capacity, and is super corrosion-resistant.
This sliding barn door can support a door that weighs up to 200 lbs, has a thickness of 35-40mm, and a width of 60″ max. The set includes:
CalmTime also makes this arrow style sliding door hardware in 5 different sizes, and also makes sets for double sliding barn doors. This set is also made in 2 other hardware styles, to provide you with a high end custom look, for a great price.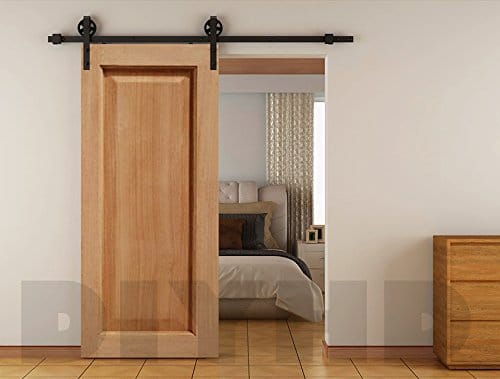 This DIY Barn Door Kit by DIYHD really gives off that rustic look. This sliding door hardware is very similar to traditional vintage styles, and is made from a sturdy steel material. It can support a max weight of 200 lbs, and a door thickness of 35-40-45mm.
One thing to keep in mind with this set is that the roller part of the door is made from a sturdy plastic. This is to prevent the annoying squeaking noise that metal rollers can develop as they age, but you'd never be able to tell they are plastic by looking at them. DIYHD makes this style of barn door hardware for doorways between 5 ft and 8ft, so you've got tons of size options.
Another thing to keep in mind with this set is the clearance over the door for the sliding wheel. This kit does take up more space than some other sliding barn door designs, so consider if you will have enough space.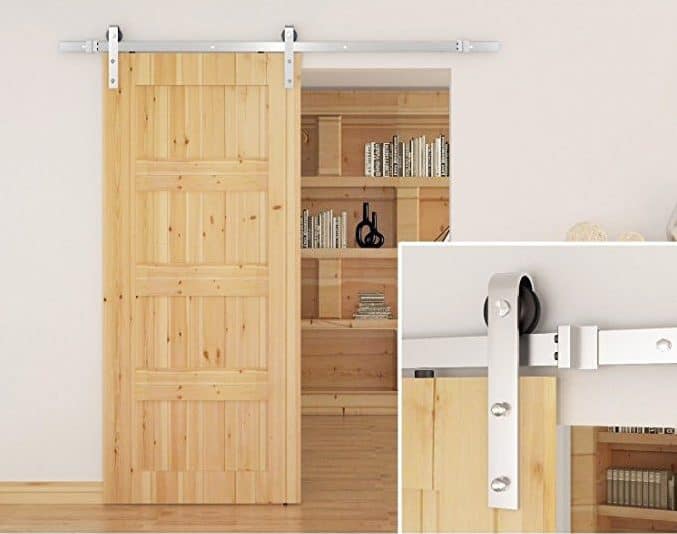 This modern take on the barn door hardware look is a real winner. This sliding door hardware by SMARTSTANDARD really bring farmhouse function into the modern age with this gorgeous stainless steel set. These kits fit doors from 5 ft up to 13 ft, so you can get a custom look.
Not only does SMARTSTANDARD provide detailed instructions, but they've also got an lifetime guarantee in you're unhappy. The package includes all hardware for your door, and the stainless steel can even be used on outside doors. This set will look as great on a pantry door as it would on a patio door, and we love the beautiful steel color!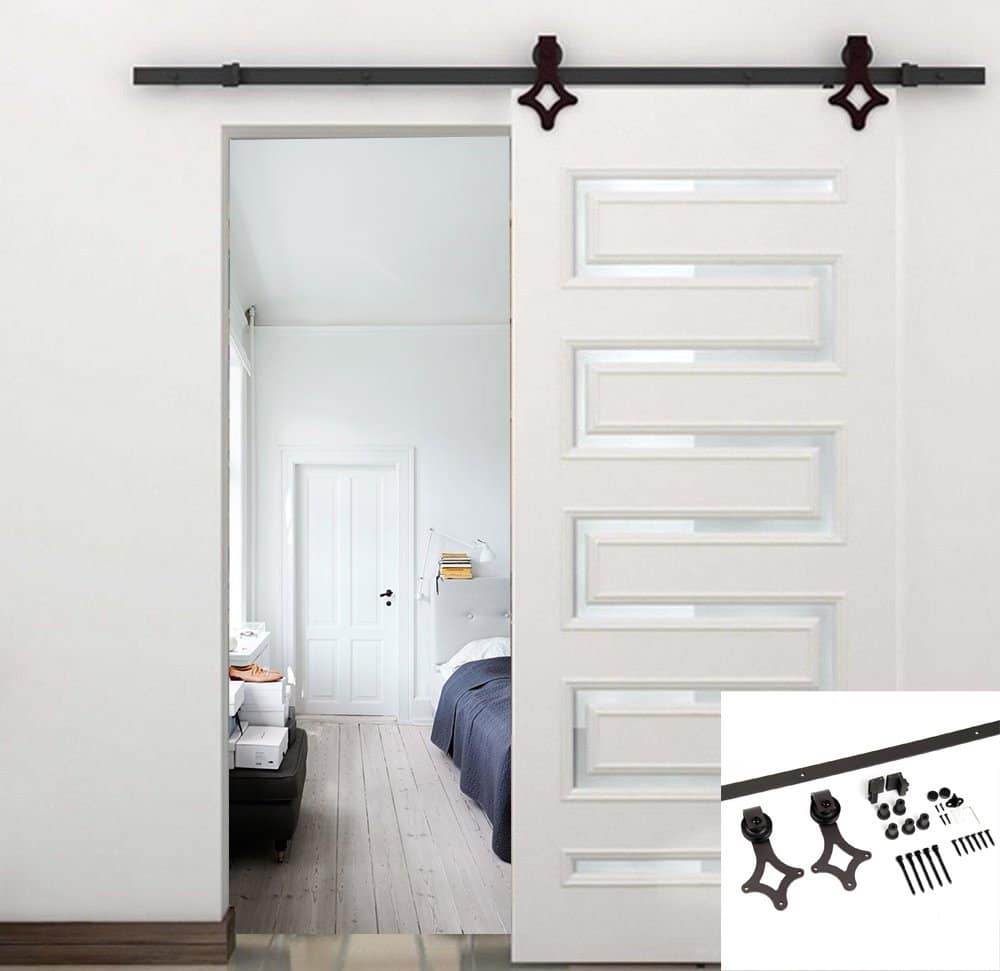 This set is easily one of the least expensive, and most stylish options for an interior barn door. These sliding barn door hardware by Unionline really gives off an upscale farmhouse look. It's is also super affordable, and comes in a few different styles.
These barn door sliders work on door frames as small as 5 feet, up to 13 feet. The hardware is also covered by a 5 year warranty to guarantee smooth sailing with your new sliding doors.
This hardware is great for small spaces, where you need the space saving functionality of a sliding door, and a stylish look.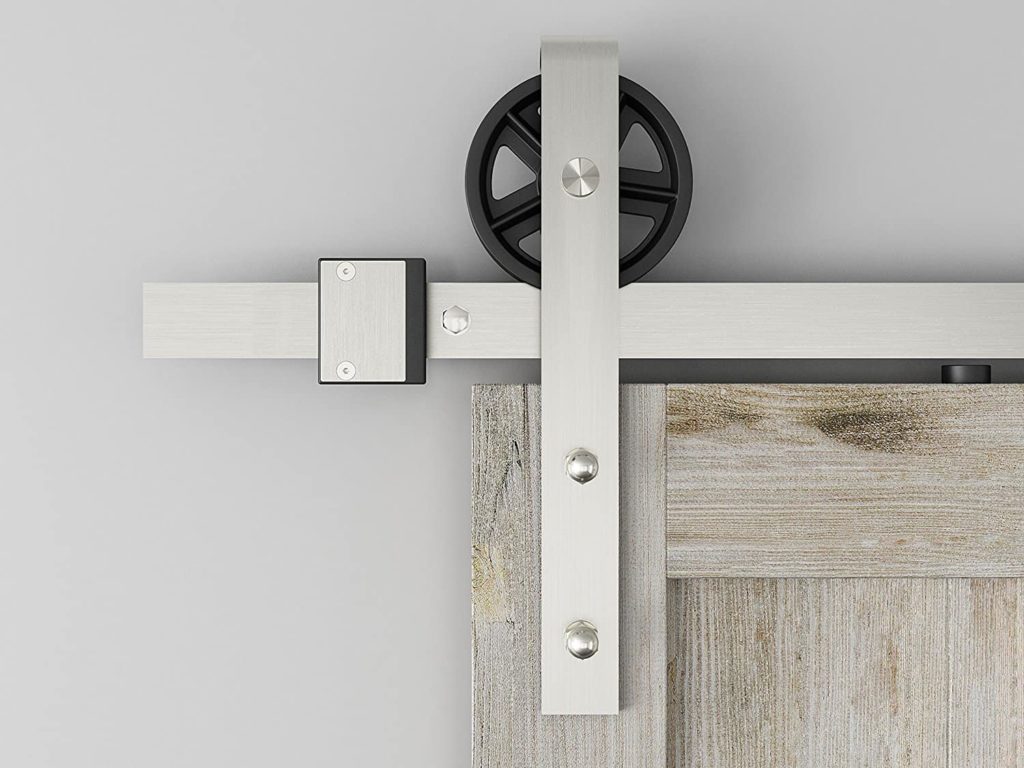 This set of barn door hardware from DIYHD features a modern stainless steel finish with a rustic spoke design. This sliding door hardware is super unique because it's two toned, and which really makes it stand out from the crowd. It's made from a brush steel, and is sturdy enough to support a door up to 200 lbs.
This barn door set is available for doors from 5 feet up to 10 feet, and can be used as a double door set. Like the other sets with rollers the roller is made from plastic to produce the least amount of noise possible when the door slides. It is a great choice for best barn door hardware because it is the perfect blend of modern materials and timeless design.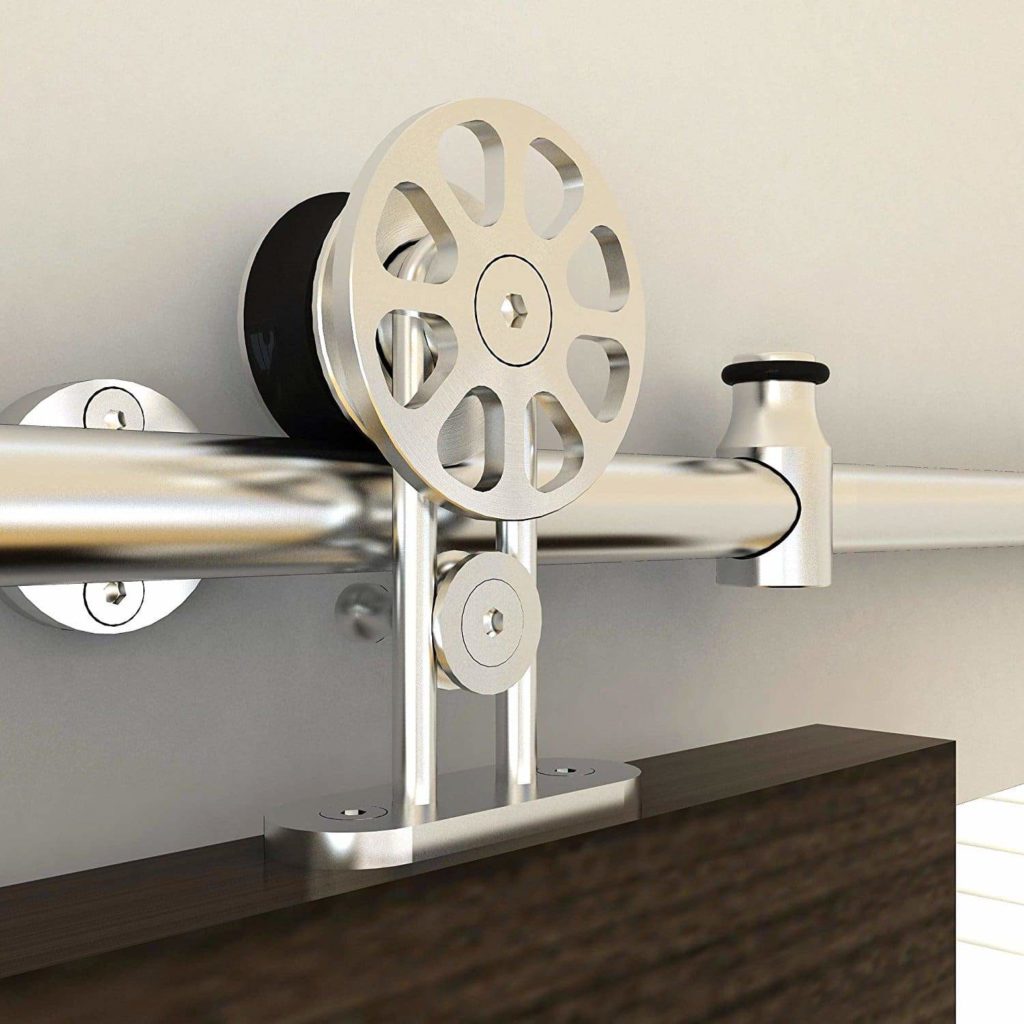 This stainless steel barn door hardware set from Custom Service Hardware, is like a work of art. It's very large and attention grabbing, but it is beautiful. This heavy duty sliding hardware is great for really heavy doors, and can be used in a 8 ft door frame.
This barn door kit such a great choice, because it really looks like a custom piece. For not a lot more money that the competitors, this sliding door set really looks like it was hand made by a blacksmith. The set includes everything you need to achieve this beautiful look, however set up will take a little longer with this bigger set. Another cool feature is that this design holds the door from the top instead of the sides, so it is a great choice for glass doors, or pretty doors that you don't want covered by hardware.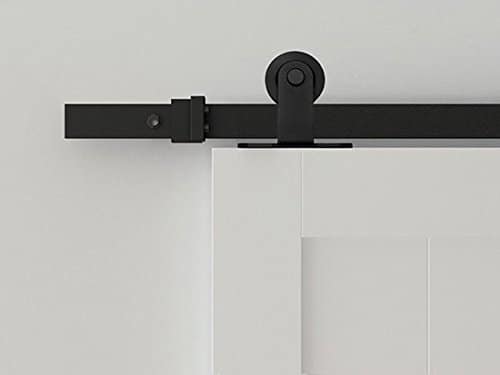 We are rounding out our list, with this beautiful DIY Barn Door kit by Custom Service Hardware. This set is a classic style, color, and even better- a great price!
This set looks best on thinner doors, although it can hold up to 200 lbs. The simple black rollers are very stylish but don't require a ton of extra over head clearance space. This barn door hardware set includes all the materials you need. Best of all, your door thickness isn't an issue because it attaches from the top.
Overall, these make a lovely choice for a interior barn doors, and are extremely affordable for any budget.
And there you have it, the best DIY Barn Door Hardware, and Barn door kits! Any of these choice will have your home looking farmhouse chic in no time!
And for more ideas on chic decor ideas, check out: the best acrylic coffee tables for an elegant living room!