Why is it always more comfy wearing an oversized hoodie? Because all that extra room makes thing extra cozy. And having one that covers you all the way up like a blanket? That's the ultimate coziness, you can only get from a sweatshirt blanket (aka a blanket hoodie).
The original blanket sweatshirt called The Comfy, premiered on a successful Shark Tank episode. It took the world by storm with its design, soft hood, and handy pocket. It's inspired a few copycats too, and today we are uncovering which one is the best sweatshirt blanket!
Who Should Get a Sweatshirt Blanket?
Your sister who's always cold
Families who enjoy movie nights snuggled up on the couch
Dads who love embarrassing their kids at outdoor sporting events
Folks attending cold weather events
The elderly or disabled
Novelty gift hunters
Let's look at the top choices for a sweatshirt blanket as of 2023
Blanket Hoodie List 2023
The Comfy is the original sweatshirt blanket, with a luxuriously soft design. It feels amazing with a velour like microfiber, that's ultra plush to the touch. It's also reversible, and the inside lining is made from a cozy sherpa material. Another cool thing about the Comfy is that it comes in a wide variety of colors perfect for anyone.
The entrepreneurs who created the original Comfy are two brothers. When one of them noticed his son using his old oversized sweatshirt as a blanket, he had a lightbulb moment. Plus, the recent success of weighted blankets gave him confidence that there was a market there.
After successfully funding the project on Shark Tank, their product became a viral sensation, and we owe them big time for starting this comfy trend—especially in the cold winter months.
Key Features:
Reversible, Velour Microfiber outside and Sherpa inside.
Large Hood
Oversized Pocket
One size fits all
Care-free machine washable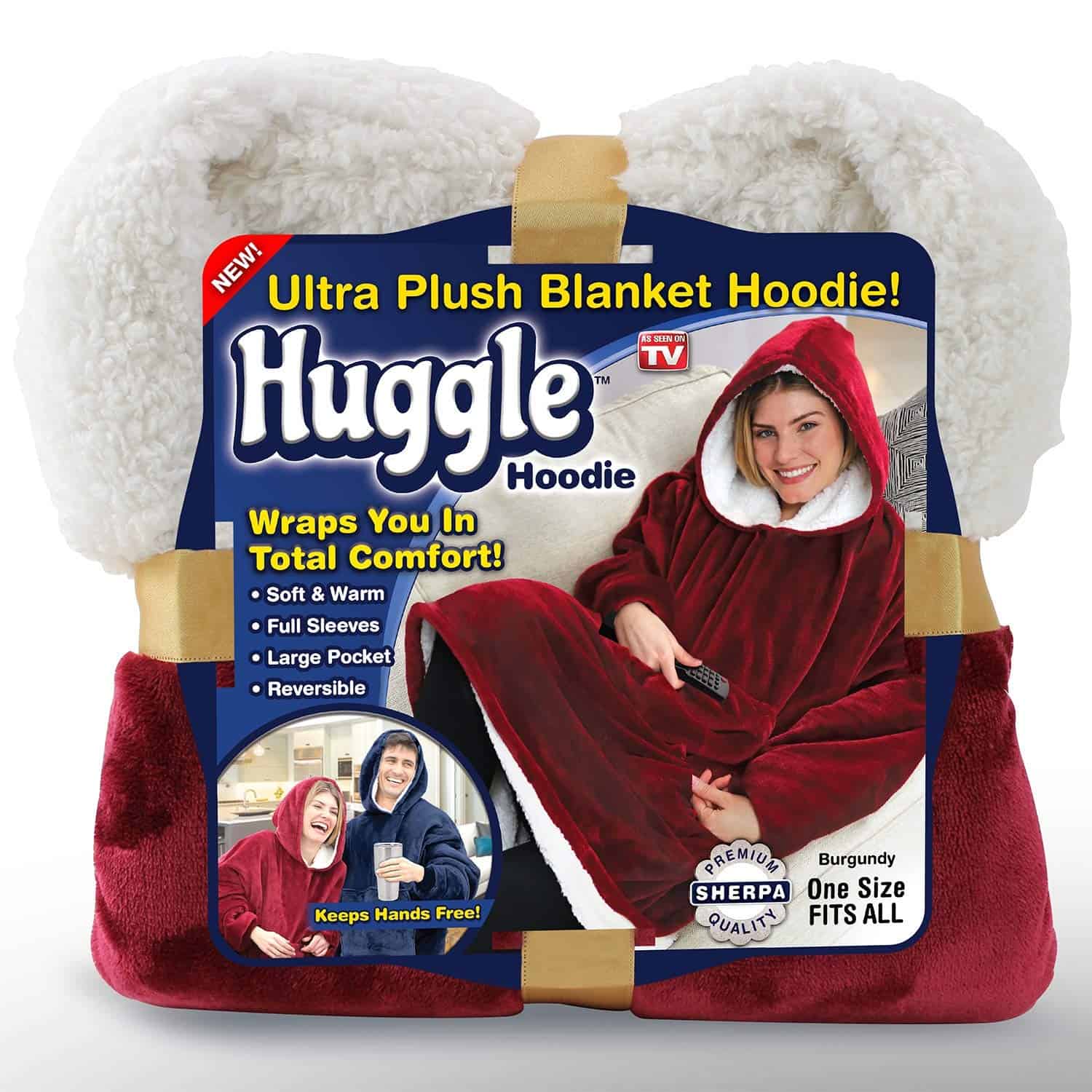 Similar to the Comfy, the Huggle is the "As Seen On TV" version of the sweatshirt blanket. It comes in two festive colors, deep burgundy, and a nice navy blue. It's got all the same features as the Comfy, but the materials do feel slightly lower quality. For most people, however, this won't be too noticeable. Especially since the Huggle comes in at a lower price point.
All in all, the Huggle verges more on the "novelty item," and it may make for a fun Christmas gift. It has an oversized hood and pocket, and is machine washable just like The Comfy.
Update: Huggle now offers "animal hoodies for kids" as well. While we haven't had a chance to get our hands on them yet, they're super cute, and not very expensive, so a decent option if you're shopping for your children.
Key Features:
Reversible with Microfiber outside and Sherpa inside.
Large Hood
Oversized Pocket
One size fits all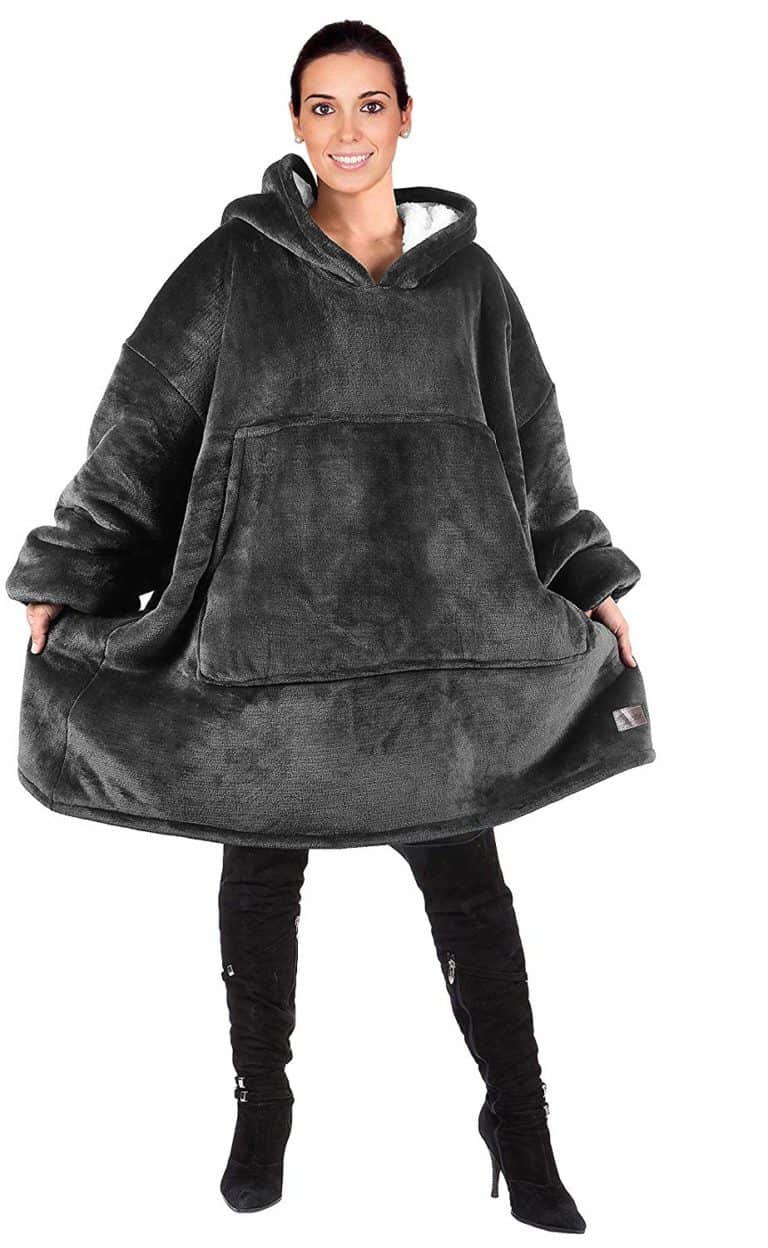 The Catalonia is another great pick for best sweatshirt blanket. It has many of the same features as the other two hoodie blankets we covered:
It's made from a cozy microfleece material that's a bit thicker than the Comfy, it's lined with Sherpa and features a giant oversized pocket perfect for stashing the remote. Like the others, it comes in Adult or Youth sizes.
The Catalonia's distinguishing features are the sheer variety of colors, like teal, pink, and even a cool plaid red print that's perfect for the holiday season. They also have some funky animal designs, including a "unicorn oversized hoodie" and a "panda blanket sweatshirt".
Finally some of the Catalonia hooded blankets are also reversible.
Key Features:
Reversible with Thick Microfiber outside and Sherpa inside.
Large Hood
Oversized Kangaroo Pocket
One size fits all
Machine washable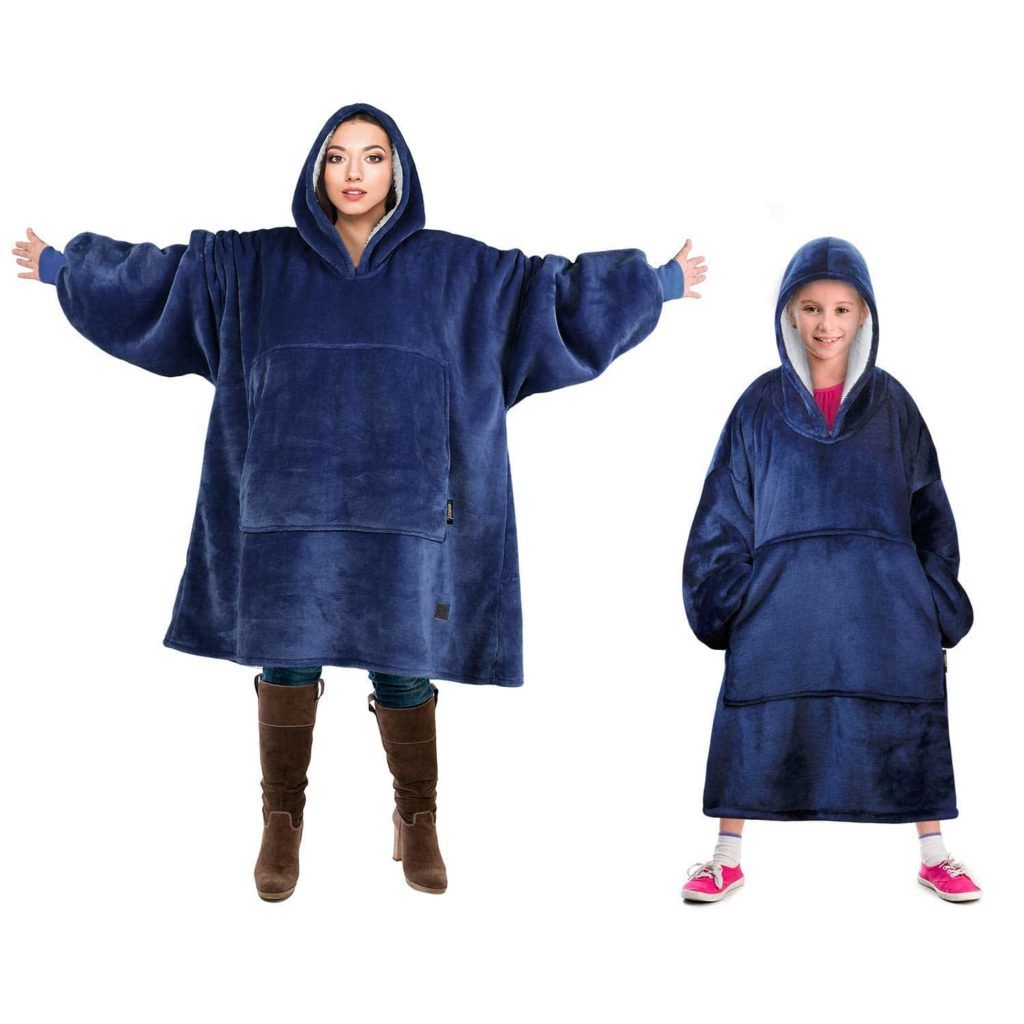 The Tirrinia Blanket Sweatshirt has all the important features of our other contenders, plus one that may be very helpful: elastic sleeves. The sleeves on this hooded blanket can be pushed up and stay put, which is pretty handy if you'll be eating or you need to wash off the Dorito dust from your hands.
The Tirrinia blanket sweatshirt comes in a variety of fun colors. The materials are the same minky microfiber on the outside and Sherpa on the inside. Like the Catalonia, these blanket sweatshirts are reversible.
All in all, the Tirrinia is a better pick for people who still want to be active while wearing their blanket sweatshirt, since the elastic bands keep your sleeves out of the way.
Key Features:
Elastic Sleeves
Reversible with Microfiber outside and Sherpa inside.
Large Hood
Oversized pocket
One size fits all
Machine washable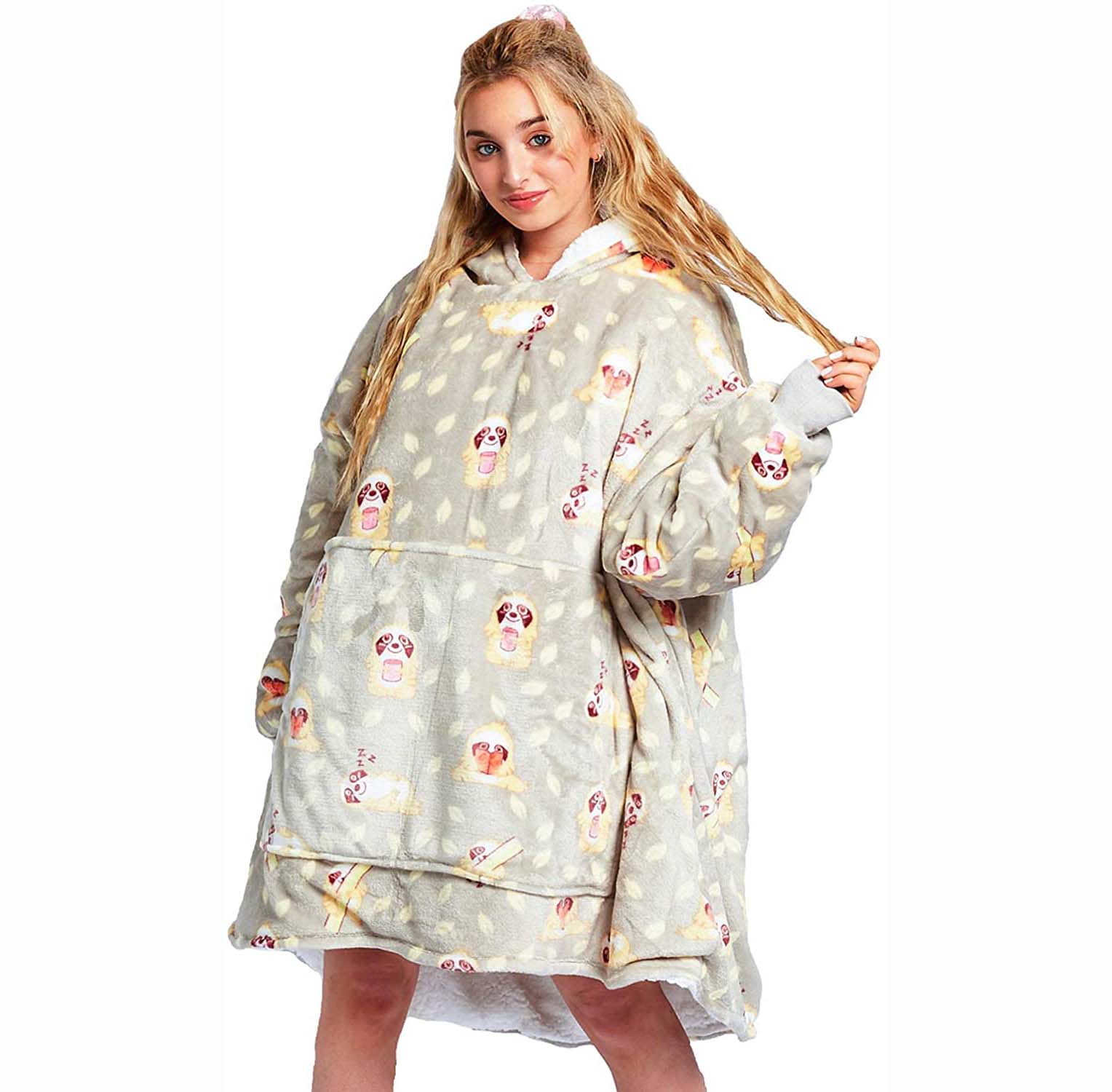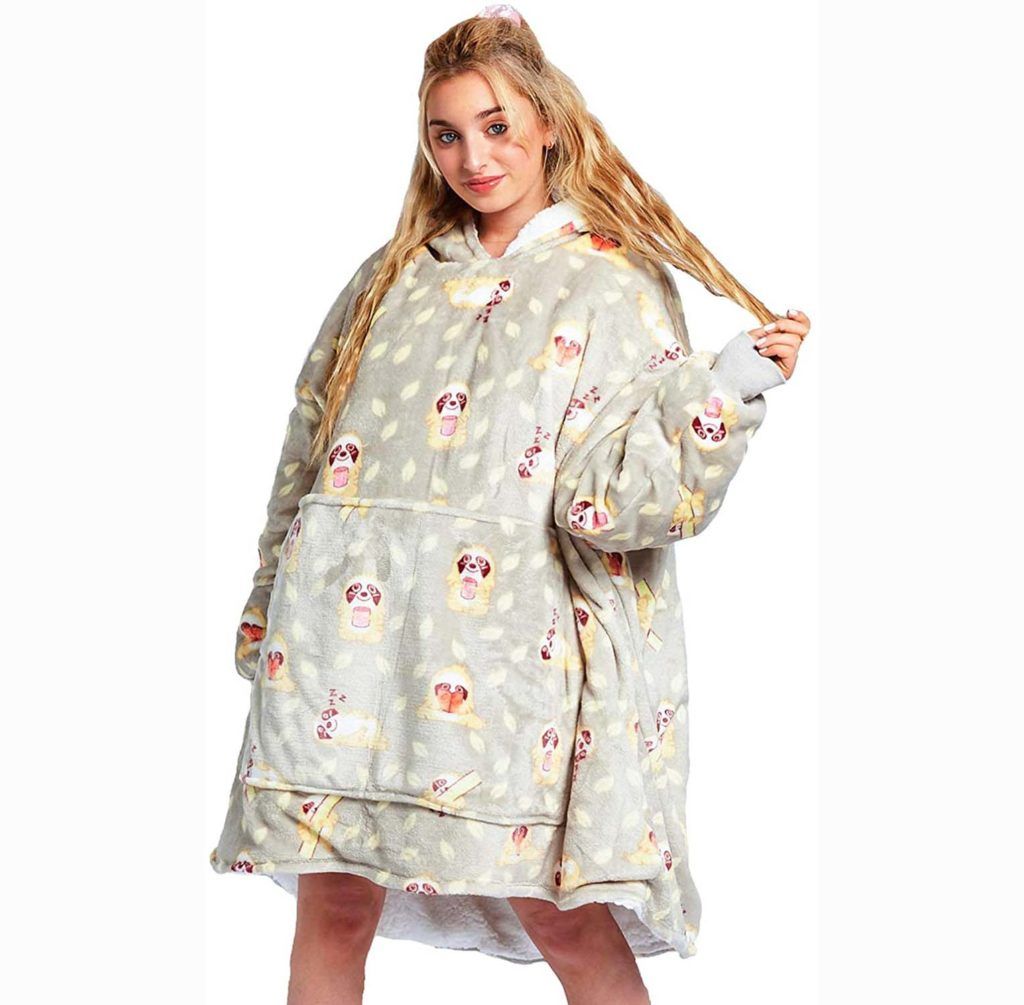 The Oodie is the new kid on the block when it comes to oversized hoodies, but it's taken the world by storm!
With its super soft Australian Sherpa fleece interior and colorful velvety exterior it's become a quick favorite of mine.
While more expensive than most other sweatshirt blankets, the Oodie features a bunch of different patterns—from sloths to garlic bread—that are incredibly cute. I've even seen people on TikTok going out with it and using it as a fashion statement, which was honestly pretty awesome!
Key Features:
Elastic Sleeves
Large Hood
Oversized pocket
One size fits all
Machine washable
Which One is The Best Sweatshirt Blanket?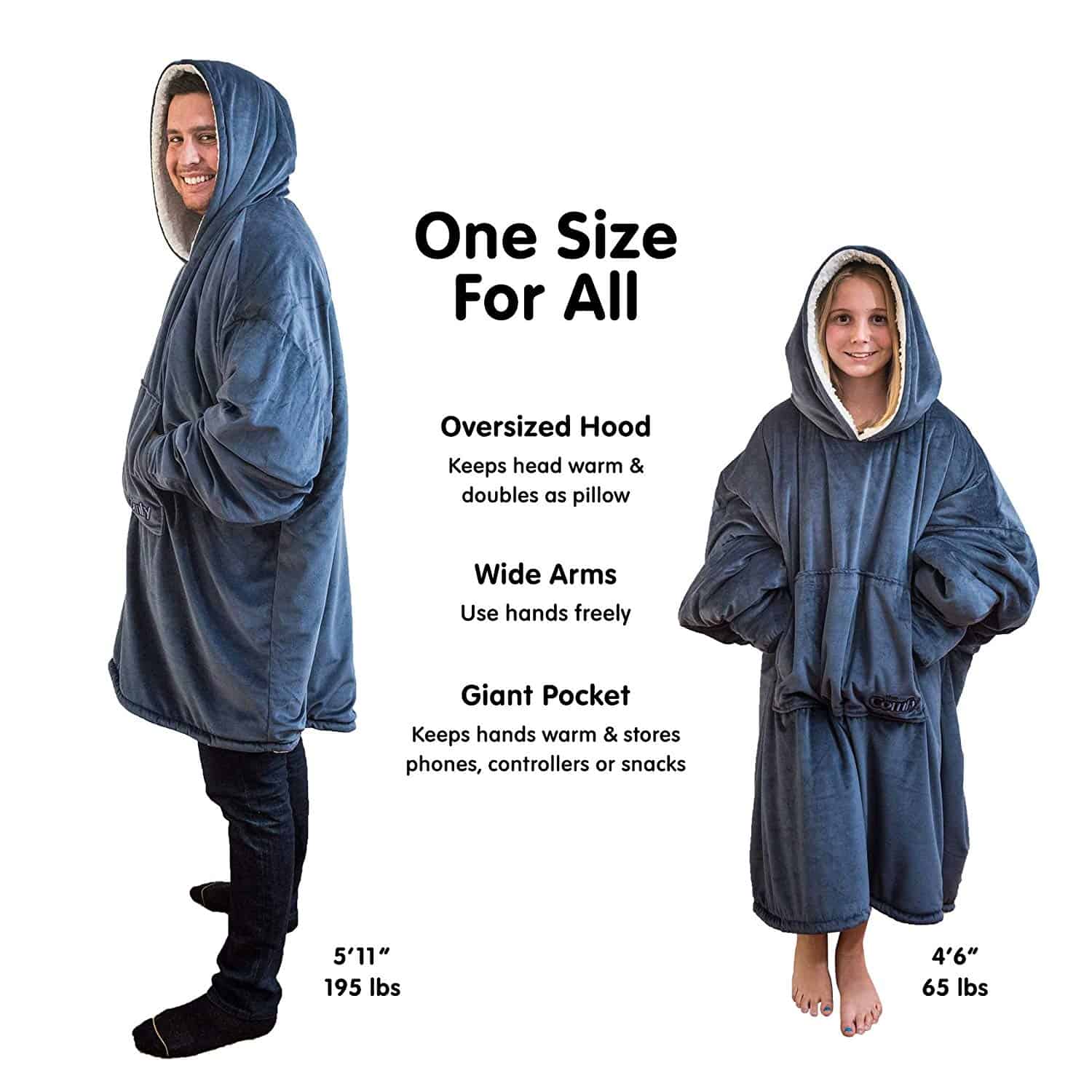 Overall, The Comfy is the best pick for sweatshirt blanket. Why? Because it's made out of high quality materials, it comes in a large variety of colors (over 16 to choose from) and it's guaranteed not to lose its shape or color after washing. And we feel warm and fuzzy about supporting the original creators of a brand new line of products.
Let's take a look at the types of people that would likely LOVE to receive a sweatshirt blanket for the holidays…
The Comfy vs The Oodie
I'm adding this because I've been asked so many times: which is better, the Comfy or the Oodie?
And my answer is always the same. It depends.
If you want a sweatshirt blanket to chill out at home while watching a movie or a quick Christmas present for a friend, I'd save some money and go with the Comfy. It's very well made, you can pick from a lot of colors and it's not too expensive.
If you want the absolute best quality, with the "puffiest" lining and the cutest patterns, I'd go with the Oodie. I would also choose the Oodie over the Comfy for people who are especially tall, since the Oodie is slightly longer than the Comfy. That said, keep in mind that the Oodie is almost twice as expensive as the Comfy!
Final Thoughts
Oversized sweatshirt blankets make great gifts. You know those novelty gifts that you actually end up using all the time and loving? A sweatshirt blanket is exactly that. I have to remind myself not to be sad every time I have to wear real clothes again (sigh!)
Hope you enjoyed this article and, if you made someone's winter months with a hoodie blanket, let us know in the comments!