Terrace vs balcony vs patio vs deck – what is the difference? These terms may be confusing, but fear not, it's not that difficult.
Most people use the terms terrace and balcony interchangeably, but there are some technical differences for each of these architectural terms. So, let's get right into it…
Terrace vs Balcony – How to Tell the Difference?
A terrace is an open space that's attached to or detached from a building and can have multiple entrances. It is also usually surrounded by sloping ground. A balcony instead, is an elevated outdoor platform. It is usually connected to a room by a single entrance.
The most notable differences are the following:
1. Size
A terrace is usually much larger than a balcony. Some terraces are so big they can feature a swimming pool. Balconies project (or "hang out") from a building. From an architectural and engineering standpoint, the larger the hanging part, the stronger the structure would need to be, so balconies tend to be smaller. This is not a hard and fast rule, however, and some expensive buildings have balconies large enough to accommodate plenty of outdoor furniture.
2. Location
Terraces are a flat surface built on the ground. Specifically on sloping ground. The only exception to this is when a terrace is built on a flat roof, making it, you guessed it, a roof terrace. Balconies are suspended from the second (or higher) story of a building. If it's on the ground floor, it's not a balcony.
3. Attached to a Building
Balconies are always attached to a building, whereas terraces can be attached to a building, but they can also be standalone. If it's not attached to a building, it's not a balcony.
Terrace vs Balcony – What's a Terrace?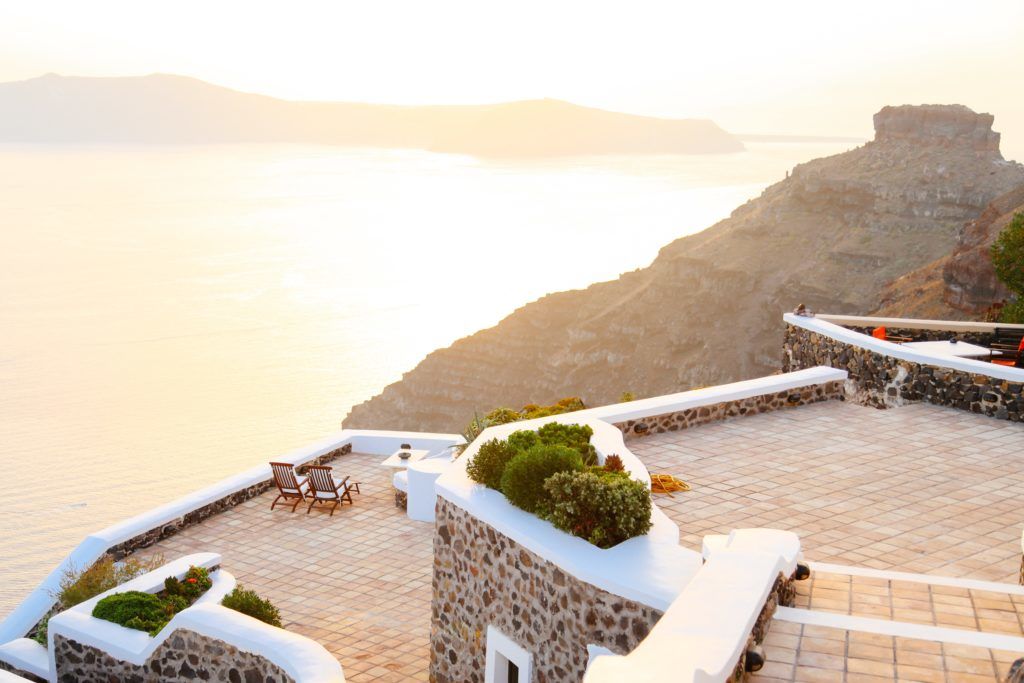 The word terrace comes from the Italian word "terrazza", itself coming from the Latin "terra", meaning "earth". As such, terraces are always raised flat surfaces resting on the ground (i.e. they're never suspended).
Terrace vs Patio
You may now think that what I've just defined is a patio. Terraces and patios are very similar. While "terrace" and "patio" are used interchangeably, they have one subtle, but key difference:
Terraces are a flat surface built on sloping ground. A terrace is a flat "overlook" if you will. That's why most terrace are also panoramic terraces, and they're built on the side of hills, or above lakes and beaches.
Terrace vs Balcony – What's a Balcony?
A balcony is a platfrom jutting out from a building, usually accessible from a single entrance, and surrounded by a balustrade. A balustrade is basically a railing surrounding the platform, obviously there to prevent people from falling.
There You Have It
Now you know the difference between terrace vs balcony, and even more impressive, you can be the pedantic friend who also points out the difference between terrace vs patio.
Thanks for reading!